Industry Insights: New research shows that there is still plenty of headroom for OTT growth even in saturated markets, while we now have a better understanding of the composition of European OTT content libraries, and The DPP sets the industry mood music for the year.
Aggregation helps drive OTT subscriber numbers
[Rapid TV News, Trading Platforms, Digital TV Europe]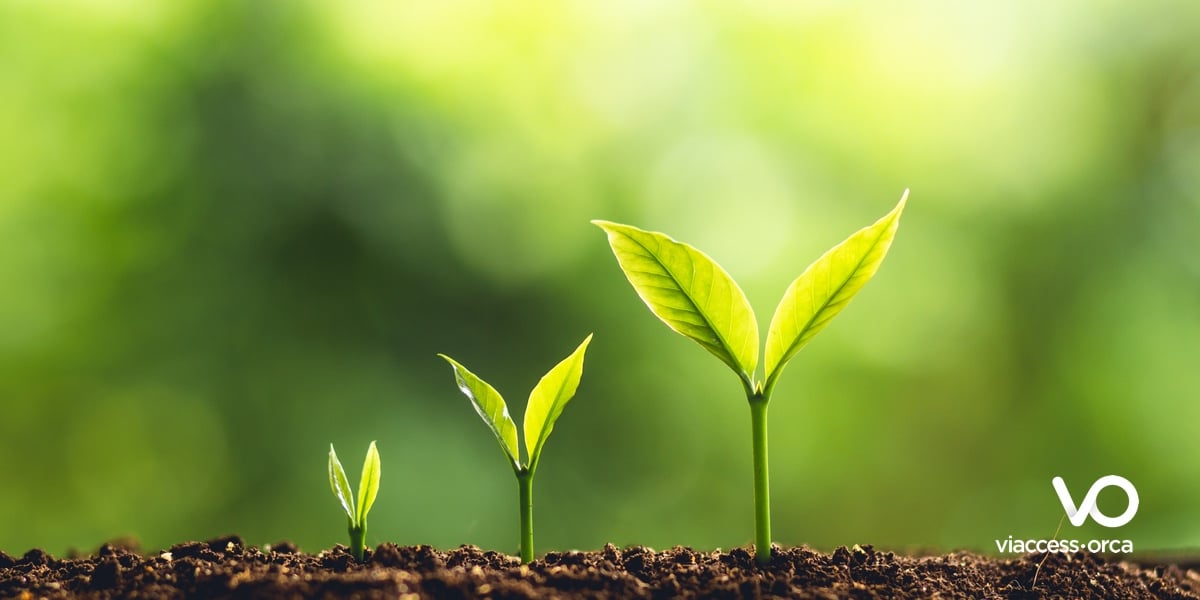 While it is often tempting to think of OTT markets rapidly becoming saturated, study after study constantly finds headroom in even the most crowded marketplace.
As Rapid TV News reports, a new study from Parks Associates has found that 60% of Pay-TV subscribers, accounting for nearly half of US broadband households, are interested in streaming films and TV shows from an online video service as part of their Pay-TV subscription. What's more, Pay-TV providers are responding to this demand, as the number of pay-TV consumers who receive online video services jumped nearly 50% in a year.
The average number of OTT services among households that have any OTT service was found to be 3.8, while the data shows households with Pay-TV services plus at least one OTT service subscribe to 4.2 OTT services on average.
"Parks suggested that pay-TV providers must keep offering their most valuable content, which includes live sporting and cultural events," writes the website. "Additionally, it advised operators that they must offer access to streaming, target new services to their interested customers, and perhaps be willing to take a hit on pricing until this [current] chaotic market stabilizes."
Meanwhile, and not unrelated, data presented by stocks analyst Trading Platforms shows that Netflix still has potential for growth in the US (and, by implication, elsewhere in the world).
The SVOD giant currently has 66m subscribers in the US, approximately one-third of its global total. Trading Platforms extrapolates that to 168.9m unique viewers per month and reckons that will grow to 182.2 by 2024, an 8% increase. Subs will grow in turn to 71% by 2025.
Amazon is currently the second-largest SVOD provider in the US and will remain so, increasing its subscriber numbers to 59.8m. Hulu's growth is impressive too as the chart below shows, rising to 49.5 million.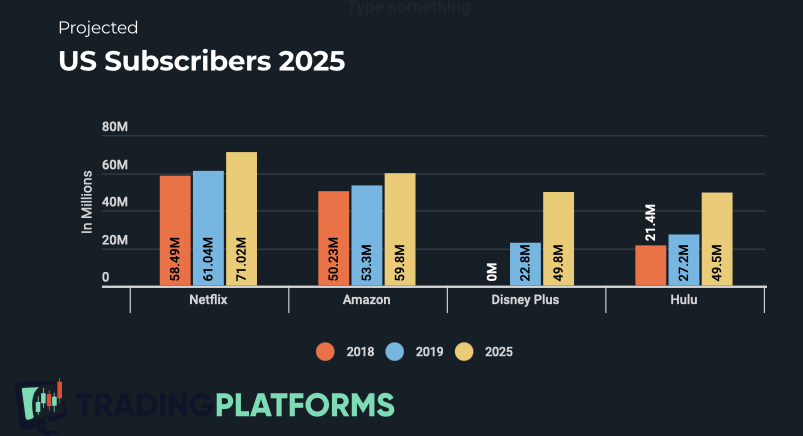 But it is Disney that produces the most arresting figures, with Disney+ going from a standing start to 49.8 million subscribers by 2025. That is up 118% over its 2019 already impressive debut. By the end of 2020, 72.4 million people were already tuning in at least once a month.
And while we are talking about markets and subscribers, it is worth mentioning new research that shows insights into the behavior of SVOD subscribers through the lens of what sort of moviegoers they are.
"Cinema power users are subscribed to 50% more SVOD services than infrequent goers, rent twice as many new movie releases, purchase three times as many new releases, and are around three times as likely to pirate content from unauthorized sources," writes Digital TV Europe.
That said, it's worth noting the YoY change across the categories for piracy in particular. It is down for the power users but up 28% YoY to just under 24% of all cinema goers, a much larger number of users, and an indication that the problem of content piracy in lockdown has not gone away.
Mapping the European OTT industry's content libraries
[European Audiovisual Observatory]
The European Audiovisual Observatory has just launched its latest round of figures and, for the first time, is including television content — both series and TV films — in its LUMIERE VOD database.
As its headline for its announcement of this says, it has uncovered the fact that 44,000 European films and over 12,650 European TV seasons are currently available on a total of 462 VOD services in Europe (138 TVOD and 324 SVOD catalogs). This is a lot of locally produced content, especially given the perception of US dominance in the OTT market. But it arguably gets even more interesting when you dig down into some of the details.
Here are our key takeaways from the figures.
The UK still dominates European TV
The European market has four main content producers, the UK, Germany, France, and Spain. However, the presence of UK-produced content is highly disproportionate to its size. The United Kingdom leads the pack with 44% of all content, followed by Germany (17%), France (9%), and Spain (6%). Together these four provide three-quarters of all available European TV titles on VOD.
A surprising lack of TV co-pros
While the film market featured 30% co-productions with other countries, only 12% of all European content was produced this way. The main secondary co-production countries are the United States and Canada.
Children's content dominates
9 out of 20 of the Top 20 European TV titles present in catalogs were children's animated series. Peppa Pig dominates, found in 69 separate catalogs in 20 countries, with the rather more adult-themed live-action Irish/Canadian co-pro of Vikings not far behind. The cultural phenomenon that is Lego enabled Denmark to snag four positions in the Top 20 with its Ninjago: Masters of Spinjitzu.
Age is no barrier
The average year of production for the Top 20 library content was 2011, though catalogs tended to trend much older than that and the average year of production of all TV seasons found on VOD in Europe was 1987. However, it's worth noting that 60% of TV content was less than 10 years old, and it is largely outliers such as David Attenborough's landmark BBC Zoo Quest series (1954) dragging the average down.
Assessing the mood of the industry
[The DPP]
Some interesting insights into the year ahead come from the industry body, The DPP. Each year it considers five overarching themes, which it dubs the mood music of the year, that it thinks will inform media businesses in the year ahead.
In previous years when it has done this, you can detect a slow and steady evolution from one year to the next. Unsurprisingly, 2021 is a bit different, and the mood music selected for this year is in places wholly new.
The articulation of business values, and the need to act upon them, is becoming increasingly necessary to attract, maintain and motivate employees on the one hand, and to stay relevant to customers on the other. Sustainability was the value that first broke through at the board level, but this is being joined by diversity and inclusion, wellbeing, trust, and social responsibility.
Understanding the way the pandemic has reshaped the industry needs careful analysis, and companies are increasingly looking at data to provide far more nuanced views of business matters than before and inform the changes they need two make in the future.
"Innovation is no longer a choice," says The DPP, arguing that companies have to innovate if they are to maximize the opportunities that exist in the current slowly post-Covid market.
The DPP's thoughts on this are worth quoting directly to pick out the subtleties over previous years.
"Over the years, we have seen the mood music theme of speed give way to one about agility. This refinement noted that going faster wasn't always the appropriate response; sometimes the need is more to be highly responsive.
"That notion has been refined again this year. Many wanted to capture the widespread need for flexibility which has come with both difficult economic circumstances and the need to innovate. The notion applies both internally and externally.
The ability to simply maintain business operations despite everything else currently going on.
The organization has also made some more straightforward predictions too, including the increased use of AI and automation and the growing importance of cybersecurity, and we'll probably have a look at them in detail next time.