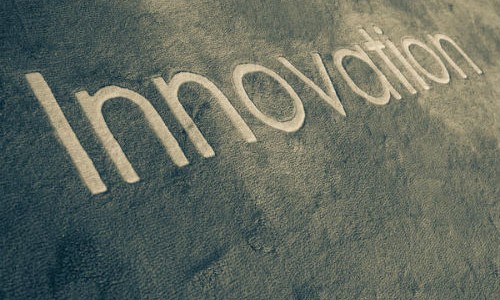 Cisco, making its first-ever appearance at CES focused on the impact of connectivity with its concept The Internet of Everything. With that in mind, I'll focus on the new experiences that this connectivity enables, especially when combined with new "interaction" technologies.
I would say that what came as a breath of fresh air this year in CES was the big buzz around connected cars; cars that connect with the cloud, cars that connect with each other and cars that automatically assist with navigation, security and even video streaming. I also saw cars that connect differently with their users and in that respect I loved the Toyota FV2 concept vehicle. Designed to connect emotionally with the driver, it's programmed to change color depending on the mood of whoever's behind the wheel.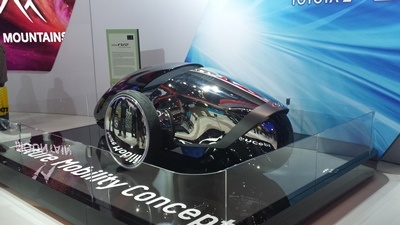 More than ever before car manufacturers joined the show; a reality that includes driverless cars is being taken increasingly seriously.
Advances in high definition also meant that I'd never seen so many beautiful images as I did this year. 4K screens are reaching maturity and becoming more affordable. And even higher resolution brings us even more wonderful pictures, with Samsung and Sony leading the way in 5K, extra large UHD and even 8K. You can get so close to the screen that the immersion is amazing.
What's more, when the picture is curved it's better, with impressive, giant-sized Ultra HD TV offerings from Samsung and LG and even a curved screen smartphone (the LG Flex).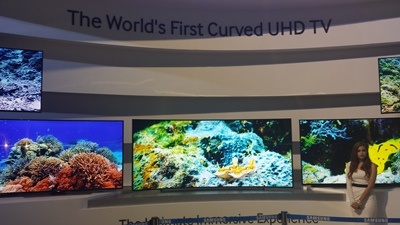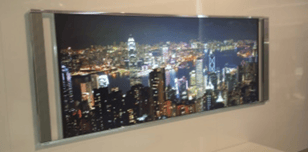 In fact, my most impressive experience of the show was without a doubt the 3D demo at the LG booth – amazing! And while 3D has not been a success outside movie theaters yet, R&D continues in the area of glasses-free 3D for homes. Haier, for one are making headway although there is some way to go.
Non-TV screens are becoming more elegant and moving into being part of the daily health routine, creating a true smart home experience. Toshiba's smart mirror, for example, gives you the functionality of a tablet alongside your reflection, bringing you data in your bathroom.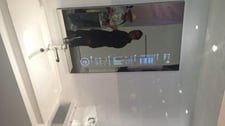 Returning to smartphone world, the devices are becoming controllers for some very fun novelties. Parrot's Jumping Sumo got a lot of traction and I liked PowerUp Toys' smartphone controlled paper airplane.
In the field of user experience, glasses are making progress. While augmented reality glasses are not yet fully mature, those designed for immersive use – from Sony and Intel – are impressive. And if you like your interaction to involve gesture recognition, look forward to having fun with new products from LG, Haier and others.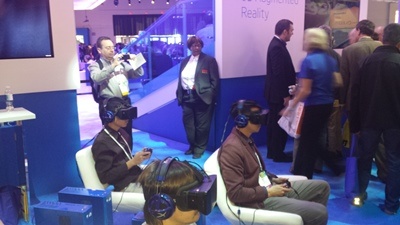 It's also funny to see how your tablet is becoming a musical instrument you control with hand gestures; IK Multimedia's iRing was great fun. The potential of new technologies for content creation sounds unlimited!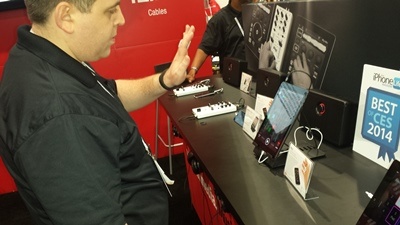 Robots were a strong trend in the show; some are products, some are smart marketing devices. The chip manufacturer Murata is very proud of its Boy and Girl robots that can cycle back and forth and even balance.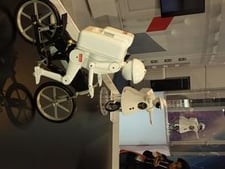 Creating robust, connected ecosystems is absolutely crucial in the technology industry. It goes a long way to delivering a strong user experience and few people know this as well as Sony. The ecosystem the presented around its new Xperia Z1 smartphone means it can do everything from delivering PlayStation apps to talking to your car!
Continuing on this theme, the war between competing operating systems is set to continue, at least for smarTVs. Panasonic is betting on Mozilla's Firefox OS while LG is deploying webOS (originally Palm OS) on 70 percent of its models this year. There are new players entering the SmarTV business too, including with Polaroid, Yahoo (which also has its own platform), and Roku which is extending its scope beyond box add ons, with a SmarTV that combines TV and streaming functions into a single unit.
One of the things I love most about CES is how you can always expect the unexpected. This year didn't disappoint.
I really hadn't foreseen seeing quite so many people in sportswear, cycling to demo health apps at Samsung, playing tennis to show off Sony's training tools and basketball for Information Sport Technologies.
Finally, who'd have thought connected T-shirts would be the next part of the wearable trend? French company Cityzen Sciences recieved the Everyday Health Awards for Innovation in the Inclusive Innovation category for its Smart Monitoring Shirt, otherwise known as the D-shirt. It was just one of the many wearables I saw and a sign that mobiles chips are very much the coming thing, putting a lot of pressure on the big players, such as Qualcomm.
So, while Cisco focused on the impact of connectivity I enjoyed and focused on the new experiences such connectivity enables.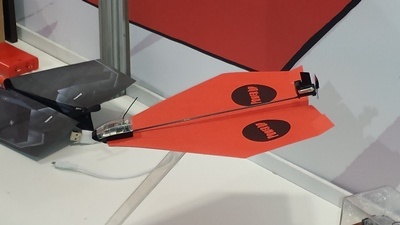 Smartphone controlled paper airplane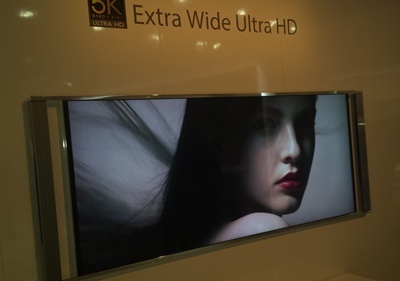 Ultra Wide screen (Sharp)
Photo credits: masondan / Foter / CC BY-NC-SA