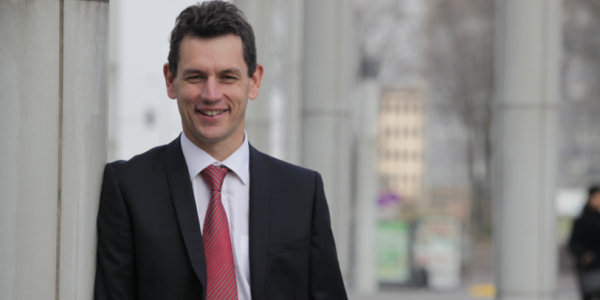 Latin America may be famous for its biological diversity and rainforests, but its dynamic technology industry isn't far behind. Looking for proof? I have plenty from the TV Connect LATAM event I attended in Sao Paulo last December.
TV EVERYWHERE
Samer Salameh from Azteca opened the event and reminded participants that with Latin America boasting more phones than toothbrushes and selling smartphones for less than $100, one can truly understand the potential scale of TV Everywhere in Latin America.
So what else was on discussion at TV Connect LATAM?
Totalmovie, Mexico's first subscription streaming service is an interesting case study. They offer a white label solution to operators as part of their strategy to rely on operators to help solve the thorny problem of cash collection from end users.
Marcio Zukin from Brazil's Bandeirantes TVanalyzed the challenges of TV Everywhere for Pay TV operators, using terminology from the 'Kabbalah', examining what aspects need expansion, including the reach and the content offerings, as well as what aspects need compression, such as video bit rates for instance.
In his highly enlightening presentation, Carlos Sanchez from Warner Bros emphasized the importance of content as a differentiating factor. For example, Netflix is unique in that it deals with Disney, together with George Lucas and Pixar. Other differences can be discerned between Northern California, the home of Silicon Valley and Southern California, where Hollywood is located, especially with Hollywood's reactive rather than proactive approach. Sanchez continued that in comparison to the legacy players, Google, Apple and Amazon have their own assets, such as cloud capacity, consumer data, storefront, ease of use, (including search and discovery) and finally, rapid growth. Sanchez own VOD (Video on Demand) experience leaves him leaning more towards Amazon than Time Warner Cable, finding that "their user experience is better", as he stated.
Existing players also have assets in their subscriber bases and billing relationships, which give them an advantage. Nonetheless, Sanchez cautioned that despite the strong presence of legacy and other players in the business, early adopters should not yet be counted out of the game.
DIGITIZATION
Ari Lopes from Informa confirmed that digitization is still big in Latin America and provided huge numbers from new digital households in Latin America to substantiate his claim. It's been one year since Netflix launched its operations in Latin America and TV Everywhere is today's hottest topic.
Lopes also made the following points:
Brazil is fifth in the world in the number of televisions per household
Broadband will become mobile: In 2013, the number of mobile broadband accesses will be greater than fixed broadband ones, and will be four times higher by 2016
OTT will have revenues of $800 million by 2017, mostly from advertising and subscriptions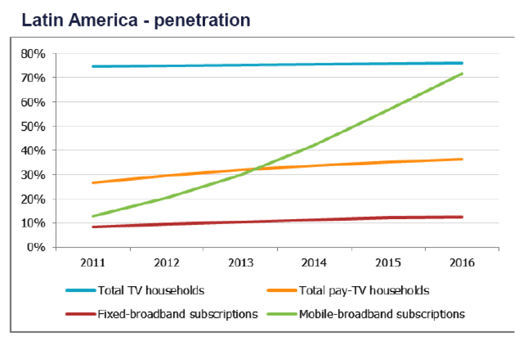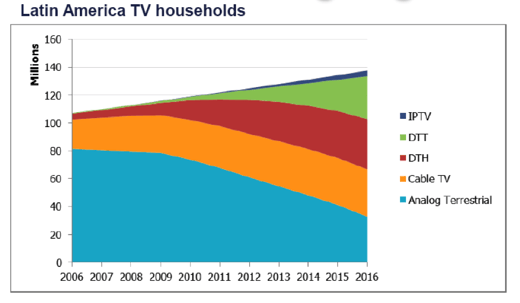 www.informatandm.com © Informa UK Limited 2012. All rights reserved.
OTT AND MULTI-SCREENS
According to Ariel Dascal, Director of Oi TV, over-the-top (OTT) players are mostly proposing Long Tail Video with a Subscription VOD (SVOD) business model, which complements with pay TV offerings. Different issues at stake for OTT services are the cost of the content, the network infrastructure, including bandwidth, coverage and CDN, as well as the fact that only 20% of the population holds a credit card, as Marcio Zukin mentioned in his presentation.
"What's important is not just which services are being offered, but also on which devices they're being offered, especially now with the "second screen" experience becoming even more common," declared Dascal.
Helen Jurado from the BBC also outlined that the multi-screen experience provides another way to build stories. If content producers truly want to reach their audiences, they need to develop the art of storytelling across multiple screens. Orange certainly believes this. Their newest transmedia project, ALT-MINDS, a multi-platform, multi-lingual undertaking, is designed to "show how technology can help creators to write new kinds of stories."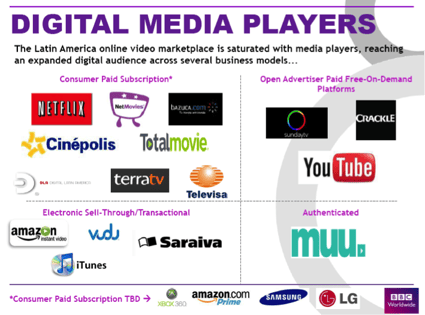 Slide screenshot from Helen Jurado, Vice President for Sales and Development, Latin America, BBC Worldwide.
In a similar vein, Liliana Nakonetchnyi of Globohighlighted the collective fear that the second screen will reduce users' attention to the programs and their advertisements.
PIRACY
Another mutual fear, the significant threat of physical and digital piracy, was mentioned numerous times by Azteca, Warner and others. Many of the new TV services discussed during the event ultimately fight piracy by making it increasingly easy to access content at affordable prices. Once content becomes easily available, users will be more willing to become legitimate, paying customers.
THE FUTURE IN LATIN AMERICA
This trip was a new exciting opportunity to experience the dynamic developments taking place in Latin America today. On top of the TV Connect LATAM presentations, the discussions I had with our customers and partners in the region have been very fruitful. After the digitization phase, the IP technologies are going to revolutionize the way to do business with television and content in LATAM, with IPTV, multi-screen, OTT services and second screen. This gave me a very positive feedback about our approach for all of these projects we are involved in and I am eager to see how this inspiring industry will evolve.