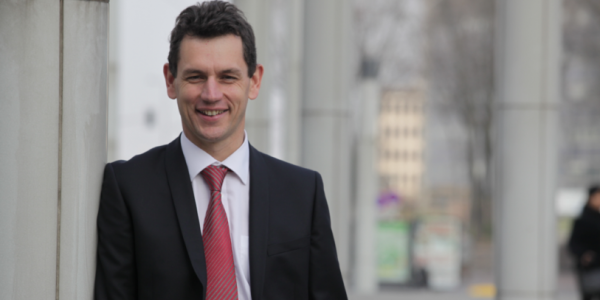 Hosting the TV Leaders Summit in Athens could have been an opportunity to listen to the ancient Greek philosophers. The renowned philosopher Plato aptly observed, "Human behaviors flow from three main sources: desire, emotions and knowledge." When we talk about content services, we are focusing primarily on desires and emotions. To understand where the market is heading, it's important to look at the content experience from the customer's perspective. In general, it's a matter of fun and enjoyment. The big question is: how do we enjoy content?
The Ultimate Content Experience
It's all about the content! We appreciate premium content, which is and will continue to be the most valuable piece of the puzzle. But enjoying content services is also about the user experience surrounding the content. I expect to watch what I want when I want. I expect to be offered content that is relevant to me and to have a personal experience. I expect to enjoy a social experience while watching TV. And I also expect TV to be exciting, innovative and entertaining. Finally, I expect to have a consistent experience on the main screen and on my companion devices.
This is what we call the ultimate content experience: enjoying premium content with the right user experience around it.
Two main challenges arise for service providers: how to deliver this ultimate content experience and how to monetize it.
To address content delivery, operators must focus on securing and protecting premium content from the threat of piracy. The rise of multiscreen and OTT technologies opens doors for us to build amazing legal services. At the same time, it also creates a technical opportunity for pirates to share content illegally.
The Engagement Model
In all business models, building user engagement is the key element in ensuring success. To help service providers meet their challenges, we are using the Engagement Model, which represents the synthesis of our vision of how to create the greatest possible user engagement. Engagement plays a large role in enhancing the overall user experience, which in turn contributes to the ultimate content experience. It's also the cornerstone for making money from content services.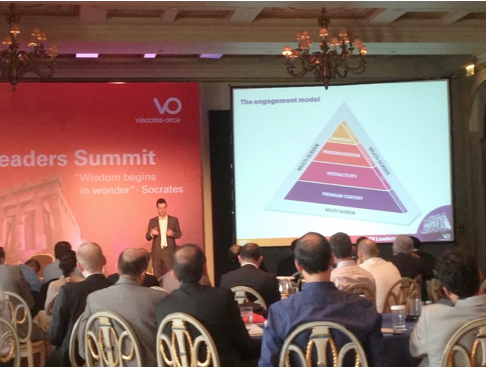 The first level of this model is, of course, Premium Content. Operators need to license and secure the right content for their audience. The second layer is Interactivity, which is built technically with service delivery platforms. These are crucial components for bringing content to users at any time and for creating engagement. Third, we add an important additional layer of Personalization, as service providers should recommend relevant content to each viewer. The final layer involves building an Immersive Experience. Operators must leverage the companion device, offering valuable content to users for smartphones and tablets and taking control of the second screen experience. Ultimately, the engagement experience created by these four layers should be multiscreen, allowing the user to consume content on any device.
This Engagement Model is a beacon for the market on how to be successful, and as such we use it as the basis for all of Viaccess-Orca's products, services and solutions.
An Engaging Summit
Both the ultimate content experience and the Engagement Model were covered at the first TV Leaders Summit we had this year in Greece, where, together with industry leaders from Parks Associates, Orange, Rights Stuff, Lionsgate International, yes and others, we explored the challenges faced by operators. A great deal of information was exchanged, all of which focused on content consumption and addressed the question, "How can my company be successful in the new era of content services?"
It was really interesting to hear Brett Sappington, Director of Research at Parks Associates, talk about making money in multiscreen, and to learn more about the latest innovations at yes. Patrice Slupowski, VP Digital Innovation and Communities at Orange, , presented his insights on the rise of the second screen, and Guy Avshalom, COO and co-founder of Lionsgate UK, spoke about multiscreen in the real world, giving his analysis of business models and future trends. Wendy Bernfeld, Managing Director at Rights Stuff, went into detail about rights, licensing, relationships and revenues as they pertain to multiscreen, while I shared my vision not only for Viaccess-Orca, but for the television industry overall.
The Engagement Model was one of the main attractions at the event, and we made sure to apply the concept throughout the TVLS summit itself. We collaborated with Parks Associates in creating premium content and in promoting interesting interactive discussions through panels, networking sessions and demonstrations that encouraged a personal, social and immersive experience.
There were also plenty of perceptive conversations on different ways operators are engaging users and on how they could use the Engagement Model as a framework for leveraging their content services. As participants came from different countries with different levels of maturity, content and competition, numerous options were examined.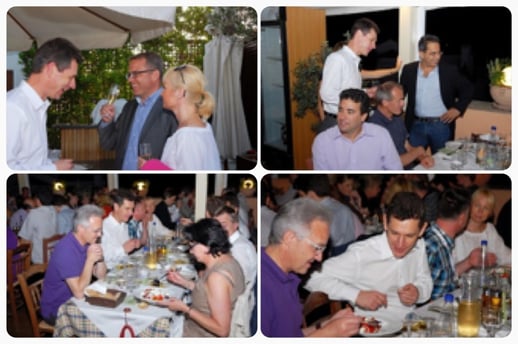 Much of the insight about offering value-added services that was shared has also been covered in our recent webinar, produced in collaboration with Parks Associates. We prepared a free download available to all.
A Beautiful Ending
On many levels, the TV Leaders Summit was an exciting event from start to finish. In addition to the valuable discussions and exchanges of insights, TVLS gave us an opportunity to speak with our customers, present our unified vision, give participants a deeper understanding of what Viaccess-Orca is doing and provide a good, up-to-date evaluation of where this market is going.
One of the greatest realizations gained from the TV Leaders Summit is that viewers enjoy content most when there is an outstanding user experience around it. It was very beneficial to explore the layers that make up this experience.
There was also a reason by the way, why Greece was chosen to be the location for our first TV Leaders Summit. If it weren't for ancient Greece, this industry wouldn't be in existence in the first place! Besides the invention of major sports events, starting with the Olympics, Ancient Greece also invented the theater, which is the origin of movies and TV series!
So yes, the history of ancient Greece led to what is now premium content, which is the basis of our business. Premium content these days mostly consists of sports events, movies and TV series. TVLS was, therefore, the perfect opportunity to remember where our industry came from!