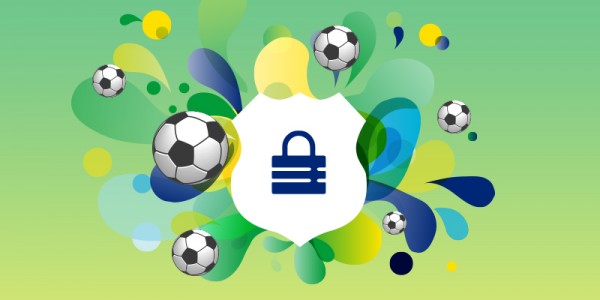 As sport is so premium with such a mass following, it should have specially-tailored content protection.
With the World Cup about to kick off (June 12) in Brazil, the mounting global enthusiasm for the event reminds us how sport engages television viewers so effectively. Indeed, readers of the VO blog don't need to hear again how user engagement is the main challenge content service providers facing nowadays. You also know about the huge battles for content rights: for instance, the fight between Canal Plus and BeInSport in France was particularly fierce.
Given how much money is invested in sport rights, piracy is clearly a big issue for service providers; for them, rights have no value if viewers can acquire content for free via pirate services. It's also a big issue for rights owners; If their content has less value due to piracy, how much revenue can their rights generate?
In the field of sport, live streaming is the major threat in terms of piracy, which is why we launched Eye on Piracy - to identify the illegal streaming redistribution of live events, focusing these days on sports events.
Defeating piracy on any possible content consumption device, is crucial to making money from sports rights. Live World Cup games will mostly be aired in the evenings in Europe and during the day in Eastern Asia and the Americas. For the latter two territories, people won't be at home, so we can expect the highest-ever consumption of games on smartphones and tablets.
But how do you deliver premium content to tablets and smartphones in a secure way?
The current state-of-the-art solution, Connected Sentinel Player, does just that. It comprises "secure player" software that's integrated into the apps of the content service providers. The next generation of technologies will leverage Trusted Execution Environments (TEE), which further enhance the level of security. We showcased the integration of Connected Sentinel with Trustonic's TEE at the last Mobile World Congress.
We believe in the secure delivery of premium content to tablets and smartphones, and that's why we have just acquired Discretix' secure player business. With this state-of-the-art solution we've become one of the leaders of this sector, with blue-chip customers such as D-Smart, TV4, Digiturk and Telecom Italia.
All of which means that as we count down to arguably the biggest event on the sporting calendar, VO is well placed to help sports content service providers and owners fight the growing piracy threat that is robbing them of revenues and, in so doing, undermining our industry.
Click here to Join VO's exclusive Eye on Piracy free campaign for the greatest football event in 2014.