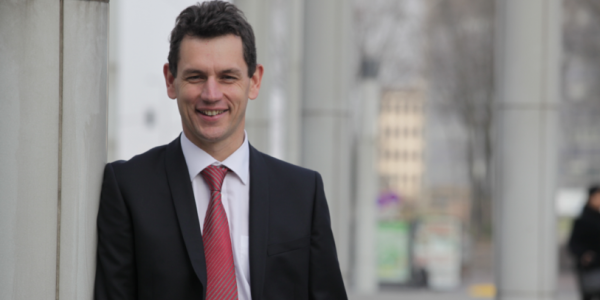 What Viewers Want
Second screen usage and companion apps are increasingly becoming essential components of the TV viewing experience. Like most viewers, I love them because they allow for seamless multitasking. We can gather information while interacting with our networks and the program itself. This transforms a traditionally passive viewing experience into an active pastime.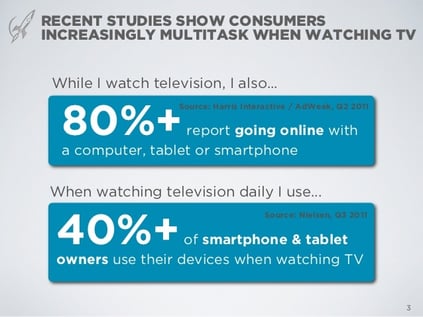 Because the field of second screen apps is relatively new, many players are now trying to enter it, including broadcasters, operators, producers and independent parties, such as Miso and Twitter.
Interestingly enough, most of the second screen apps that viewers use are not provided by the operators. As a result, when it comes to providing an engaging viewing experience to accompany programs their viewers are enjoying, operators are falling behind and losing control.
Advantages and Challenges for the Big Players
The big players' goals of increasing viewer engagement and gaining control of viewers' multitasking activities can be easily accomplished. Operators need to control the set top box and remote control. In the face of competition from newer second screen players, operators must also maintain their position as the gateway to content in the face of competition from the newer second screen players. As the second screen becomes the primary screen, producers need to optimize the interactivity between users in order to increase user engagement and advertising revenues.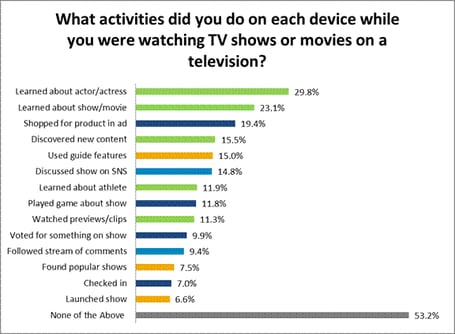 Challenges Faced by Broadcasters, Operators and Independent Players
Each of the many players trying to gain a foothold in this market has their own challenges and advantages.
Broadcasters can partner with producers to create offerings that promote deep interactions. Deep interactions can give a key advantage to producers facing the issues of apps' recurring usage and cost.
Operators should provide a comprehensive experience for all their content, whether live or on-demand. This renders content discovery more natural, which encourages recurring use. With operators' unique knowledge of users, they can create frameworks for comprehensive and interactive experiences, leading to interactions that are deep and targeted to specific programs.
Independent players are stand-alone businesses. Consider Miso, which has a comprehensive app, but lacks a direct relationship with the producers. Consequently, it is on its own in creating a valuable business. Miso's biggest challenge is sustaining a business based on second screen apps and generating revenues only from that. Other market players have other revenue sources.
For some specific programs, stand-alone apps can provide compelling interactive experiences. However, this option is limited to few flagship programs, and will not produce recurring usage. Comprehensive players are in the best position to secure recurring usage with content discovery apps, even if the experience itself would be average for most programs. The real competition between these players revolves around their ability to bring a comprehensive experience to each program and to create relationships with the producers to enhance the second screen even further.
What the Future Holds
The second screen, offering content discovery and interaction and serving as a remote control, is becoming the most prominent screen. With viewers increasingly spending more time on their mobile and connected devices, companion apps will continue evolving, and interactivity throughout the broadcast spectrum will keep on expanding. The former second screen will eventually become the primary focus of users as they send content from their mobile devices to the big screen. The battle for the companion apps will become the battle for the first screen.
Read more about companion apps in previous post:
http://www.viaccess-orca.com/blog/pave-the-way-for-blu-ray-second-screen-apps/