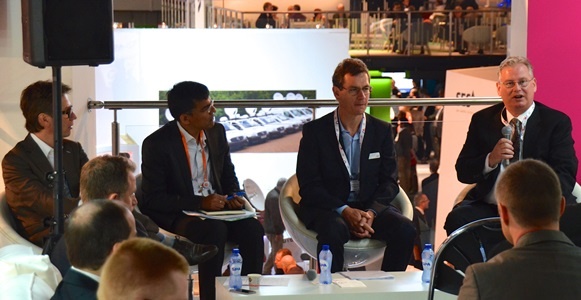 Today live redistribution of content over the Internet is becoming an increasing problem for content service providers and content owners.
As the technology becomes easier and easier to operate and the internet has facilitated streaming of high-quality video content making it simpler and cheaper to consume content, including live TV, a new generation of sophisticated video pirates hide behind legitimate-looking Web portals and stealing revenues from legitimate content providers, distributors and even advertisers.
The number of people taking advantage of these practices has been increasing worldwide, making this a major issue for content service providers. Today's pirates have figured out how to pay for one legal subscription and send the content to others through multiple illegal retransmissions. This leaves service providers and content owners competing with illegal services that offer the same content at a much lower cost.
Watch this panel discussion from IBC 2014 where Aditya Aditya, senior Broadcast Rights Manager at International Olympic Committee (IOC), Alex Terpstra, CEO at Civolution, François Moreau de Saint Martin, VO's CEO and Steven Hawley, analyst and consultant at TV Strategies discussed and assessed piracy of live content focusing on sports and its challenges, the changing paradigm of content piracy over the Internet, different Anti-Piracy tactics and more.
[embed]https://www.youtube.com/watch?v=Ukdu7DpMBA8[/embed]
Some tweets from the panel:
We're at a @Civolution and @ViaccessOrca panel on fighting sports content privacy #IBC2014 pic.twitter.com/6pZ7dXwaBr

— VOD Professional (@vodprofessional) September 14, 2014
''65K illegal incidents in the Sochi Olympics'' says Aditya from the #IOS #Olympics @IBCShow #IBCShow pic.twitter.com/fCatMCZlLC

— Viaccess-Orca (@ViaccessOrca) September 14, 2014
''We're never sure what will come up next in terms of #piracy, it's hard 2 direct illegal traffic during the Olympics''Aditya #IOS #IBCShow

— Viaccess-Orca (@ViaccessOrca) September 14, 2014
#IOC been using content identification technology to fight piracy since Beijing 2008, at @ViaccessOrca seminar

— AndyNobbs (@AndyNobbs) September 14, 2014
''Watermarking makes content unique 4 each individual or device, allows tracing the source of the #piracy'' says @ADTerpstra @IBCShow

— Viaccess-Orca (@ViaccessOrca) September 14, 2014
Most of those illegal streams were in the afternoons. In the evenings, we're in front of our TVs! @Civolution @ViaccessOrca #IBC2014

— VOD Professional (@vodprofessional) September 14, 2014
''We see a growing use of GIFs & Vines at Sochi & WorldCup - content has been shared massively via #social platforms''-Aditya #IOS @IBCShow

— Viaccess-Orca (@ViaccessOrca) September 14, 2014
''Users are getting used to accessing all their needed sports #content via illegal streams online'' -says Aditya #IOS @IBCShow #IBCShow

— Viaccess-Orca (@ViaccessOrca) September 14, 2014
There were 90,000 "illegal content incidents" during London 2012 Olympics; 65,000 during Sochi. @Civolution @ViaccessOrca #IBC2014
— VOD Professional (@vodprofessional) September 14, 2014