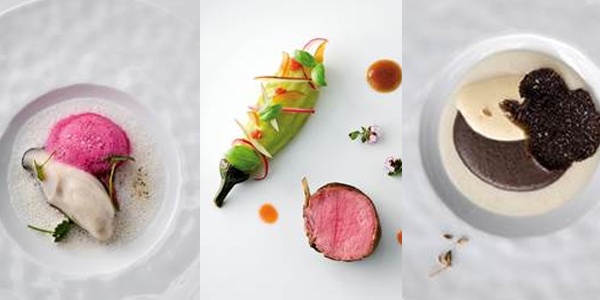 T. S. Eliot wrote: "Immature poets imitate; mature poets steal; bad poets deface what they take, and good poets make it into something better, or at least something different. The good poet welds his theft into a whole of feeling which is unique, utterly different from that from which it was torn."
Chef Pascal Barbot of the three Michelin stars restaurant Astrance in Paris is uniquely bringing you on an emotional journey. Not a journey where you would just get lost. His cuisine takes you from safe places into discovery and exploration. What he manages to deliver is a unique combination of the known and the unknown – of what is here and what is elsewhere. Stretching our senses and our imagination.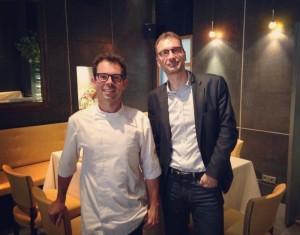 With Pascal Barbot at Astrance
I had the immense privilege to meet with Pascal at Astrance on May 15th, 2015 for a wonderful conversation on themes I was eager to have his views and insights on – from creativity, to becoming a chef, and finding a unique identity. Here are the five lessons I learned from a Chef-Artist.
1. Build a network of excellence
"The real work of a Chef is managing all these relationships – relationships with customers and relationships with suppliers; I mean the producers and farmers I'm working with. Today I have a network of 140 producers and farmers, for veal, fois gras, duck, asparagus, green peas… I call them by their first names. This network is in place, representing 25 years of professional experience. And these producers and farmers are coming to me even without any ordering: green peas came early this year because of the recent sunny weather, same for strawberries – these are exceptional produces that people I have been working with for the last 15 years are bringing me.
Producers know better than I do if produce will be better on Tuesday or Thursday. Therefore I'm receiving emails and SMS messages all day long to inform me of the availability of exceptional produces – today ducks, morels, rose petals and other edible flowers. And it's the same for non-cultivated wild produces like certain mushrooms. That's why I'm managing directly all the ordering; my main objective is to put the work of these producers and farmers at the forefront.
I'm also proud of the 15 cooks that have been working for me here for between two and four years who have now opened their own restaurants. My advice to all of them from my personal experience has always been the following: be fully ready even if it means waiting for an extra couple of weeks or a month before opening. The die is cast in the first three to six months because of expectations from customers, employees, suppliers and media."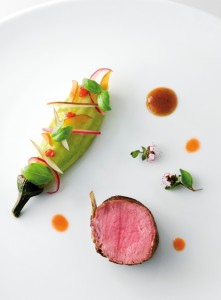 2. Question what is unquestioned
"There is no obsession to be creative or to renew myself, things happen naturally. For example, I had only six very fresh organic eggs this week. We're reaching perfection. And this illustrates why there is no menu here at Astrance. With a menu, you have to deal with something structured and fixed, and this can be very frustrating. Tables therefore never share the same menu during each meal due to the limited quantity of quality produces at my disposal.
When I think of a recipe, I think of it finalized in terms of architecture and balance around a main produce, for instance a meat or a vegetable like an asparagus. In the architecture of the French classical cuisine, there are various triads: there should never be more than three flavors in a dish, like in lobster with yellow wine and morel there are references to three tastes, three flavors and three ingredients; there is produce, vegetable and sauce.
In the new cuisine of the 70s and 80s, things were somewhat simplified. In my asparagus dish, for me there is only the asparagus. Cumin and spinach play the role of seasoning. There may be several tastes but there is only one produce in my mind becoming my focus and attention. I like it when cuisine is legible and very understandable. This also brings clarity in presenting and explaining the dish, like duck with cherry and tarragon.
Some of my preparations like black curry may require up to 22 different ingredients, the result remains just one taste. I also hate 'salt and pepper'; I find this overly simplistic in French cuisine. I don't understand why in all recipes everywhere in France there is this 'add salt and pepper'. It all depends for me on what produce or taste I want to put first. One example of seasoning is the chilli sorbet: we start by a first infusion of chilli in sugared water to get the chilly taste, then a second infusion with mint and basil that we taste every ten seconds for the result to be well balanced. Or the spinach quenelle garnish where there is cumin, ginger, garlic, piquillo pepper, and salted bergamot."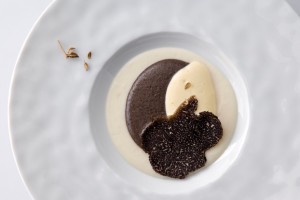 3. Understand what really matters
"I'm relying on strong foundations to create certain dish variants each year. The quality of produce is so important that I'm not even mentioning it. These foundations are cooking, seasoning and cutting, each one with infinite variations: marinated, under vacuum, with vinegar, pickled, steamed, grilled, roasted… for cooking; savory, fermented soya, anchovy, black olive, caper, lemon, ginger, citrus, spices… for seasoning; not always blending to preserve the produce structure as far as cutting is concerned. I'm always asking myself whether to cut or not, and then before or after cooking, and in small or big pieces, to remove or not pips and membranes… If cutting is mastered, then cooking is mastered.
For vegetables like leeks, potatoes and carrots that do not have the same cooking time, then cutting becomes highly important. In winter, we mash truffles with a fork to extract all flavors. On the contrary, we cut herbs with sharp scissors to keep flavors inside. The order may change from one recipe to the other. But when these three foundations are mastered, the recipe will work even with apparently weird associations, whether it is a rhubarb and jasmine tart, a duck with morello cherries, a veal tartare with cockles and oysters, or asparaguses with cumin and citrus. I'm pestering my cooks to master these three foundations."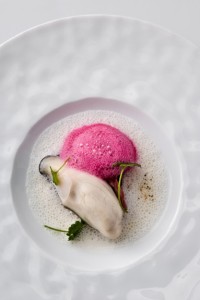 4. Remain curious
"Sometimes there are failures. Once I was preparing a sauce, and a young cook did a mistake in cooking a herb. I tasted and it was good – we reworked this basis and made it the garnish of a mackerel dish. Another very important source of inspiration comes from my travel experiences over the last 20 years in Thailand, China, Japan, Morocco, Sweden… People notice: 'you're back from Asia – Thailand, right?' Consciously or unconsciously, I will start using produces like spices in my dishes. Coming back from China, I feel like steam-cooking and using peppers. It is also meeting with new people, producers and farmers, and therefore new produces. Like the Japanese Chef, Okuda, I've been in contact with for a year, who has also opened a unique fish shop in Paris. I'm receiving produce samples all the time – like, now, black garlic vinegar from Korea, peanut or pistachio oils, teas, saffron…"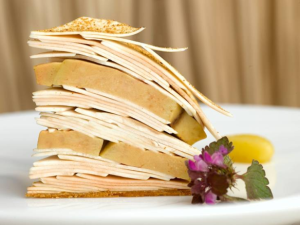 5. Do what you love
"Astrance is a very atypical restaurant. When we opened in 2000 with Christophe Rohat, it was prime time for luxury hotel restaurants. We had no menu, no valet, and were closed quite often. We never thought of obtaining 3 Michelin stars. We received lot of awards during the first two years, including the first Michelin star after six months. But our priorities have always been the activity of the restaurant and happiness of our customers. Awards come by themselves. We have been very pleased with all these awards and of being very much in demand, including in foreign countries since then. But this never was our objective and we have never invested in that direction.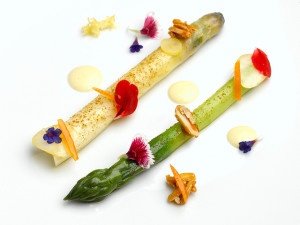 I have also always claimed that one should be selfish in cuisine. And I am. I want to do something different and have pleasure in doing so. This is a very personal viewpoint. There is my will to cook certain produces, now working with Alexandre the sommelier on the arrival of spring around wines with vegetal aromas. Asparagus and saffron. A more floral and herbaceous cuisine. Rhubarb and red fruits. Cherries just started and will be perfect in about ten days. So I've started thinking on how to integrate cherries in dishes then. Childhood memories are also important. Integrating or reinterpreting dishes and produces like cabbage and bacon of my Auvergne region. Then there may be a specific technique I'd like to use or promote, but that's not a priority. There are tastes, although it doesn't start from imagining the taste of, for example, combining veal, cockle and oyster. We are just out of winter. I want to refine, getting rid of butter and cream, delicately starting the menu with some freshness and iodine flavors. I also have lot of constraints – a small kitchen, a small team, not a lot of equipment… I'm always asking myself: 'Can I do this?' or 'Isn't this too complicated?' It forces me to simplify, refine, adopt certain approaches, and act with spontaneity. And most of the time, simplicity is the difficulty. When I started 15 years ago, I wanted to put everything in my cuisine, I was discovering new produces I wanted to use, I wanted to show my know-how. But the more experience you have, the more you force yourself to subtract, and the result becomes more accomplished and more legible for customers.
I have always wanted to tell my own story, my travels, my Asia, and my region. Reproducing a work or executing something that has been defined by someone else is never easy but is achievable if you work, put enough effort, understand what you're doing, and have some talent. But in cuisine when you have to become a Chef, it can be a violent experience. Finding your own way, your style, going deep inside yourself, and not copying what you have learned for 20 years – even if I loved the restaurants I worked in which remain a source of inspiration that must not be forgotten. Working with and managing people; . asking them to do things when you don't even know what you want and you're experimenting. Expressing specific requests, explaining to others something unclear to yourself. You can also choose another way, you can choose to do great classical cuisine. Not being creative. But I chose what was the most natural for me."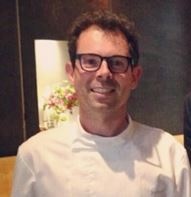 Pascal Barbot started his career in 1991 at the Buron de Chaudefour in the town of Murol, in his native Auvergne. Later that year, he left for London, where he worked at Les Saveurs. In 1993, he crossed the globe to do his military service in the French Navy, stationed in New Caledonia on board the Jacques Cartier, an experience that gave him a taste for adventure and for discovering new flavors and products. He also served as private chef for the admiral of the Pacific fleet. From 1993 to 1998, he was first commis, then chef de partie, and finally sous-chef at Alain Passard's L'Arpège, during which time the internationally renowned restaurant earned its third Michelin star (1996). He then spent a year in Sydney, where, as chef de cuisine he helped to create Ampersand (named best cuisine of Australia by Condé Nast). Back in France he opens Astrance in partnership with Christophe Rohat in 2000. In 2005, Astrance received a score of 19/20 and Pascal Barbot was named Chef of the Year by the prestigious French guide Gault & Millau. Astrance received its third Michelin star in 2007.
Photo credit: VISITFLANDERS / Foter / CC BY-NC-SA