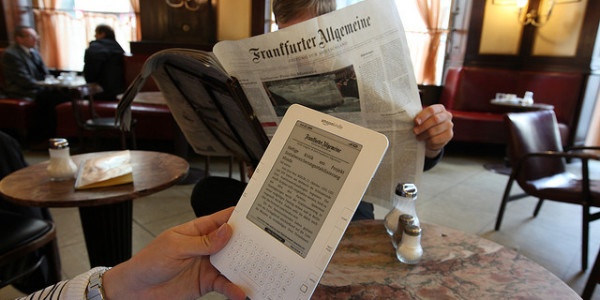 Spring is coming, bringing in many new services, TV shows and shiny devices. Apple launched what analysts describe as the next exciting, connected platform – the Apple Watch. More cord cutters were reported in the latest research which measured pay-TV subs, and both Dish and HBO announced new services for their respective OTT offering.
Are you ready for some sunshine? Here's our recap of this week's TV news.
What To Expect When Watching the New Apple Watch? (Newsweek; Business Insider)
With a song and a dance (and one supermodel), Apple launched on Monday its first major product in 5 years (since the iPad) – the Apple Watch. The new device comes with a variety of screen sizes and colours, and, needless to say, with a range of prices – between 349$ and 17,000$.
What can this new wonder do besides showing the time and heart rate? The most obvious advantage is the fact that wearing the watch saves users the trouble of reaching out to their iPhones: the watch will ring, alert and exchange messages through installed apps. It needs an iPhone 5 or later models to operate, and battery could last up to 18 hours.
Business Insider also added that the new watch could mean promising features and use cases for developers. In the days before iPhone there was no Instagram, Uber or Snapchat and "The iPhone created a platform that made it all possible". It will definitely be interesting to think about the way in which the TV industry will put this new shiny device into action.
Cord Cutting Continues, Traditional TV Ad Budgets Shrink (Light Reading;Rapid TV News)
Two researches indicating the continuous cord cutting trend were released this week. A Leichtman Research survey showed that in 2014, and for the second straight year, the US pay-TV industry saw subscriber losses. The report says that after a consistent 60 year growth, the top 13 pay-TV providers hit a "saturation point" and ended 2014 with a total of 95.2 million video customers - 200,000 less than their peak at the end of 2012. In addition, the survey suggests that cable's leading share of the pay-TV market continued to decline. In 2014, just over 50 per cent of subscribers were cable subs, followed by satellite and Telco subscribers.
But Bruce Leichtman, president and principal analyst of Leichtman Research, played these figures down, saying that the top pay-TV providers have only lost about 0.2 per cent of all subscribers in the last two years.
Showing the other side of the trend, a MoffettNathanson TV ad sales report predicted that ad buyers will be shifting their resources to digital advertising, eroding traditional TV budgets.
In his notes, Michael Nathanson said that national TV sales decelerated sequentially. "The question turns to how quickly digital will take share from TV", Nathanson added.
Don Draper vs Tywin Lannister, or Sling vs HBO (re/code; Gigaom; Business Insider; International Business Times)
It's been a busy, competitive week in the US TV market, with announcements echoing the ongoing changes we've reported above.
Dish, one of the US biggest broadband operators, announced that 100,000 users have already signed up for a free trial of Sling TV – their new, millennial-targeted OTT service.
Since its launch last month, Sling had boosted its content offering, adding AMC (producers of Mad Men among many others) and IFC to their basic package. In addition, Sling added a "Hollywood Ad-On Package" which will include a replay option. Will the free trial week enthusiasts stick around? According to recode, which quoted unnamed sources, the numbers are "encouraging." Dish and Sling say they're targeting the estimated 10 million millennials who have broadband access but no traditional TV services.
Apple announced this week that it will be HBO's exclusive partner in the new streaming service HBO Now. The deal means that all of HBO's catalogue will be available through Apple TV. HBO Go is scheduled to launch in April – not a random deadline, but rather the anticipated date when the fifth season of "Game of Thrones" will premier. The International Business Times described the new OTT services as the biggest challenge yet to the cable market, as viewers will be able to subscribe to the new service (at an estimated 15$ cost) directly through HBO.
Share your thoughts with us by leaving a comment and you can also find us on Twitter, Facebook and LinkedIn