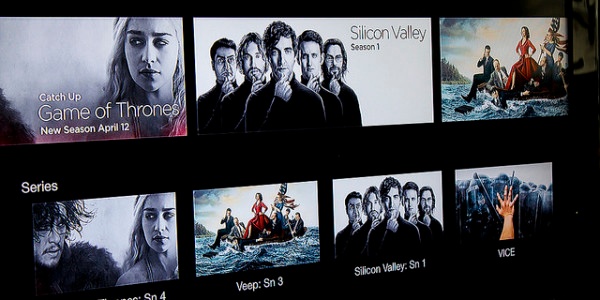 Madonna is no stranger to using social media and technology for promoting her music, but in another testimony to the growing importance of video on Social Media, Madonna chose to premier her new video "Ghosttown" on the live streaming app Meerkat. Ahead of the launch of HBO's subscription free OTT service, CEO Richard Plepler discusses the race against Netflix on content and agility. And next week in Vegas it seems like OTT will be dominating the agenda. Read more on this week's hot TV industry news.
The Real Game of (TV) Thrones: HBO's Plepler on the Netflix Effect (Fast Company)
Content, agility and delivery - or in other words, the fierce competition of Netflix on the hearts and pockets of pay TV subscribers - are at the centre of Fast Company's interview with HBO's CEO Richard Plepler. The article, called "HBO To Netflix: Bring it On", is published days before HBO's launch of HBO Now, an OTT service which doesn't require a cable subscription, focuses on HBO and Netflix. But as Plepler and other executives share their insights about the company's history and decision making, the HBO – Netflix race is just one part of the bigger story: the story of the evolution of TV in the past five years. "It is time to remove all barriers to those who want HBO", Plepler said, adding that the new OTT platform is an opportunity for talent to shine, thanks to its agility- as it gives creatives "all kinds of dexterity".
Exploring HBO's exclusive deal with Apple TV, Fast Company comments on HBO's technological evolution, and concludes: "If it's (HBO Now) really good, it puts HBO into the same conversation as Netflix. It doesn't come close to killing the enemy". Nevertheless, it an important step into the future for HBO, and industry expert Howard Horowitz predicts a 5 per cent bump from broadband only households.
Madonna and the Attempted Video Debut on Meerkat (Business Insider; The Guardian; The Next Web)
She has won dozens of MTV and VH1 music awards, yet on Wednesday, the singer was scheduled to premiere her new music video "Ghosttown" on her official Meerkat profile, which currently has 1000 subscribers. Meerkat app enables users to broadcast video live from their smartphones to their followers on Twitter. It was unclear how the app will broadcast the new video as it works by the users pointing their smartphone's camera at whatever they want to stream, and indeed, hours before the launch, something went wrong and fans that checked the Meerkat page received 500 error message. Madonna's decision to use Meerkat is an indication to the importance of video on social platforms. Ghosttown was scheduled to be streamed on Meerkat only a week after Madonna joined the new streaming music service Tidal, which she co-owns with 15 other artists such as Kanye West, Jay Z and Rihanna. In February, Madonna premiered her last video, Living for Love, on Snapchat.
And in another boost for the music video industry, Sony and Spotify launched last week their PlayStation Music streaming service in 41 countries. The new service will replace Sony's streaming music service Music Unlimited and will be either a free service supported by ads, or a premium subscription with people able to sign up from their consoles
OTT to Dominate the Agenda at the Annual NAB Show (LightReading; Rapid TV News)
Broadcast TV executives, producers, distributors and vendors will gather in Las Vegas next week for the annual NAB Show. 4K, Ultra HD and multriscreen services will all be at the heart of the discussions and presentations, but according to LightReading, the show's agenda will focus on OTT with a special two-day Online Video Conference which will host 12 keynote sessions, panels and workshops.
Judging by this week's news, the NAB show's participants, as well as everyone else in the TV industry, are never short of OTT news to discuss and comment on. HBO is scheduled to launch its much anticipated OTT service HBO Now next week, while DISH's OTT service is apparently expected to offer both live linear and VOD content from HBO – just in time for the HBO hit Game of Thrones on April 12th.
Meanwhile, Netflix said it will boost its content offering by adding original shows to its service. The conniving Mr. and Mrs. Underwood will return to the screens in a fourth season of The House of Cards, while a new drama series, Montauk, will air in 2016.
Share your thoughts with us by leaving a comment and you can also find us on Twitter, Facebook and LinkedIn.
Photo credit: Harrison Weber / Foter / CC BY