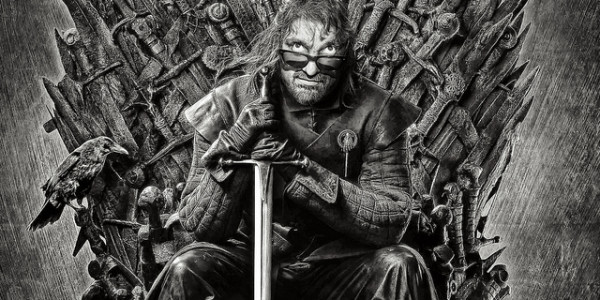 The growth of OTT is still verging on the phenomenal, but there are plenty of aspects of the emerging services that the industry need to improve. Meanwhile, the cultural juggernaut that is Game of Thrones continues, setting new highs — or lows if you would prefer — in the field of online piracy. And Netflix CEO, Reed Hastings, has to intervene when a row about adverts on the platform starts to spiral out of control. Here is what's buzzing in the TV industry this week.
Game of Thrones Continues to Break all the Wrong Records (TorrentFreak; Variety)
With the season finale of HBO's Game of Thrones next week, all eyes that aren't fixated on the bloody happenings in Westeros and beyond will be checking the figures to see if it once more breaks the mind-boggling swarm record set at the end of season 4. Then, according to data provided by TorrentFreak, over 250,000 people were sharing a single torrent at the same time and in 12 hours it chalked up 1.5m downloads.
Despite numerous anti-piracy measures taken by the broadcaster since, such as the launch of HBO Now and scheduling simultaneous broadcasts in 170 countries, this season's episode 5 'Kill the Boy', the first of the ones not to have already been leaked onto the internet, racked up 2.2m downloads in 12 hours (and 3.22m in a single day). Will this year's finale, 'Mother's Mercy', break the record once more? You wouldn't bet against it.
OTT Still a Long Way from its Potential Peak (Vindicia; Rapid TV News)
A new Parks Associates study, The OTT Playbook, Part II: Keys to Building Momentum, contains some interesting numbers. First, it estimates that the global OTT market now has more than 65 players (including those planning to launch services in the forthcoming months); second, it reckons that around 1.6 billion people worldwide actively watch online video; and finally, while it says 900 million access TV programming and movies online today, it predicts this number will rise almost 50% to over 1.3 billion video viewers by 2019.
There are weaknesses holding the industry back, however, with Rapid TV News reporting that differentiation, accurate targeting, service discovery, availability and monetisation are all areas that need further work.
"OTT services face a race for content and a race to reach consumers on all of their connected devices," commented Vindicia SVP marketing Bryta Schulz. "However, with so many players entering the market, interesting content and widespread availability alone are not enough to guarantee survival. Players must be able to look beyond their own services and establish strategies to achieve success in the context of heightened competition."
Click to learn more about Viaccess-Orca's Voyage TV Everywhere solution.
Ads on Netflix? No, They're Trailers… (Wired UK; Cord Cutters News)
Netflix users have been up in arms over the appearance of what they class adverts on their feed as First post-roll ones started approving after a show had ended while being watched on the Xbox One platform, and then pre-roll ones. And then they started spreading to other platforms such as Roku or Tivo and the disapproval grew so loud that company CEO, Reed Hastings, had to take to his personal Facebook account to calm things down. "No advertising coming onto Netflix. Period," he wrote. "Just adding relevant cool trailers for other Netflix content you are likely to love."
Length, position, skipability…there has been no reported consistency to them which suggests there is a lot of behind the scenes testing going on. "We are always testing new things via the service, many of which never see a rollout. We have nothing more to add at this point," read an admirably terse company statement.
Given linear broadcast viewers' long-stated resistance to too many bumpers and interstitials, it will be interesting to see how quickly Netflix can evolve its trailers to meet customer demands, though of course it has the advantage of return path feedback. And, if it gets its recommendation algorithms right, perhaps the trailers at least will solve some of the notorious difficulties of finding content you want to watch on the platform.
Share your thoughts with us by leaving a comment and you can also find us on Twitter, Facebook and LinkedIn.
Photo credit: 'J' / Foter / CC BY-NC