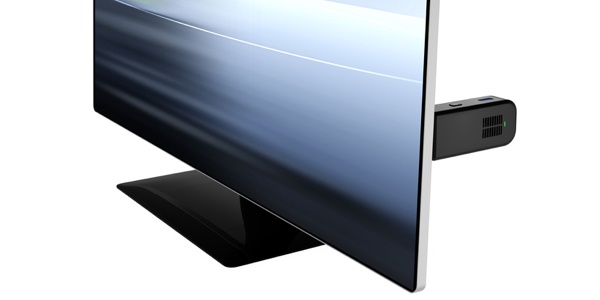 One of our smallest products at this year's IBC2016 is also set to be one of our most far-reaching as the new VO Streaming Device is a genuinely breakthrough product designed from the ground up to help boost operator revenue for multiscreen and even compete against the encroachment of big name streaming media players into viewers' homes.
The rise of the streaming media player, initially a box of electronics connected to the TV via an HDMI port latterly just a dongle as the electronics have shrunk, has been one of the major stories of the television industry over the past handful of years. Their ability to stream content and effectively turn any television set into an internet connected Smart TV has seen the likes of Apple TV, Roku and Google pitched into a high-stakes competition for viewers.
According to Parks Associates' latest figures, 36% of US broadband households had at least one streaming media player in 2015, up from 27% in 2014, and it forecasts that 86 million streaming media players will be sold worldwide in 2019.
Pay TV operators have for some time been looking for a white-labelled device which can compete in this growing market, ideally while allowing them full control over the content to be streamed.
This was first made possible last year when Orange, working together with Viaccess-Orca, launched an Orange-badged HDMI dongle. Bundled together with the "La Clé TV" downloadable app, it offers its subscribers an impressive and full range of TV services, and has so far been a tremendous success in France.
Today VO is offering the HDMI dongle product to operators worldwide, providing them with the unique benefit of being able to control and brand the entire value proposition around the service themselves. In common with other streaming media players, the dongle simply plugs into a TV's HDMI port and is then controlled and managed via an app downloaded onto a viewer's iOS or Android smartphone or tablet.
It facilitates live TV, catchup TV, Video on Demand and the viewing of content both from the local operator and their TV partners. What's more it can be used as a media hub in a viewer's WiFi network, allowing them to cast personal content such as music, photos or videos from their devices to the main family TV set.
VO manages the back-end, the ODM server, the firmware server (though this can be managed by the operator too), and the Multi-DRM server for content security, ensuring a straightforward integration with an existing TV multiscreen infrastructure.
In other words it is easy and quick to deploy. It's cost-effective too, requiring no STB or even remote control thanks to the choice of app-based control, meaning that for minimal investment an operator can deploy a wholly new secure service that is designed to boost their premium content subscriptions and generate both new revenue and increase ARPU.
If indeed 86 million streaming media devices will be sold in 2019, with the VO Streaming device operators can now make sure that their own offering will be part of that dramatic sea change in viewing habits and that their viewers don't have to turn to third parties to get all the benefits of a stick-based player. It is another, and rather powerful, weapon in the continuing war over who has the rights to the coveted HDMI 1 slot.
Book an appointment to see us on Stand 1.A51 at IBC in Amsterdam 9-13 September to find out more.