Paolo Pescatore, Founder and TMT Analyst at PP Foresight, provides us with his key takeaways on IBC2022.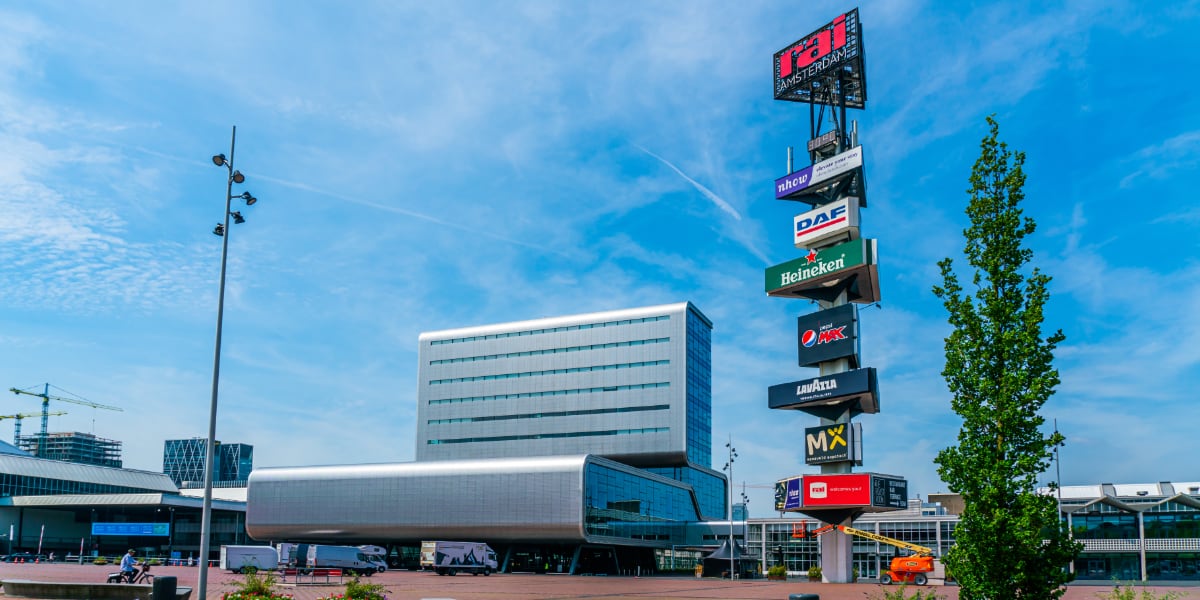 After a three year break the IBC community successfully returned to the RAI Amsterdam. The halls seemed busier than normal due to smaller stands, tighter aisles, and halls closed as more exhibitors were cramped into reduced space. The official numbers were somewhat disappointing with only slightly more than 37,000 visitors turning up.
There were, of course, mitigating circumstances for this, from global events to a shorter show. But numerous shows have already taken place this year since the pandemic, and, while most have been down on visitors, confidence among businesses and individuals has been steadily returning. IBC seems to be suffering more than most given its place in the calendar. This was underlined by some empty stands as companies perhaps cancelled at the last minute or even decided to return home early to avoid the inevitable chaos at Schiphol airport.
Positive energy & main themes
Overall, there was positive energy throughout the event with everyone pleased to see each other. While headline grabbing innovation was perhaps in short supply, there was plenty of incremental optimisation on show and, encouragingly, a crystal clear focus from all to conduct business.
However, a dark cloud does surround the media and broadcasting industries with a global recession around the corner. This will have profound implications on everyone that we've never witnessed before. This comes at a crucial time given escalating cost of household bills. Prices are all heading in the wrong direction; no one is immune, with consumers all feeling the pinch.
Unsurprising, a hot topic at IBC was business models and the emergence of ad-funded offerings including FAST (free ad-supported streaming TV services) channels. It is apparent that the streaming pandemic party is well and truly over. During this time, we saw a rapid increase in consumer adoption fuelling subscription revenue. Conversely during a recessionary period, users will be forced to make some tough decisions regarding the need to keep on paying or signing up to a slew of services. Inevitably, users will also consider downgrading as well. Rising costs will fuel switching and in some cases drive more premium offerings at affordable prices. A diversified business model offering a range of pricing options (subscription, a la carte and increasingly advertising) will resonate with a broad range of users. New ways to engage, such as Blockchain, offers scope to radically change the way media companies can connect with new audiences.
The theme of piracy and illegal streaming is returning to the fore and ever more so in sports. We are now finally seeing a reality check, thanks to consolidation. While competition is healthy, battle for rights and subscribers is leading to a hugely fragmented landscape. This coupled with a lack of a diversified business model is placing further pressure on providers. As households tighten their belts, they will no longer want to fork out huge monthly subscription fees. In turn, this will drive users to find alternative ways to watch and stream illegally. Disappointingly, this was not hugely debated during conference sessions, but a small number of exhibitors continue to highlight their solutions in this area.
Providers need to evolve their TV services and pivot towards a more personalized approach. While the concept is not new, it remains hugely relevant and the holy grail. Providers are not doing enough in keeping users engaged and enticing them to sign up beyond the desire to watch the next biggest blockbuster. All are sitting on a wealth of data and should do a better job of understanding consumer's behaviour and attitudes to a show including emotions and moods. Beyond this, they need to tailor offerings to allow users to easily sign up, downgrade or even cancel a streamer.
Other areas
Cloud is everywhere as companies unveiled a host of solutions. While the industry has embraced pushing more functionality into the cloud, there still appears to be some challenges around cost and security. The perception is changing given industry partnerships, moving more towards an open collaborative approach.
The role of 5G in media is becoming clearer. There were numerous demonstrations around the future of 5G with private networks, enabling immersive experiences and of course remote production including portable 5G in a box solutions. While these are not new use cases, the industry continues to make steady progress as 5G rollout accelerates around the world.
Metaverse did not feature as prominently as many perhaps would have liked. There were some VR demos on the show floor, but the industry is learning from previous failed attempts to jump into new areas without a viable return on investment.
As more content is distributed online to new audiences, there is a growing need to stream this more efficiently. Therefore, low latency and efficient codecs will always play a key role.
It was also good to see an increasing focus on the environment as the industry looks to reduce power consumption and makes greater moves towards remote production. Sustainability is and rightly so a hot topic at every event.
The return of IBC was an opportunity for everyone to reconnect and was one big social gathering. Next year's event remains a real test as shows are clearly evolving towards a smaller, more intimate affair, with a razor-sharp focus on conducting and concluding business face-to-face.