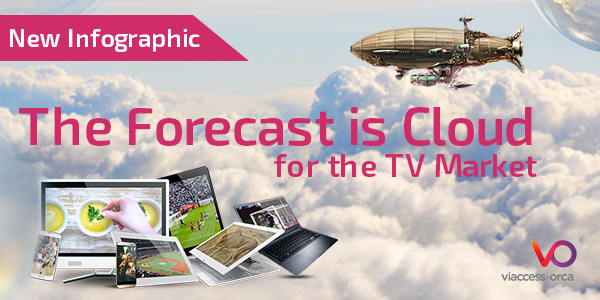 One of the major underlying narratives of current business activities in all industries is how many computing functions are transitioning to the cloud. In the broadcast industry in particular it is becoming a well-worn saying. Our infographic comes to the rescue! It puts real numbers on the increasing cloud activity in the sector and charts the challenges it faces and the advantages it brings.
Cloud growth growth is astonishing. KPMG estimates that the public cloud market alone will more than treble in size between 2013 to 2020, when it will be worth $191bn. Costs of the cloud are falling all the time too, which means that the actual growth in usage could be much higher than that. According to one estimate, between 2011 and 2015 alone the price of storing one hour of video for a year in the cloud halved, while the price per GB of RAM has been observed following a similar trajectory.
What is interesting to note is how increased cloud usage changes the culture of organisations and the way that employees feel about and use technology, with 74% of respondents to a Harvard Business Review survey asserting that the cloud provided them with competitive advantage. For broadcasters and TV operators in particular, it also has the power to alleviate several serious choke points that are affecting the deployment of the TV Everywhere services that are acknowledged as being crucial to the industry's future.
As manifested with our new Voyage – TVaaS (TV Everywhere as a Service) , it even allows service providers to spin up, launch and manage new services entirely in the cloud, dramatically reducing costs and lead times in the process.
Check out our new infographic for more facts and figures as, no doubt, the forecast is Cloud.