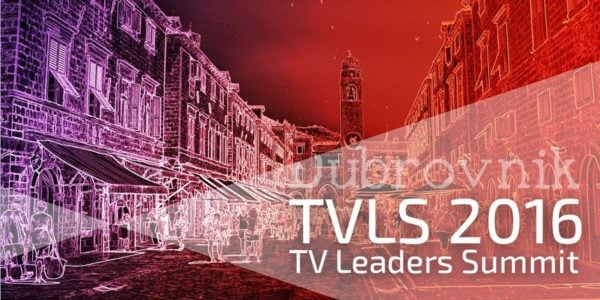 The current TV industry is undergoing an almost unprecedented period of change at all levels from production to delivery, all of which makes this year's choice of Dubrovnik to host our TV Leaders Summit 2016 all the more appropriate. Dubrovnik, a beautiful Croatian medieval walled city and a UNESCO World Heritage Site that is deservedly called one of the jewels of the Mediterranean is also one that has emerged from recent turbulent times into a new era of prosperity and popularity
But the question that we will be asking at TVLS 2016 is whether television can do the same.
Our summit has established an excellent reputation for itself through the industry as a platform for market leaders and executives to gather together for keynotes, panels, debates and discussions, all programmed to provide genuine insight for its attendees. This year, aided by media commentator and presenter Kate Bulkley, we will examine the very latest technologies that are acting as powerful disruptors on the established industry and look at the changing market dynamics that are reshaping it into a very different image.
Rewind just 10 years to April 2006 and you find yourself in a pre-smartphone and pre-tablet era, with the iPhone over a year away and the iPad not to be launched until 2010. Television might have been multichannel, but HD services were few and far between, Twitter was barely a month old, Facebook had yet to open access to everyone, and Netflix was still posting out DVDs by mail.
How times have changed.
But before I present this year's agenda here's a quick video recapping last year's highlights:
https://www.youtube.com/watch?v=7U_um3vQgow
The TV Leaders Summit though is not about looking backward, it's about looking ahead and understanding how we can work together to overcome the challenges that the next ten years are likely to bring.
Guy Bisson, Research Director at Ampere Analysis will provide us with a snapshot of the current state of the market, before we look at the rise of the empowered consumer and the twin challenges of first attracting them to your service and secondly encouraging them to stay. We shall look at ways that Big Data can be collected and harnessed to drive business objectives, and look at how the increasing prevalence of the cloud is fundamentally changing many industry processes. And, and in the wake of our world's first live VR stream of a football match conducted with TF1, we shall take a detailed look at Virtual Reality and ask if 2016 is genuinely the year that it breaks through to the mass market.
Speakers lined up for the day include: Daniel Daum, MD Prism Media TV-Entertainment; Antonio Carvalho, VP research and insight Liberty Global; Guillaume Lacroix, VP Content Partnerships and services at France Telecom/Orange; Massimo Bertolotti, Head of Engineering and Innovation, Sky Italy; and Graeme Hutcheson - Head of Sky AdSmart at Sky Media, with more to be confirmed as the event draws closer.
Indeed, Graeme Hutcheson will provide us with a fascinating case study looking at how Sky in the UK is using Big Data to create new revenue streams and create better channel loyalty through targeted ad breaks. This, you feel, is exactly the sort of technology we will look back at from a future 2026 and marvel that there was a time when it was not everywhere and used by everyone.
The challenge ahead of us is to ensure television has the same degree of longevity and, in a Summit full of lively and dynamic debate, we hope to sketch out ways to ensure this happens.
I look forward to another successful summit!
Find out more about the Summit here.