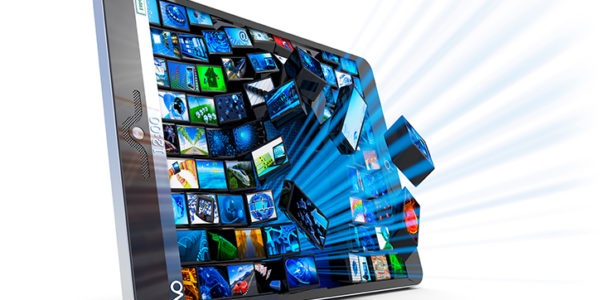 The importance of OTT to the broadcast industry is not one that can really be understated. For new entrants to the market it allows them to get up and running quickly and tap into the phenomenal growth of IPTV, especially when using services like our own TV as a Servcie - TVaaS, while for traditional linear players it allows access to much wider audiences and acts as a barrier against cord-cutting, particularly from Millennials.
It is a worldwide movement. According to figures from Parks Associates' latest OTT Video Market Tracker Service Update, OTT video usage in Western Europe is continuing to expand, with 55% of UK broadband households and 51% in France watching TV programming and movies online. There is still some way to go, however before Europe catches up with North America, where the same figure climbs to 70%. Meanwhile, there are expected to be 68.83m SVOD homes across APAC by 2020, quadruple the number seen in 2014, and helping to contribute to total OTT and video revenues in the region of $11.29bn.
The Components of a Successful OTT Service
You can use any number of different metaphors to describe the different facets of a successful OTT service. You can compare it to everything from a cake to a whole ecosystem, but the key point is that it's never a case of one size fits all. There are certain things you have to have in there — flour for a cake, water for an ecosystem — but the proportion or them and the degree of importance you assign them can vary quite markedly.
The result is that any service provider can build a successful OTT service that suits them and their own individual market needs as long as they pay attention to these five, crucial building blocks.
1. Content
2. User Experience
3. Data
4. Identifying the Consumer
5. Identifying the Costs
Let's step through them in turn.
The Importance of Content
We all tend to fixate on price, but a recent study from Strategy Analytics showed that 52% of viewers are driven by "content related" factors when looking for an online video service of preference. By contrast, price and pricing options accounted for only 39% of consumer choice.
Within that 52% the analysts found a range of factors too, ranging from the availability of full TV series for binge-viewing and the overall size of the content library, down to the availability of User-generated content. Interestingly, only 4% were bothered about live content, suggesting that viewers still regard linear television as the home for such events as live sports.
Meanwhile localisation, and language localisation in particular, are important factors in making an offering appeal when services such as Netflix are available globally.
Different content works for different audiences at different times, but the good news is that you can tailor your offering to match. The key lies in researching your audience first rather than just assuming you know what they want. And, needless to say once you've spent all that money on content rights, you then need to protect it and find a security solution that can support the multi-screen, multi-device OTT landscape you're creating.
Refining the User Experience
Operators not only need to present a unique value proposition for their target audience, they need to provide a User Experience that is, at the very least, as good as their competitors. This is becoming more and more difficult as the major OTT players — the likes of Netflix and Amazon — continually refine their offerings and the sophistication of their packages. Being noticeably less able in the current market or ending heading down an evolutionary cul-de-sac with an offering that doesn't allow the easy addition of new features is no longer acceptable.
Consumers want to watch what they want, when they want on what they want, which means delivering them a seamless multi-screen experience as a base spec. The high churn rates of many OTT providers, and around 20% of US broadband households cancelled at least one OTT video service during 2015, suggest that they will quite happily vote with the delete button if they don't get exactly what they want.
Utilising Big Data
There are, of course, different business models that can support an OTT service, notably subscription-based or pay per view, but it's important not to discount the additional monetisation opportunities offered by services such as content discovery and personalisation working in concert with data analytics.
Naturally, this is also an integral part of the User Experience, and an increasingly important one as content libraries grow in size and the problem of directing the consumer to the content they want to watch grows with it. But mining big data offers the chance of 'turbo-charging' the offering, opening up additional revenue streams by targeting consumers with additional, chargeable content, and also opens the door to the new wave of targeted advertising services currently gaining increasing traction throughout the industry.
Identifying the Consumer
Different demographics interact differently with OTT services. While research is showing that older consumers are steadily starting to turn to OTT services, still the majority are taken from the younger age categories, and the elusive 18-34 Millennial age group, in particular
The picture though is not a simple one. The period from 18 to 34 encompasses a lot of life changes as the audience transitions from education to independent adulthood and even family, and media consumption patterns change with it. Research from Nielsen, for instance, suggests that young adults living on their own spend nearly 30% more time with a TV Connected device than those that live at home (92 minutes daily compared to 71). Meanwhile those starting a family watch nearly an hour a day more TV — 4:40 — than dependent adults.
Every service provider needs to ask where their OTT consumers are coming from? Are they from an existing subscriber base, or are they customers of broadband competitors? And can the service being established adapt to the changing circumstances it will inevitably encounter? Agility and reduced Time to Market are important factors in keeping in touch with evolving consumer behaviour.
Identifying the Costs
Once the service is up and running, what are the ongoing costs of ownership? It is challenging to make the correct assessment in an ever-changing market. Factors such as leasing or building a CDN, merging silo'd systems, using cloud or local storage to scale, and deploying a system which will enable operators to encode and encrypt content just once for distribution and playback across all target devices are crucial.
Of course, there is now an easy way to keep on top of these costs by shifting any OTT service wholesale into the cloud with solutions such as our TVaaS solution. Alongside a host of other benefits such as security and built-in features to maximise engagement, this also reduces overall expenditure and transitions what there is from Capex to Opex.
How to Make Sure OTT Delivers?
Everybody is competing in different markets. Those differences can be extreme and couched in terms of GDP or mobile broadband penetration, or subtle and be the distinction between the legacy of two established brands competing in the same regional territory.
Different solutions are therefore required, but by paying attention to some of the fundamental principles underlying OTT provision the chances of success are much greater. A Victoria Sponge is very different from a Genoise though they are both sponge cakes; a rainforest ecosystem is very different from a tundra, though they are both capable of supporting life. The key is how you use and mix your ingredients and adapt them to your own individual circumstances.
To find out more about our radical TV Everywhere as a Service -TVaaS or request a free trial, click here.