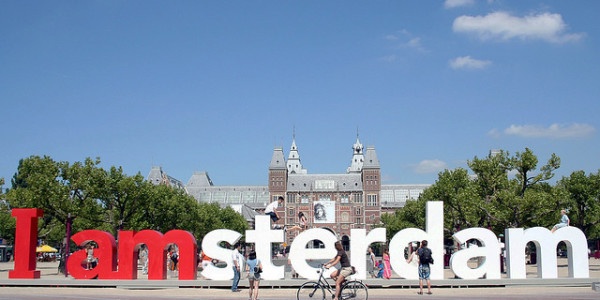 IBC, to use its own words, stands at the global crossroads of the industry. Every year, 55,000 people from over 160 countries descend on its home at the Amsterdam RAI to see the very latest, cutting-edge technologies and debate the future of the industry in a time of extremely rapid change. It's an incredibly important, exciting and vibrant show, and we thought we'd spend some of the build up to this year's event talking about various cool things happening at the RAI and around it.
We'll start with the trends that we think will drive the show. The industry can always throw you a curve ball and come up with something unexpected — such as when Quantel demonstrated Stereo 3D in action at a party at the Krasnapolsky in 2007, thus starting that whole (eventually doomed) technological cycle — but this is our best guess as to the themes and technologies that will dominate proceedings.
And, of course, you can always come and see us on Stand 1.A51 to discuss these innovations and much, much more. Set up a meeting with us here.
1. 4K and HDR
One of the reasons we mention Stereo 3D is because of what Hollywood director James Cameron said about Ultra HD at IBC in 2012.
"We have a bandwidth bottleneck and if we start going to higher spatial resolution it will be at the sacrifice of 3D rollout," he said. "So I see it as a little bit of an arms race right now."
If so, it is an arms race that Ultra HD has unequivocally won.
The speed of it though has taken everyone by surprise. At the same show and reflecting the same sentiment, HBS' Francis Tellier, the man effectively charged with bringing the FIFA World Cup to the world, commented: "It is a brilliant format but there is a danger for the industry in communicating to the public that U-HD is available now...3D is available now and you cannot expect U-HD to go mainstream for 20 years."
Three years later, and Sky and BT have competing 4K services in the UK, Amazon & Netflix have 4K content sitting on their servers and even NASA is filming in 4K on the ISS and putting the footage up on its 4K YouTube channel.
HD was a 15 year project; one that is still underway in significant parts of the world. 4K will probably achieve almost the same penetration in approximately a third of that timeframe.
It is not though a cut and dried transition just yet as there is some devil in the detail in the shape of High Dynamic Range. This technology, which essentially greatly increases the brightness of a picture (up to 4000 nits — 40x greater than the current standard in the first generation products alone) and the amount of colour information it conveys is considered by many in the industry to represent a greater leap than the transition from SD to HD and is important enough that no lesser body then the EBU claimed it was crucial to the probably successful uptake of Ultra HD.
Several sessions will debate it in the conference where a paper on the subject has already been announced as the winner of the IBC2015 Conference Prize, and expect to see much talk about it on the show floor. We have already blogged about the increasing concerns content producers have over protecting premium content such as 4K HDR, and we expect to have more conversations along those lines at the show.
2. Virtual Reality
We mentioned the phenomenal rise in interest in VR only recently so there's no need to reiterate the blizzard of information backing up the fact that this is likely to be the blue-sky industry buzzword of the show. And, while little has been talked about officially in the run up to the show, we are expecting to see quite a lot of activity once IBC opens its doors, and not just from companies that are already known in the field.
VR/AR has the smell of a potential disruptor about it. Expect to see a lot of interest and development across the board.
The Future Zone — the must-visit enclave of R&D projects situated just alongside Hall 8 — already has a hefty VR feel to it this year, while there's also an intriguing session that has been added to the conference programme talking about its adoption, '360 Content and Virtual Reality: A new creative medium or gamers' paradise?' - Saturday 13, 16.15-17.30 (there's also a session about immersive Entertainment in the Rising Stars programme for new entrants to the industry on Sunday afternoon that could find itself reaching a wider audience than originally planned).
But we confidently expect there to be much more talk about it, especially given the likes of Olympic Broadcast Services' interest in the format. 2011's conference debates and realisations predicted that the tablet was about to become "totally disruptive" and played a significant role in shaping the consequent discussions about the second screen. Talk about VR this year could have a similar effect.
3. The Cloud
Broadcast's hesitance to implement cloud-based services has been well documented, but the multiple benefits it brings — reduction in costs, ability to scale, transferral of development burden etc, etc. — have by now won over all but the most hardened of naysayers and we are now in the process of wide-scale implementation.
Within several years, if it can be done in the cloud, then it will be done in the cloud; simple as that.
There are though still concerns. As our own David Leporini recently blogged - cloud computing is not free from some genuine security risks. Evernote and Feedly both suffered severe service outages last year following targeted Distributed Denial of Service (DDoS) attacks on their cloud infrastructures, so the watchword has to be caution.
The wholesale migration of an increasing amount of industry services to an ever more capable cloudy future will be one of the underlying themes of this IBC, as it has been for the shows before it, but there are definitely distinctly right ways and wrongs ways to go about its implementation. Happily, we're experts in the field so feel free to book an appointment with us if you would like to talk to one of our experts about the variety of cloud-based services we offer or, indeed, anything else.

Have a safe trip and we look forward to seeing you in Amsterdam!

Photo credit: mattrubens / Foter / CC BY-SA