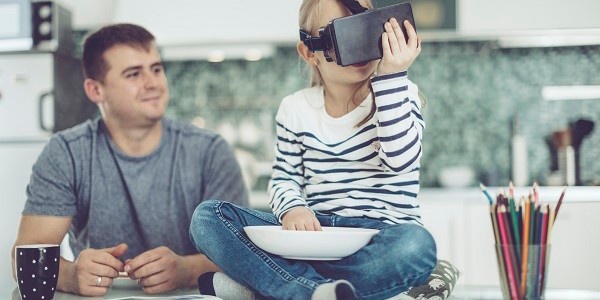 It's always difficult to know exactly when a new technology is going to break through to mass market adoption, but all the indications are that 2016 will be the year that Virtual Reality moves beyond simply hype to genuine products.
The roots of Virtual Reality are long ones indeed. As is often the way with ground breaking technologies, they first tap into fictional elements, stretching as far back as E.M.Forster's 1909 novella 'The Machine Stops'. They were fed and watered hugely in the 1980s via William Gibson and Neal Stephenson in the first flushes of cyberpunk, before finally being distilled into a movement by journalist and author Howard Rheingold in his seminal 1991 investigation of the subject simply titled Virtual Reality.
The opening paragraph of Rheingold's Virtual Reality runs as follows: "At the University of North Carolina I had a conversion experience akin to the experience that had bonded many of the personal computer pioneers of the 1960s and 1970s — a compelling vision of the future. But this time the creative impulse had a tinge of awe."
A quarter of a century later, with hugely increased graphics processing power and headset capabilities that can throw the 2 million and more pixels around at over 90 frames per second that are a necessary prerequisite for realistic immersion, that awe is even more tangible.
It has also moved out of the university research labs and into mainstream life. How mainstream? Well, to celebrate the 30th Anniversary of the Happy Meal's introduction to Sweden, fast food chain McDonald's released 3500 'Happy Goggles', an advanced lens kit similar to Google Cardboard that helps turn a happy meal box into a pair of VR goggles once you add a mobile phone as a projection device.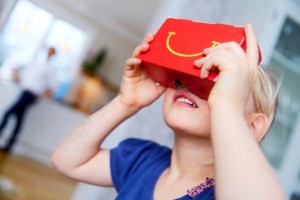 McDonald's Happy Goggles
From R&D to the realm of the Big Mac in 25 years. VR is now very firmly with us.
How Did the VR Market Evolve in 2015-2016?
2015 was the year of the prototyping: of hype and hoopla surrounding the technology and of companies trying to attract investment.
In that it seems they succeeded. According to Digi-Capital, $686m was invested in VR and AR during 2015, but what is impressive is that that amount is growing all the time. The same firm estimates that $1.1bn has been invested in the technology in the first two months of this year alone. Admittedly, the majority of that came from the last round of investment in Magic Leap, which landed what Wired referred to as an 'astounding amount' of VC money in February, namely $793.5m all by itself. But even if you take Magic Leap out of the equation, investment is tracking 20% higher than last year.
What is really key though is that more products are hitting the market: both spherical cameras that help enthusiasts capture the pictures to headsets that will allow people to view everything from 360º YouTube to high-end games.
Price points of headsets in particular vary wildly as a result. Oculus Rift caused a fuss when it unveiled a price of $599, HTC Vive raised eyebrows even further when it came in at $799 (though it still managed to sell 15,000 pre-order units in its first 10 minutes on sale — that's close to $12m revenue). Meanwhile, at the other end of the spectrum, you have units that are simple frames being driven by smartphones, such as the aforementioned Google Cardboard, to slightly more sophisticated mid-range devices like the Samsung Gear VR that exist in the $100 or even free with the right bundle window.
The Verge has put together an excellent comparison site that rounds up all the information you might need to know here: The Ultimate VR Headset Buyer's Guide.
As we've written before, Deloitte estimates that revenues from the VR and AR market will top $1bn for the first time this year, and that sales of headsets will be between 1m to 1.75m units. The difficulty is that the estimates of which end of that spectrum the eventual figures will lie varies all the time. Oculus Rift came out and pessimists pointed towards the 1m mark, the Vive sales figures led people to raise their estimates once more. And then, on March 15th, there was Sony.
Sony Changes the Game
In an interview with Die Welt am Sonntag, Facebook and Oculus Rift owner Mark Zuckerberg gave a fairly pessimistic — by current standards — appraisal of VR's appeal to the mass market. "I honestly don't know how long it will take to build this ecosystem," he said.
It could be 5 years, it could be 10 years, it could be 15 or 20. My guess is that it will be at least 10."
If there is any technology that could change that, though, Sony launched it on 15 March. This time it is Sony's rivals that need to look to their companions, as at a base price of $399 the new Playstation VR headset looks relatively cheap for such a powerful unit. And quite capable of some assassination itself.
Of course, there are hidden costs in the shape of its two Move controllers and the Playstation camera, both of which are required to operate the headset and play with the 50 or so games promised by Christmas, not to mention the $350 Playstation 4 itself. But there are 36 million of those in installed in living rooms around the world already, and if even only 1 in 100 PS4 gamers is interested in the headset, that's 360,000 people to be catered for.
Initial reports, of both the hardware and the software that it's capable of playing, have been enthusiastic.
BBC, Sky, Meta, Microsoft and more
Elsewhere, broadcasters are inevitably getting involved. The BBC, traditionally conservative with new technology due to its public mandate charter, has experimented with 360º video for news gathering and made a fairly jaw-dropping experimental video involving Sir David Attenborough and a CG Titanosaur. Also in the UK, Sky (which is equally traditionally always prepared to back new technology) has set up its own Sky VR Studio production house following a series of trials in different genres with the format over the past year and a half. First out of the gate are two VR Formula1 experiences produced with the Williams Martini Racing F1 team, which will be followed by what the broadcaster promises are 20 individual productions across the range of its output by the end of the year.
Meanwhile, the Augmented Reality field is looking like approaching a critical mass. Not only did Magic Leap — which, let's not forget, is trying to develop technology that projects a digital light field into its users' eyes — amass that astonishing amount of money, but other AR-oriented products such as Microsoft's HoloLens or UpLoadVR's Meta are in the process of launching their dev kits.
They aren't cheap. But for $3000 (Microsoft) or $949 (Meta 2) developers can now get their hands on the hardware that will possibly unleash a whole new wave of technological sophistication, including contextual information about the real world surrounding the user next year. Think Google Glass, but also think of it as being the same order of magnitude more advanced as the consumer VR rigs of today are over the R&D ones of 1991.
It might have taken 25 years for Rheingold's "compelling vision of the future" to properly come to fruition, but it could well take us under 25 months for us to progress to the next stage in the VR journey.
Meet us at NAB Show 2016 for a demonstration of our Virtual Reality demo - a 360 degrees instant immersive, personalized user experience.