We spoke to two of our leading experts to find out how how broadcasters and operators can cost-effectively manage the increasing complexity of a fast-evolving industry.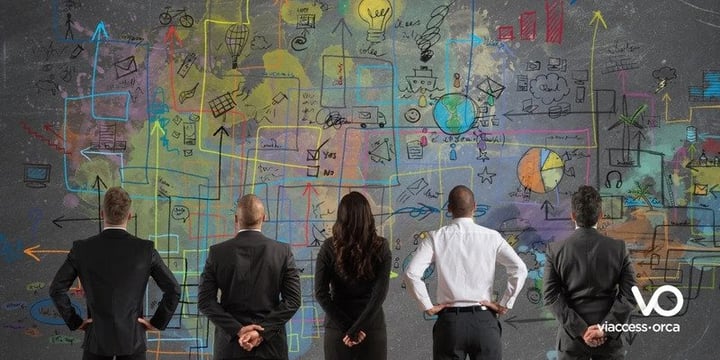 The business of television has changed hugely over the past couple of decades. As the number of channels has grown from tens to hundreds and then to a point where numbers are effectively meaningless ever since the big SVOD players have entered the market, so have viewers' behaviour and the business models that underpin it all changed as well.
The key premise is the same as always. People want to watch something that they enjoy, and they prefer to do that when and where they like. But the sheer number of options and platforms, and the speed with which they are evolving, has created an increasingly complex industry that bears little relation to what existed only two decades ago.
We spoke to two of our leading experts, Yuval Shachar, VP of Products, TV Platform, and Nir Baron, Senior Product Marketing Manager, about this growing complexity — and how to manage it.
Q&A: managing increasing broadcast complexity
Q: How has the industry changed over recent years?
Yuval Shachar: The basic services remain largely the same but there has been a change in two main areas. First, we have much more content than before. Because of the streaming wars, we have a handful of major players who are spending a huge amount of money on content. For the viewer, finding what they want to watch amidst all that is becoming more and more difficult. It also means viewers need more service subscriptions, as there is also more exclusive content that is confined to a single platform. We have also seen a big change in the degree of personalisation that is possible. This has become ever more sophisticated in recent years as the industry becomes better at mining the data to drive recommendations and increase viewer engagement.
When you take the requirements for offering your viewers maximum access to as much content as possible, and match that with the improvements in personalisation, it leads to super aggregation becoming one of the main driving forces in the industry at the moment. This means having to unite all the popular streaming services into a single interface, and offering holistic search across them.
Q: Is this partly where the sense of increasing complexity in the industry is coming from?
YS: Yes, super aggregation is difficult to realise. It requires a lot of challenging integrations, especially on the metadata side, between an increasing number of providers and there are no industry standards. This is why we have developed our own VO Super Aggregation solution, as there is a definite need in the market to be able to outsource the heavy lifting to a third party such as ourselves.
Nir Baron: We're effectively writing the book on this as we go along. Super aggregation is continuously evolving in front of our eyes, and, even though it is still a new trend, the sheer volume of interest in it is tremendous. There are so many pieces to put together; technology, partners, integration of different channels, different libraries, and so on, it's increasing the complexity massively. And our job is to hide it all and make it seamless. And so, on the one hand we provide broadcasters and operators with a simple Service Management Console. And on the other hand, we provide the customer with a holistic and simpler customer experience, which links all the services together.
Q: So, reducing complexity is a key to success in the current industry?
YS: Yes, and we do a similar thing with Targeted TV Advertising. The broadcast ad tech ecosystem is a complicated one, but we deal with all of that for our customers, enabling them to launch their services with the minimum of investment in specific skills and in the shortest possible time.
NB: One of our biggest selling products is our expertise. It's a vital part of the whole package that we bring to the table because at the end of the day, most telcos that we work with, for example, do not come from a TV background. They don't have any broadcast channels. They don't have any other TV service business. But we have over two decades of experience working at the forefront of the video industry and are able to bring that to bear on managing complexity for them.
Q: Where are the main challenges at the moment in helping drive complexity for broadcasters and operators down?
YS: The challenge is that basically when we think of the future we are typically talking about cloud technologies. We talk a lot about data personalization, profiling, segmentation, and other data technologies, including all of the technologies for managing big data; - all are contained within the public cloud. It is almost impossible these days to manage customer profiles or sophisticated profiling on prem, as it requires the Machine Learning capabilities that we find in the public cloud from the major vendors. All the associated technology roadmaps are meant to be run in the cloud; that's where the workflows can optimised at scale.
Q: What of the future? What issues of increasing complexity has the industry still to face?
YS: We have an increasing amount of new players and variables and little standardization, which makes many things more challenging. On the other hand, we expect the time to market to improve as we see microservices architectures implemented. We will also see more as-a-Service solutions implemented as operators come to realise the benefits of cloud-based workflows and their ability to scale, their increased flexibility on costs, their speed of iterative development, and more.
The number of TV applications and platforms is rapidly growing. Smarter TVs, multiple brands, various operating systems, different boxes, additional mobiles. Samsung, LG, Google… none of them are going to give up their own operating systems or tools. So, as a tech vendor, we are trying to put most of the 'wisdom' in the backend and work with lean and agile applications. We try to develop tools that will be supported by all of the platforms, but the brains really need to be in the backend because you need to certify your software on dozens, if not hundreds of devices.
NB: One of the biggest challenges we face is keeping up with customer expectations. Once it was just broadcast. Now everybody wants VOD, and they want the ability to share it on social networks, to leave the TV and keep watching on their mobile wherever they are. And then viewers want to see different angles of a live game, and so on. And we must meet all these requirements and support it all, in order to keep viewers engaged and make sure they are happy. So keeping up with the complexities of implementing all those features, while also hiding that complexity from the end-user and keeping the technology as simple to use as possible, is a definite challenge.
Keeping it simple
The complexity of the broadcast ecosystem is growing all the time. An end-to-end overview now encompasses many interlocking systems, from AI-driven content recommendation to managing targeted advertising inventory, each of which come with their own demands. They also each have a need for continual optimisation in order to realise efficiencies and constant evolution to remain competitive.
That complexity can be managed though. By tapping into the expertise of companies such as Viaccess-Orca and the many decades of experience it has, broadcasters and operators can avail themselves of tools that are specifically designed to provide user-friendly access into the power of modern, agilely-developed software without having to engage with the complexity of the underlying systems. And with initiatives such as our Professional Services division, they can outsource even greater amounts of the workflow to us, and be confident of our ability to do the heavy lifting for them.
The industry is getting more complex, but it can also be kept simple too.