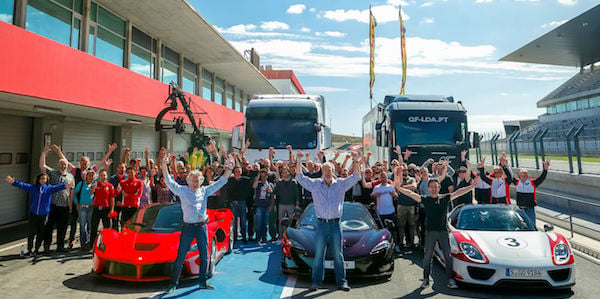 2016 started and finished with the instantaneous and almost global rollout of two major SVOD services, Netflix in January and Amazon Prime Video in December, showcasing the power of the cloud to transform the television landscape.
The transformation isn't stopping there either.
Of the two launches, Netflix's was probably the more bravura, CEO Reed Hastings surprising his audience at a CES 2016 keynote and taking the entire industry off guard by saying that the company was rolling out to 130 countries while his speech was underway.
"Today you are witnessing the birth of a new global internet TV network," he said.
The SVOD giant is now available in 190 countries round the world, while Amazon Prime Video says it is available in 242 after expanding its footprint by 200 countries in a single fell swoop on 14th December. Either way of counting, both cover a decent majority of the world's population, with the notable exception of China plus the countries currently indicted by the US (North Korea, Syria and others).
Amazon's launch was first announced via the medium of a YouTube video featuring presenters of its smash hit and stunningly expensive The Grand Tour and was also underwritten with a significant introductory price cut to $2.99 a month (the company having added a monthly subs model earlier this year). As with Netflix it launched with a unified global pricing, but elsewhere there are some crucial differences between the two.
More than just SVOD Services
First, Amazon prime represents more than a SVOD service, also offering transactional VOD sales that cover both sales and rentals and doing it successfully enough that it is stealing market share from the previously dominant iTunes.
Second, it has the tendency to partner rather than compete. This is formalised in the US with its Streaming Partners Program, which sees it host other SVOD service apps such as Showtime and Starz under its umbrella on a revenue share service. This scheme is set to roll out to other territories soon. And there is also the more informal fact that it doesn't try and lock customers into a proprietary ecosystem; the Netflix app, for instance, runs quite comfortably on a Fire TV stick.
Thirdly it can rely on its own cloud. Amazon Web Services' pre-eminent position amongst cloud providers has long been a matter of record, and while the underlying soundness of its business model is often criticised by rivals — 'Cisco president: One 'hiccup' and 'boom' – AWS is 'gone' was one of the year's more dramatic headlines — it also seems remarkably good at outlasting them. Cisco, indeed, seems to be the latest to bail out of the cloud industry, The Register reporting that it will kill off its $1bn Intercloud project next year.
Global SVOD revenues to double
The stakes are high, but then so are the prizes. The very latest December 2016 Global SVOD Forecasts report from Digital TV Research suggests that the number of SVOD homes worldwide is forecast to reach 428 million by 2021, up from an expected figure of 248m by the end of 2016. Global SVOD revenues will reach $32.18 billion in 2021, almost double the $17.46 billion that will be recorded this year.
There is still plenty of room for local operators and smaller international ones too. While Netflix, for example, might seem dominant, it is forecast to only account for 27.5% of the total subscriber figures, and the rise of the 'self-bundlers' means that a SVOD subscription is no longer an either/or proposition. GfK's The Home Technology Monitor, for instance, reports that in the US 16% of the viewing population have multiple SVOD services in their homes, up from 10% three years ago.
And one more thing: it is important to note how fast the figures are evolving. July 2016's Global SVOD Forecast quotes SVOD revenues as reaching $25.71 billion in 2021 and worldwide SVOD subscriptions as hitting 383 million. That they have already been revised upwards by 25 and 12% respectively in the space of six months shows how fast things within the SVOD revolution is progressing.
Click here to find out how Viaccess-Orca can help you deliver end-to-end TV Everywhere services to your customers.