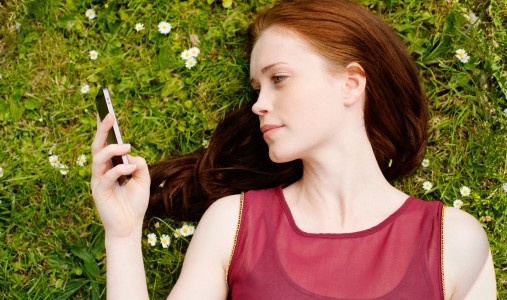 The concept of TV Everywhere continues to reshape the landscape of consumer viewing, powered by ever-more capable mobile and connected devices, the growth in high bandwidth fixed and mobile services, and a general rise in awareness on the part of the consumer.
Indeed, the latest analysis by Adobe Digital Index (ADI) has found that growth in TV Everywhere has now become what it terms as 'dramatic'. And, perhaps somewhat surprisingly, not only Apple TV controls the major share of TV Everywhere viewing, but iOS devices represent the majority (82%) of all unauthenticated mobile video viewing.
Here are the stats: TV Everywhere viewing has seen 282% growth year over year (YoY), with Apple TV devices doubling their share of premium video viewing quarter over quarter (QoQ) from 5% to 10%–overtaking Roku. Apple devices currently drive 62% of all authenticated pay-for-TV video views. Roku also saw an increase in share, as use of connected TV devices becomes more popular.
Last year, introducing our comprehensive Infographic: The Rise of TV Everywhere, we wrote that in order to conquer the market, 2014 should be the year for content service providers to step it up and equip themselves with the right tools for enabling them to offer TV Everywhere services to their consumers.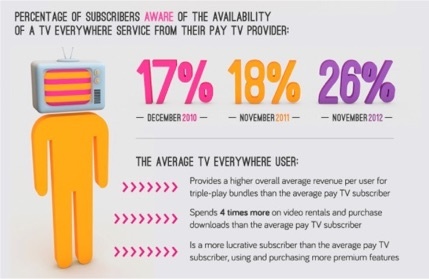 This year, that task has only become more important.
Overall, connected TV devices, such as Apple TV and Roku, and gaming consoles, such as Xbox, saw dramatic TV Everywhere share growth, from 6% to 24% YoY. "When it comes to digital video, people are either watching on a portable device or on a high-fidelity screen," said Tamara Gaffney, principal analyst at ADI. "It looks like desktops are losing the battle in the home, bringing the TV Everywhere viewing platform full circle and returning viewers to the living room."
What's more, the rise of on-demand viewing via the likes of Netflix and HBO Now seems to have dramatically shifted trends in TV programming consumption in the US: 'must-see' Thursday night TV has now shifted to Wednesdays, which has in turn become the most popular night for TV Everywhere viewing (followed by the weekend), while Friday leads with the highest frequency of binge watching.
"TV Everywhere is replacing linear TV, and, therefore, marketers' planning cycle needs to change," Gaffney says. "Consumers now are in control and are changing when and how they watch TV."
Last month, Christian Kurz of Viacom presented at the TV Leaders Summit and shared some interesting data that suggests 'TV Everywhere' should be called 'TV Right Now'.
According to the company's research the majority of viewers (51%) prefer to be able to watch TV 'When' they want to rather than 'Where' (20%) or 'How' (29%). In other words, they define convenience primarily as being able to time-shift viewing. This rather highlights the importance of broadcasters deploying user-friendly platforms to allow viewers to watch their shows whenever they want to.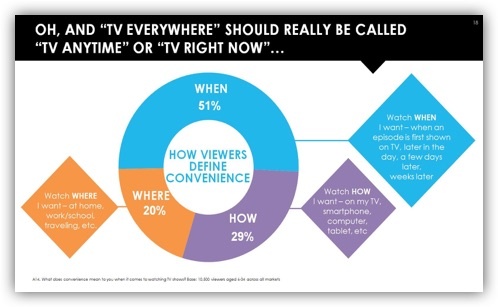 Source: Viacom
A wise person would not want to bet against consumer demands for more convenience increasing too, with Apple probably very much in the driving seat. At the company's recent Worldwide Developers Conference, speculation that the Cupertino-based manufacturer would launch its much anticipated streaming TV service as well as a powerfully upgraded Apple TV box proved wide of the mark. However it did take the wrappers off of Apple Music, its new $10 per month music streaming service, which is seen by industry analysts as paving the way for a future video offering.
Given Apple's role in establishing TV Everywhere in the consumer space so far, when (rather than if) the company launches its own video streaming service later in the year it could conceivably change the landscape once again. 282% represents some truly dramatic growth and a significant change in viewer consumption patterns, but it may only be the start.
To stay ahead of the game, check out VO's TV Everywhere solution: