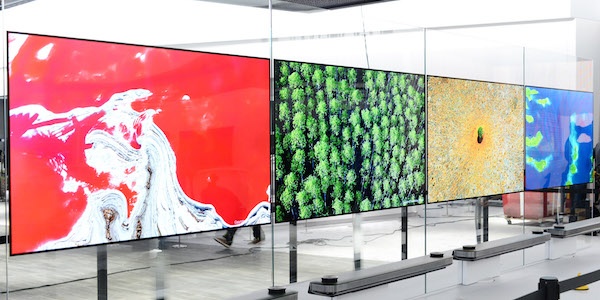 As always, the Consumer Electronics Show in Las Vegas kicked off the new year in style, with its usual intoxicating mix of genuine technological trends and left-field gadgetry. Wander its giant halls and you can glimpse everything from the future of Virtual Reality streaming to an $800, three-foot tall robotic clothes folder, wafer thin large-screen TVs that can be hung like wallpaper using magnets, and WiFi hairbrushes that use acoustic sensors to tell if your hair is breaking when you brush it.
It's a heady brew, and we've pulled out four meta-trends from it all that we think are relevant to our industry and to our customers.
Ultra HD Momentum Growing
Speaking at CES, the Consumer Trade Association's Steve Koenig said that global 4K/UHD sales will rise over 60% from 2016 to 2017, from 53m units to 82m. And certainly on the showfloor it seems like the 4K HDR set is the new de facto standard, with the only point of argument concerning which of the current competing High Dynamic Range (HDR) systems they will support.
Currently there are three of these: Dolby Vision, the open HDR format HDR10, and the BBC/NHK developed HLG (Hybrid Log Gamma). At the high-end, manufacturers are refusing to second guess the market by incorporating support for all of them into their sets, though the smart money is that one standard will emerge over the next year or so as the front runner.
Currently the state of the art is probably represented by LG's new 65-inch W7 series, which, when attached to the wall using the aforementioned magnets, stands out a mere 3mm from the surface. At $20,000 it is up at the rarefied high end, but these technologies are trickling down fast and you can bank on the main family TV becoming bigger, thinner, HDR and 4K capable — with all the implications of protecting that premium content — sooner rather than later.
The Rise of the Virtual Assistant
One of the stand out features of the show was the ubiquity of Amazon's Alexa Virtual Assistant, whose omnipresence was thanks to the twin drives of manufacturers wanting to add voice-operability in their products as the IoT continues to build and Amazon actively courting third party involvement.
It's not the only virtual assistant on the market — Microsoft's Cortana, Google Assistant, and whatever Apple is furtively planning with Siri all have to be acknowledged— but it was the first to be installed on a decent consumer product, the Echo speaker, and it does show how future broadcast and OTT services are going to have to adapt in a new voice-activated world.
Not only are they going to have to parse comments such as "Alexa, play the latest episode of Stranger Things on the main TV," that functionality is going to have to be linked in to the algorithms that power recommendation engines with all the additional context-relevance, such as mood and stress detection, that voice-activation can bring.
What's more, it will become expected. As services link up to a central point such as Alexa or Google Home so the consumer will rapidly demand that the same sort of functionality, such as a powerful and accurate recommendation engine, that is available on one service will be available on another.
"Content is king and will remain king," said Amy Powell, President, Paramount Television and Digital Entertainment at CES. But as 2017 unfolds that content will no longer be allowed to be dumb.
Virtual Reality on the Cusp
The waves of first optimism, then pessimism, then optimism and pessimism again that governed the analysis of Virtual Reality's mass market performance throughout the course of 2016 have left a muddled picture behind them as they have receded. While we wait for sales figures from the year to come through though, it is probably fair to say that 2016 wasn't the breakout year for the technology that had been hoped.
That's not to say that 2017 won't be. Speaking in relation to the US market, the CTA has said that: "Among the tech sector's overwhelming leaders in YOY growth in 2017, VR headset unit sales are projected to reach 2.5 million units (79% increase) and $660 million in revenues (43% increase) [in 2017].
Certainly the technology on show at CES gave cause for optimism and signalled that the technology is maturing and providing better user experiences all the time. You can read about our pre-integrated solution for providing premium 360-degree experiences here. There is also plenty of activity elsewhere too, Facebook experimenting with Virtual Reality streaming at the tail end of last year and Periscope launching Virtual Reality streaming on Twitter to a limited subset of its partners.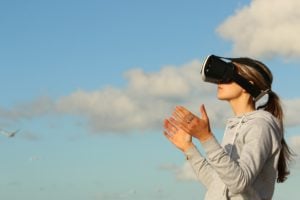 CES was also notable for the launch of the Virtual Reality Industry Forum, a new trade body founded by many of the leading names in the consumer electronics industry and VR pioneers, including Viaccess-Orca, to try and bring some order into the developing technology.
As its FAQ adroitly puts it "There are well founded concerns that this nascent industry will be fragmented by numerous proprietary solutions such that content will have to have multiple versions to fit each of these. The consumer will be limited in choice to having to adopt one of these proprietary solutions so that we end up at home with a coffee table with as many head mounted displays as we had remote controls in the past."
It is not a standards defining organisation, but its members will hope to be leveraging their influence as pioneers in the field to guide the development of the technology and ensure there are as few barriers to mass market adoption as possible.
Product X
Lastly, the consumer electronics industry as a whole is hunting again for that one killer product. Steve Jobs unveiled the iPhone to the world 10 years old on 9 January, 2007, and though it was derided at the time as a probable flop (as, indeed, was the iPad three years later) it has become one of the handful of technological objects of the past century that can be labelled as genuinely transformative on a global scale.
If you were to lay a bet you'd probably want to back Artificial Intelligence in some capacity to provide the next big leap forward. Quite what that will be though, and quite what impact it will have on the world around it, will have to wait for another CES.
In the meantime, follow the link to read more about how VO is helping push VR technology forward in 2017 and empowering Virtual Reality streaming: VO - Virtual Reality.