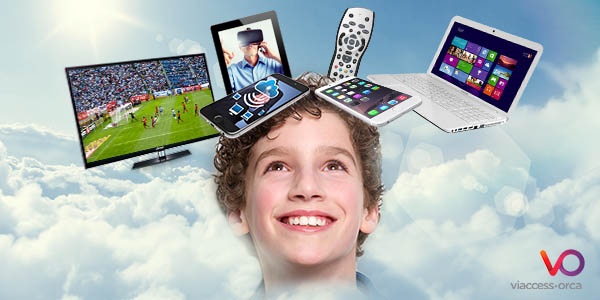 The current pay-TV market is a remarkably complex and fluid one. It's a challenging combination of increased competition, new business models, new devices, new technologies, and new players set against a background of accelerating industry consolidation.
The industry is sailing through choppy waters to say the least, and if it is to succeed, operators must quickly and effectively navigate this new ocean.
One of the brightest opportunities for video providers to monetize services online has been to introduce multiscreen services. However, the traditional deployment and operation of a multiscreen TV service is a huge undertaking, consisting of many different components often from many different vendors which have to deliver to many different screens, all of which have to be orchestrated together into a single symphonic whole.
Different content entitlements, business rules and advertising models apply to different screens. As a result, all four types of TV providers (cable, satellite, broadcasters, and the telcos (including mobile) are dealing with infrastructure that they are not familiar with.
All of this has profound cost implications as well, and in the ongoing battle to ensure the revenues enabled by new services outweigh the costs of putting new service infrastructure in place, two main approaches have been used.
The first approach is to implement traditional TV service delivery platforms that reside within the video provider's facilities. The second is to adopt appliance-based solutions that utilise the same kinds of components as on-premises platforms but reside in outside hosting facilities (or a hybrid that combines premises-based and hosted systems).
There is now though a third approach too, as illustrated by our TV as a Service (TVaaS), which is to utilize a fully service-based, cloud-based TV service platform.
And it is worth stepping through them in turn.
---
The On Premises-based Approach
In recent years, the favoured vehicle of choice to achieve multiscreen services has been the TV service delivery platform (SDP). These typically are premises-based systems that define and manage Pay-TV services and subscribers, create and oversee the TV user experience, oversee devices, and associate video content with services.
They are certainly fully featured. The current generation of SDPs can deliver the multiscreen experience to traditional TV set-top boxes over managed networks, to unmanaged devices that take delivery via OTT, and also to mobile devices. They are also capable of packaging content and tracking its usage, and interoperate with external content protection, video processing and storage, advanced advertising, search and discovery, and content management systems.
SDPs are not the only major elements of the overall solution that tend to reside at an operator's premises, though. Other elements include the server side components of the operator's Pay-TV security systems (conditional access, digital rights management), content management, and network management.
To date, some Tier-1 SDP solutions have been promoted as single integrated solutions, but in fact this is stretching matters somewhat. What they are in fact are integrations of previously disparate platforms that have already taken years to integrate and are even now not yet in commercial service. What's more, even now some major components of these systems, such as security, remain under third-party control.
Hosted and Hybrid Approaches
A second approach has evolved with the aim of reducing the number of systems and servers held on operator's premises (and thus CAPEX). This hosted approach sees some of a solution's components located off site in data centres run by systems integrators, network service providers, and online streaming platform service providers.
Parallel with this, vendors have packaged their systems as stand-alone appliances that integrate with pre-defined systems hardware to make service hosting more convenient. These Hybrid TV service platforms use a combination of public cloud, appliances on premises in the data centre running virtual service instances, and video processing equipment in the headend. However, most of this is still CAPEX, and suffers from the additional weakness that these systems can be hosted in multiple disparate locations, ensuring that the overall task of management isn't necessarily simplified.
There has been a variation on this approach that can be thought of as heading in the right direction: hosting the entire service creation and management infrastructure offsite with a single service provider. From the video provider's perspective, this certainly reduces the complexity of service management. However, most service-based solutions were developed for OTT delivery, and while most of them are more than capable of serving mobile devices, PCs, and streaming video players, they fall down on their inability to provide content for traditional TV set-top boxes.
Also all these approaches have one thing in common: they lack a single common service management tool. Either there are separate management platforms for security and service creation (and sometimes, separate content management and CPE management components) all operating without a common interface, or what there is on offer fails to span the full range of devices that established Pay-TV providers must serve and manage.
The TV as a Service Approach
A completely new approach is to offer a cloud-based TV 'Platform as a Service' that exists wholly in the cloud. No equipment is maintained on the operator's premises. This has the huge advantage of operating under an OPEX model and thus shields the operator from having to make significant capital investments for equipment and software that can go swiftly out of date. And, when implemented correctly, it also confers the added benefits of offering comprehensive management from a single interface.
Under the PaaS approach, operators can evolve rapidly to handle new services, new business models, and new types of end-devices without disruption. Unlike the other approaches, none of the components are implemented as discretely-defined systems or as appliances. There simply is nothing to maintain on the operators premises.
This has profound cost implications which are illustrated in the following table that charts an operator's responsibilities (and thus associated costs) for each model of deployment.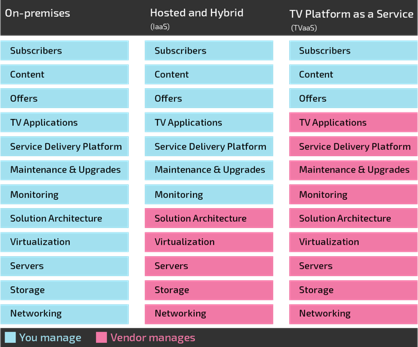 Management responsibilities of cloud-based solutions
TVaaS makes for smooth waters.
The advantages of the cloud for the broadcast industry are well documented, but to date implementations have been hamstrung by a failure to completely transition over to it.
TVaaS though is a complete, cloud-based service powered by our own award-winning products: service delivery platform, COMPASS content discovery and personalization platform, and DRM, which includes our secure video player. All in all, it offers everything from content management and best-in-class security to delivery from a single platform.
The current pay-TV market is a hugely challenging one, but TVaaS leverages the power of the cloud to give you the maximum competitive advantage possible.
Sign up for a free trial below: