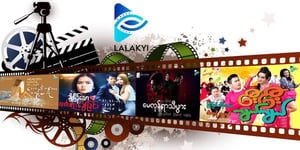 We share some valuable lessons for prospective OTT providers in emerging markets that we have learned from our work launching the LaLaKyi OTT service in Myanmar with the Global Technology Group.
Myanmar, formerly Burma, is situated on the Bay of Bengal with India to the West, Thailand to the East, and China to the North. It is a small country compared to some of its neighbors, with a population of just over 50 million, and its GDP is low by the standards of more advanced economies. It is, however, exactly the sort of country where mobile-based video services are taking off throughout the APAC region.
An OTT boom is underway in the Asian Pacific By 2022 it is forecast to account for 43% of all global SVOD subscriptions, while revenues will have almost tripled from $8.27 billion in 2016 to $24.41 billion. The penetration of mobile technology is equally impressive. There will be 3 billion smartphones across the region by 2020, a third of which will be connected to 4G networks. And, while of course the picture is uneven across countries and between urban and rural areas, as a whole the opportunities that exist are remarkable.
However, what has worked elsewhere in the world will not necessarily work here. Any services launched have to be tailored to specific needs at both a regional and national level. And while OTT TV developed for individual APAC territories will all be different, our work with the Global Technology Group launching the LaLaKyi VOD service in Myanmar does provide some interesting insights into what operators need to think about before thinking about rolling out their own services.
How to launch a Multiscreen TV Solution
La La Kyi is powered by a combination of Harmonic's VOS 360 media processing SaaS and Viaccess-Orca's TV as a Service platform.
"Providing TV Everywhere services is becoming an absolute necessity for operators that want to stay competitive," said Prasert Laosaengpha, Chief Technology Officer at Global Technology Group when we announced we had been working on the project. "We chose Harmonic and Viaccess-Orca's end-to-end managed cloud-based media service platform to reduce our infrastructure costs and allow us to move fast, in terms of getting our new OTT service off the ground and adding new features in the future. We're excited to offer subscribers a large portfolio of local content on TVs, smartphones, and tablets to compete with the major players."
So, what are the practicalities of launching such a solution? We have come up with the following key guidelines.
1. Deploy Appropriate Technology
With Myanmar is a fine example of a country that is building out its mobile infrastructure in advance of any tethered broadband solutions, especially outside of the main urban areas, it makes sense to adapt any OTT service to fit a mobile paradigm. As a result LaLaKyi has been launched first as an app that will initially be available on Android and iOS devices, with VO's TVaaS platform seamlessly handling the typical problems of Android fragmentation.
However, so as not to limit the potential audience for the service, the plan is for LaLaKyi to appear on set-top boxes and connected TVs as part of the second stage of its roll out. One of the advantages of this two-stage deployment is that by the time stage two is reached, educational and marketing efforts will have already established a good base level of brand awareness (see below).
2. Utilize a Multi-Revenue Stream Strategy
One of the challenges of working in many ermeging world economies is coping with a fragmented payment system as people use multiple methods to pay bills. One of the most effective ways of dealing with this is via pre-payment systems, which turn this very diversity into an advantage as people can use multiple ways of buying access.
This is particularly powerful when also coupled with a multi-revenue strategy. This combines as many business models as possible — in LaLaKyi's a case a mixture of subscription, transactional, and advertising-based VOD, as well as freemium content — to offer the customer multiple price points for entry. It also provides many opportunities for upselling the service via cross-promotion between the different services
3. Offer Localized Content
With the large global SVOD companies offering plenty of high-profile, high-budget international content, an important differentiator for any national or regional OTT service is to be able to offer content in local languages.
In Global Technology Group's case, it owns its own production house, so is able to produce local content within the organization. This is not always practical, but there are different ways of ensuring local content without capital investment with the acquisition of content rights — either new shows or library material — being one of the most popular.
4. Use Cloud-Based Services
This is increasingly seen as a business-critical wherever new TV services are being deployed. In this instance Harmonic and Viaccess-Orca are managing Global Technology Group's media processing and distribution workflow via the cloud. This ensures increased business agility, scalability, and operational efficiency and allows Global to optimize the monetization of its service and focus on building an exclusive content library and marketing campaign. It also future-proofs the service (see below).
5. Educate the Market
Marketing to establish brand awareness is an important part of any new OTT service launch, but ideally there needs to be an educative aspect to it as well that explains the services available in clear and easy to understand language. As well as the usual marketing collateral and high profile launch events, the LaLaKyi rollout also benefitted greatly from roadshows that took place across the country.
It was also felt important to show new customers, both in roadshow and marketing materials, exactly how to register for the service rather than assume knowledge. Coupled with well signposted 24/7 customer care via social media and available via call centres, the aim once more is to make it as easy as possible for new users to sign up.
6. Plan for the Future
Lastly, with LaLaKyi care has been taken to ensure that the service can expand is it grows. On the customer side, this will involve international expansion to overseas Myanmar communities which are particularly notable in Singapore and Thailand (our blog post about diaspora populations provides additional information on this sort of strategy). And, as already mentioned, there are also plans for the service to roll out via set-top boxes and Connected TV.
Perhaps key to the project's long term success though will be its implementation of TV Business Analytics. This will provide Global with deep-level insight into viewing behaviors and content performance, as well as opening up the powerful prospect of Addressable TV in the future. This is becoming a steadily more important source of revenue in regions with established OTT services, and we expect it to be an increasingly commonplace part of now and future multiscreen OTT rollouts.
Designing OTT Services for the APAC Region
This list is, of course, not exhaustive. One of the reasons we have achieved success with so many companies around the world in launching OTT services is that the services are adapted to the individual companies and countries which host them. But it does indicate the areas that operators need to be considering as they set up their own plans.
The launch of LaLaKyi has been a successful one for Global and we are delighted to have been involved in bringing this new OTT service to Myanmar. As OTT accelerates in the APAC region, more and more services will need to be launched to satisfy the growing video demands of those 3 billion smartphones. By paying attention to localization, by targeting mobile, by educating the market, by lowering barriers to entry, and by leveraging the power of the Multiscreen Cloud-Based Content Delivery , they have as good a chance as LaLaKyi of succeeding.