Driven by consumer surveys that show a long-standing antipathy towards to AVOD solutions, the industry has so far been resistant to them. But the climate may be changing.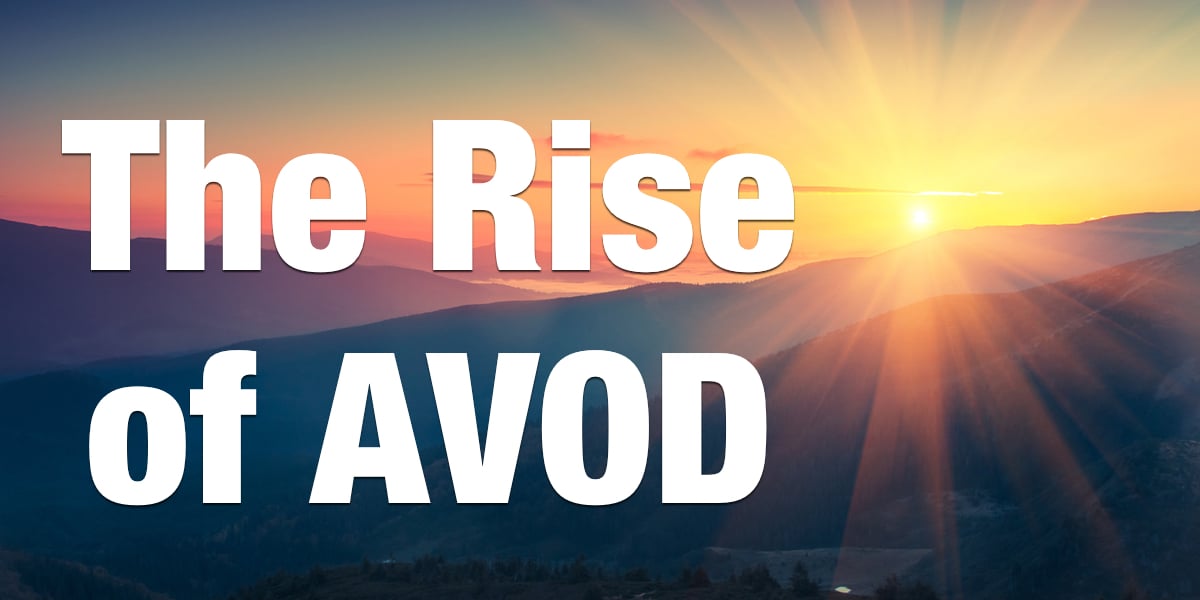 AVOD, advertising- supported video on demand, has long been the weak baby brother of its mighty subscription VOD brother. Driven by the growth of the likes of Netflix and Amazon Prime, SVOD has seemingly swept all before it. And the received wisdom in the industry is that viewers have been delighted to ditch the adverts for a monthly fee.

This viewpoint has been reinforced by regular surveys that show that subscribers are hostile to the prospect of ads on SVOD services. A recent Audience Project survey, for instance, suggests that 57% of subscribers say they would drop Netflix if it ever introduced ads. However, that headline figure does not tell the whole story. The picture surrounding AVOD and TV viewing habits is a lot more complex than that.
The Bigger Picture
Around the world there are different market forces at work and diverse audiences have understandably diverse attitudes to advertising. The Audience Project survey mentioned above was solely based in the UK, US, Nordic and German markets. An APAC-based survey, meanwhile, found that "most consumers generally had no strong objections about seeing ads as part of the [SVOD] programming," and that tolerance to ads was fairly robust for one or two ads, only declining significantly at three or more.

There are generational differences to consider too. IAB research has shown that in the US the largest AVOD audience segment is in the 18-34 category (including households with children) with a noticeably male skew. This is unsurprising. This demographic consumes a lot of video content and, with the number of streaming services households are willing to subscribe to holding steady at 2.8, AVOD represents a way of piping additional content into the home.

It is also perhaps worth pointing out that any perceived antipathy towards AVOD on behalf of the consumer is often the result of questions asking about the pivot of services towards it as a business model. AVOD in the context of a new service, typically an additional service, seems to be far less problematic even in the US market.
AVOD in the USA

That said, last year's summer rumours that Netflix was introducing ads spread like wildfire to the extent that the company released a statement that all it was doing was testing out surfacing skippable recommendations between episodes. Amazon runs pre-roll promos in similar circumstances. Of course, this is all very different content to a genuine advert from a third party, but it shows that the backend mechanism is in place. Technically it can be done. And it is a mechanism that is seeing increasing use to the extent that Media Play News called AVOD 'Hollywood's rising star' at the beginning of the year and Broadcasting & Cable referred to it as a 'Gold Rush'.
Concentrating on the US market for the moment, driven in part by the continued strength of Roku's ad-supported Roku Channel, AVOD is certainly making inroads where before it was rarely contemplated beyond well-established minority services such as Sony's Crackle. YouTube shifted its strategy for YouTube Originals from its premium subscription tier to its wider, free service late last year, and this year has seen the launch of IMDb Freedrive from the (Amazon-owned) IMDb.com website, giving viewers ad-supported access to a range of shows and movies. Comcast, meanwhile, has plans to launch an ad-supported service to a combined 52 million NBCUniversal and Sky customers in the US and UK respectively, and in January Viacom paid $340m in cash for LA-based AVOD service Pluto TV.
"We've been focused on developing a differentiated direct-to-consumer streaming service that would exploit our considerable content library and leverage our unique advertiser capabilities and relationships," Viacom CEO Bob Bakish said on a Viacom fiscal call at the time. "Pluto TV fits squarely into that strategy."
For its money, Viacom purchased 12 million active monthly AVOD users and distribution on more than 30 million devices across the USA via its own app. Bakish continued on to say that the free service will serve as an important marketing engine to acquire and retain consumers for existing and new SVOD services such as Noggin, and Comedy Central Now, not to mention offering millions of new impressions per month to enhance Viacom's addressable advertising market. Pluto TV has added over 20 channels to its lineup this summer alone and is expanding globally.
AVOD in APAC and Worldwide
AVOD is also having an impact in APAC too. As Digital Market Asia reports, the increased difficulty of breaking into an already-crowded OTT space with a subscription model means that new entrants are turning more to ad-supported streaming models.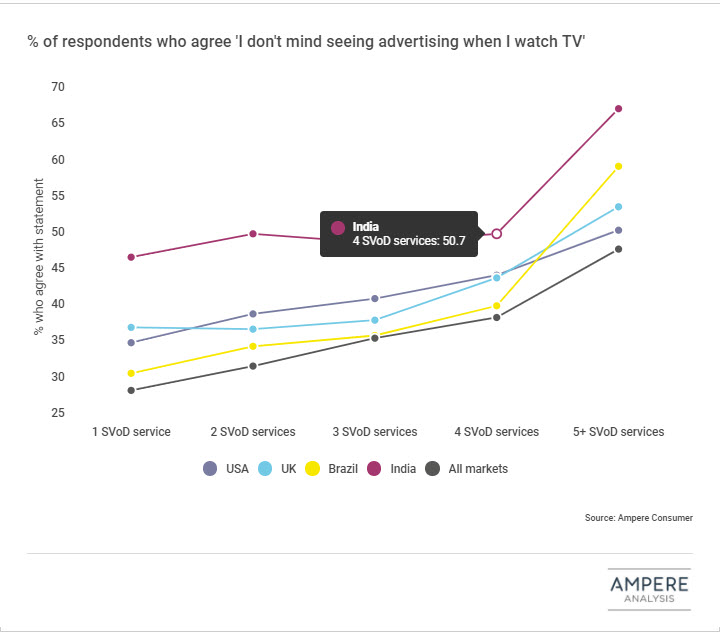 https://www.ampereanalysis.com/blog/a5ab8951-50b5-402f-9b2e-77f1651b907e
It cites three regional providers as good examples of the sort of creative thinking on offer, albeit coming from an advertiser-centric viewpoint. In Thailand, LINE has found success by offering advertisers curated contextual show categories as well as granular user data. Telekom Indonesia's OONA differentiates itself by rewarding virtual currency to users — t-coins — which can be redeemed for Telkom Indonesian products and a selection of branded goods. And Malaysia's iFLIX has shown the pivot from SVOD to AVOD can work in the right circumstances, with content consumption doubling as a result in a five month period.
"The trend of AVOD providers showing incremental growth and market share alongside iFLIX's recent product pivot indicates that AVOD might be the model of growth in this region," DMA concludes. "Coupled with the price sensitivity of Asian markets plus their tolerance for advertising, AVOD models have seen much more recent local success but only time will tell as we can expect to see consolidation once the industry's growth slows and providers vie for market share."
Consolidation in the OTT business space is, of course, a potentially worldwide phenomenon. But it is when you zoom out to take in that global perspective that the impact AVOD is starting to have really comes into focus. Analyst WARC's Global Ad Spend report estimates that ad spend on AVOD is set to double by 2023, reaching $47bn worldwide. And while that might only account for 5.2% of global ad spend in total, WARC points out significantly that AVOD growth is currently outpacing other media.
Why AVOD Solutions Are Working Now
So why now? Why are we talking about AVOD more and more as 2019 rolls on?
One significant factor is the growth in addressable advertising. One of the big attractions from the industry side of things is that the AVOD audience tends to be an addressable TV audience. Not only does that provide the targeted advertising that an increasing number of brands are demanding, but it means the AVOD channels can carry a much lower ad load, which is popular with viewers, and still provide the same sort of response campaigns are looking for.
Overall ad loads in the US market, for example, are 11.2 minutes per hour according to Nielsen data. Running through some significant US AVOD players, Tubi's ad load is 3 to 6 minutes, the Roku Channel tops out at 8 minutes, Pluto TV is between 8 to 12 minutes, Vudu's Free Movies & TV is 4 to 6 minutes, and so on. There are fewer ads, and they are more relevant, and all the data shows that that is a popular mix with the audience. Operators even have enough granular control over the system nowadays that they could launch tiered services and give consumers flexibility to customize their services and balance how much they want to pay versus how many ads they want to see. Plus there are new opportunities afforded by new technology; Walmart owned Vudu is going to be rolling out shoppable ads by the end of the year, allowing viewers to add the advertised item in question to a Walmart shopping cart that they can buy online, or pick up in a store.
Another factor worth pointing out is that there is a marked tendency for AVOD servers to be filled with archive content rather than originals. This works for both ends of the equation: the consumer gets to dip in and out of a service that may carry some much-loved shows or niche content — Pluto TV has launched channels this summer elusively featuring variously Gordon Ramsey, Dr Who, and Dora the Explorer, for example; while the operator gets to monetize the furthest reaches of their archive.
As AdWeek points out, the decision of the large SVOD players to shrink their library content and focus on originals has created a gap in the market. And this is perhaps the final point to be made here. While licensing is still very much a cost, it is a cheaper one than creating your own content. Tubi, for example, is spending $100m this year on licensing deals but now has a catalogue encompassing more than 12,000 movie titles and TV shows which it boasts is "more than double in size to Netflix."
Of course, there is always a chance that AVOD solutions are the future even for current SVOD services. Speculation regarding Netflix in particular turning to commercials to help find its multi-billion dollar content budget emerges every quarter when it posts subscriber growth below projections. And there are persistent doubts that the current rate of increase in content spend being seen across the SVOD industry can be sustained by a finite subscriber base without the addition of advertising income.
For now it looks like AVOD is becoming a growing part of the overall OTT picture, whether as an integral part of the launch strategy of new players or, indeed, as another route to market for the largest media companies that already have multiplatform, multibrand portfolios and their own existing SVOD services. And it will be interesting to track consumer attitudes to it as it becomes steadily more commonplace. Advertising has been an integral part of broadcasting since the very beginning. Its comeback in the OTT space would not be a surprise.