Despite years of predictions about the imminent demise of linear TV, it is still very much with us. What keeps it going, and who is watching? [Updated September 2023]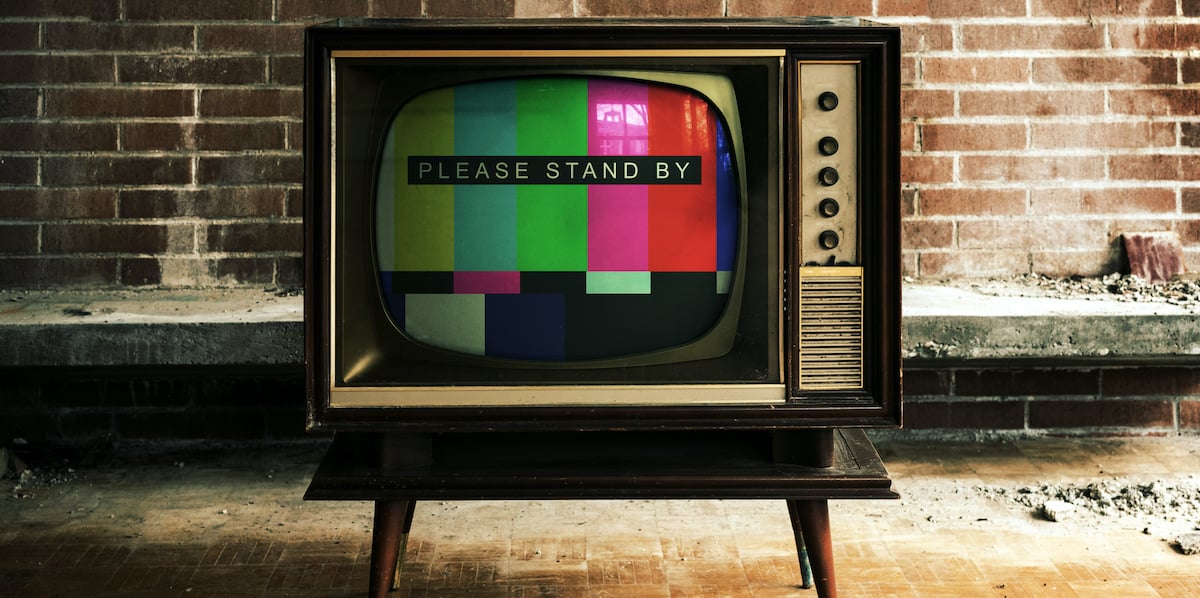 People have been writing about the death of linear TV for some time now. A PwC report on the European Media Leaders' Summit held in 2007 included a section titled 'The death of linear TV: exaggerated, imminent, or simply premature?' and that was 16 years ago.
That gives you a clue that, indeed, talk of the death of linear TV was premature back then. But it was an excellent question to ask at the time. 2007 saw many changes in the industry, with such landmark events as Netflix announcing that it would start streaming video and the launch of the first iPhone, both taking place that year.
Streaming is now dominant...just
So, where are we now in 2023?
There is no definitive answer. Sixteen years of headlines regarding cord-cutting would point in one direction, but the fact that linear television is still here suggests something else is going on, too.
Streaming is now the single most dominant platform in the key US market, with 38.7% of total TV usage in the US, according to the Nielsen Gauge report for August 2023, a picture steadily being replicated worldwide. However, it is worth remembering that the linear TV audience is still huge. If you add together broadcast (20.0%) and cable (29.6%), linear TV has 49.6% of all viewing.
That figure might be falling — in June 2022, it was higher at 56% — but it is still very much there.
It also accommodates the rapidly expanding FAST channels, which are expected to take a growing proportion of the linear TV audience. To quote Nielsen once more: "FAST services are gaining ground with viewers: the three FAST services that are independently reported in The Gauge (Roku Channel, PlutoTV, Tubi) already account for more viewing per month than all but the two top cable networks. In June 2023, these three services captured 3.3% of total TV viewing in the U.S.
It's a small figure as yet, but it is growing. As we noted recently, there are 1434 individual FAST channels worldwide as of June 2023, with a massive 1073 of them available in the US. And, as is often the case in the industry, where the US leads, the rest of the world follows, and it is widely expected that FAST will be one of the strongest growing industry sectors over the climbing years.
Global FAST revenues for TV series and movies are forecast to reach $17 billion in 2029, up from $8 billion in 2023
Is linear TV dead? Certainly not while it keeps on finding new ways to reinvent itself.
6 reasons why linear TV is still very much alive
1. Live events. While sports may not be the be-all and end-all of the Pay TV model anymore, they are still incredibly important. Despite increasing inroads from the big streaming players - Deloitte Global predicts that in 2023, streamers will spend over $6 billion on exclusive major sports rights in the most significant global markets - sport still largely remains the preserve of the major linear players (though operators do need to pay increasing attention to how to stop piracy to protect investment). Also increasingly important in this area is entertainment in the shape of large Light Entertainment programs with attached live voting procedures and long-running reality TV programs of the Love Island/I'm a Celebrity… ilk that can build audiences during extended runs.
2. Targeted advertising. Being able to target audiences down to the household and even individual level is a powerful draw for advertisers, and targeted advertising is taking up an accelerating proportion of advertising spend. Technologies such as ATSC 3.0 and HbbTV provide the return path crucial for targeted advertising to work even away from the Pay TV delivery ecosystem.
3. Innovation. The best linear TV operators are looking at new ways of engaging with their audiences and using their broadcast reach to add reach into the digital world. By creating additional content around their top properties, they can chase a second-screen audience that extends way beyond the transmission time of their programs and take advertisers along with them.
4. Expertise. Linear TV companies are experts in many things and have large infrastructures and in-house skillsets capable of mounting even the most demanding broadcasts. And even if those skills and resources are now outsourced, the expertise in project management is often crucial to making them happen. This is especially true when it comes to covering major events and the global news agenda;
5. Which brings us to Trust. This is ephemeral and difficult to measure, but linear TV broadcasters are part of the cultural fabric of many countries and often feature large news-gathering operations. They may not always be the first choice for entertainment programming any more, but for major events, they still occupy a premier place in many viewers' minds.
6. The Hybrid Approach. "If you can't beat 'em, join 'em." Establishing VOD and even SVOD arms to the linear TV business is now a well-established tactic and is getting easier with the advent of Cloud TV services. This has even seen erstwhile rivals collaborate, with aggregation and super-aggregation an increasingly common play in mature markets.
Linear TV is not dead. To paraphrase (parrot-phrase?) the infamous Monty Python Parrot Sketch, it is not even resting or pining for the fjords. It is still here, and it is still relevant.
Sixteen years ago, the PwC report on the European Media Leaders Summit talked of the future importance of integrating broadband and broadcast content and being able to watch either on both TV and PC.
"If this hybrid environment does evolve, then the future may not revolve around the death of television, but around new life for digital advertising," it concluded.
Sixteen years on, the conclusion is roughly the same.