Despite years of predictions about the imminent demise of linear TV it is still very much with us. What keeps it going and who is watching?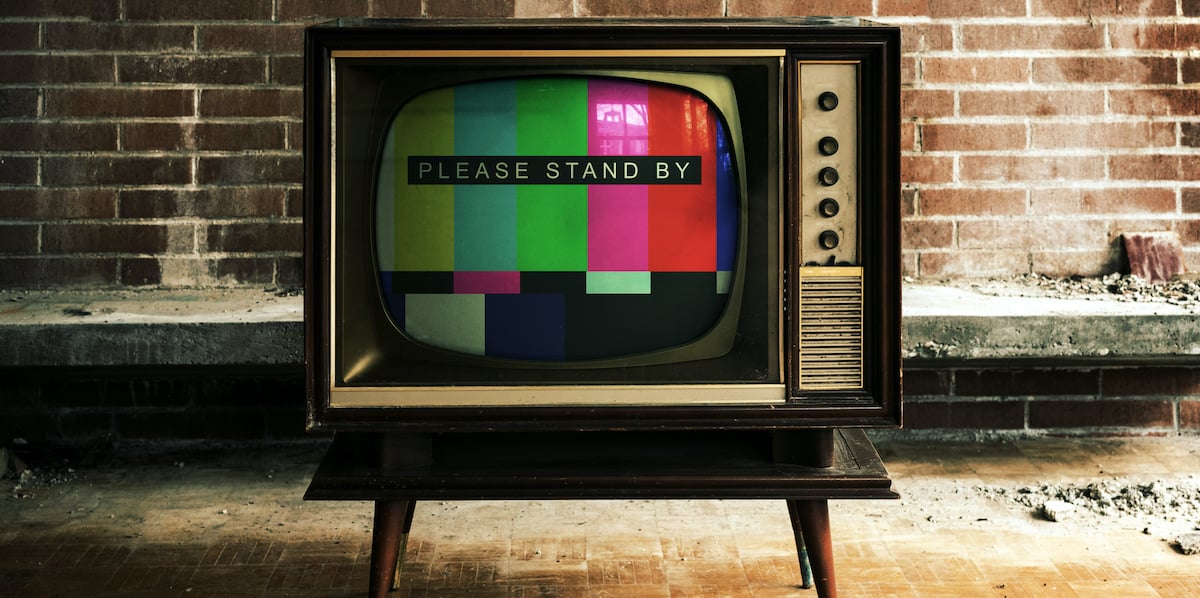 Here's a headline we read recently that made us pause and take stock of things: 'The death of linear TV: exaggerated, imminent, or simply premature?' Nothing too unusual in that you might think, and you would be right. However if you follow the link you will find that it comes from a PwC report on the European Media Leaders' Summit held in 2007.
2007. The fact that we're even talking about it so long after the event took place suggests exactly what the answer to the question it posed then was: premature. But it was a fair question to ask. 2007 was a pivotal year which changed a lot of things in the industry and saw such landmarks as Netflix announcing that it would start streaming video and the launch of the first iPhone. 13 years later can the answer really still be 'premature'?
Streaming not yet dominant
As ever with these sorts of discussions, you can pretty much make the data show anything to support your argument. There are so many surveys conducted in so many different ways in so many different territories, that sift through the statistics, charts, and databases and you can make an argument either way. Thirteen years of headlines regarding cord-cutting would point in one direction, the fact that linear television is still here at all suggests another.
Nevertheless there is a meta picture that can be pulled out of it all; linear TV is not dead by any means but it is also no longer the only game in town and very probably needs to evolve to stay relevant in the future.
One of the most interesting pieces of research in this area is also one of the most recent, the special 'Streaming Wars' edition of the Nielsen Total Audience Report, which suggests that US consumers spend 19% of their TV usage streaming. As Nielsen puts it, "That's a hefty amount of the already large media diet of audiences today, especially considering that the medium has only existed for a relatively short period of time."
It is also though a long way from being dominant. Another 5-10% of TV usage can normally be ascribed to gaming and DVD viewing, which leaves the majority of TV viewing time still dominated by linear TV, either real-time or time-shifted. People are perhaps watching less, US consumers watched four hours and 20 minutes of television each day in 2014, and this has fallen to three hours and 35 minutes in 2019 and is forecast to drop further in coming years. And, of course, we can assume that there is a demographic spread contained within those figures and that the live audience is skewing towards older generations. But, linear TV dead? Far from it.
Linear TV headwinds
That's not to say that it doesn't have some serious issues, because it does. In a fairly devastating report on a global decline in TV advertising sales in 2019 (down 4% and the steepest drop since the 2009 recession), analyst Vincent Letang points to linear TV viewership being down 10% in the US, Australia and China "for a few years" with European TV channels suffering drops of 7% to 8% among viewers age 18 to 49.
"Almost everywhere now, we have linear viewing declining double digits, or high single digits," he says.
Cord-cutting and continued debate about the future of satellite TV and cable are, of course, part of this. According to RapidTV News, "TV and video analyst MoffettNathanson has revealed what it says is a surprising but incontrovertible truth: not only is cord-cutting increasing but video distributors are actually embracing the phenomenon."
It cites Google Fiber exiting the market and Verizon rebranding its video bundle to focus on YouTube TV and its FiOS offering as examples. Elsewhere, the analyst sees two main strategies opening up for the big players: either building a large enough number of alternative streaming products to 're-assemble' the consumer spending that had been on video bundles in the new space (Disney, for example); or owning the minimum number of 'must-have' channels whose pricing can make up for a weakening volume (Fox, Discovery).
6 reasons why linear TV is still here
But while linear TV is undoubtedly facing headwinds it is still here. As Ofcom notes for its most recent figures for the UK market, despite a rise in SVOD subscriptions, more than two-thirds of total viewing of video content was broadcast content. It also provides a detailed analysis of exactly how the average UK adult divides their video time up in the chart below (though it is worth noting that behaviour for the 16-34 demographic is quite markedly different and broadcast content only accounts for 42% of a total of 4 hours and 34 minutes).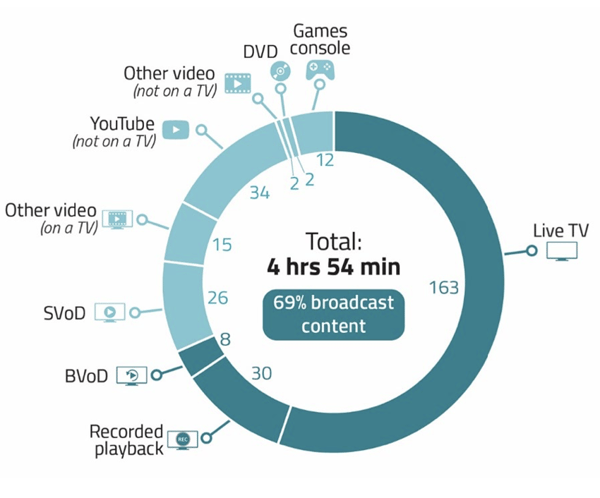 Daily screen usage. Source: Ofcom
Whether the viewing patterns of the Millennial generation will hold true or change along with their lives and lifestyles as they age and raise families of their own is, of course, a matter of some debate. But linear TV looks very much like it is going to be part of their future mix for 6 reasons which we've summarised below.
1. Live events. While sports may not be the be all and end all of the Pay TV model anymore, they are still incredibly important. Despite some encroachment from the big streaming players, Amazon in particular, they remain scheduling that can command a large audience and very much the preserve of the big linear players (though operators need to pay increasing attention to how to stop piracy to protect investment). Also increasingly important in this area is entertainment in the shape of both large Light Entertainment programs with attached live voting procedures and long-running reality TV programs of the Love Island/I'm a Celebrity… ilk that can build audiences during extended runs.
2. Targeted advertising. Being able to target audiences down to the household and even individual level is a powerful draw for advertisers and targeted advertising is taking up an accelerating proportion of advertising spend. Technologies such as ATSC 3.0 and HbbTV provide the return path that is crucial for targeted advertising to work even away from the Pay TV delivery ecosystem.
3. Innovation. The best linear TV operators are looking at new ways of engaging with their audiences and using their broadcast reach to add reach into the digital world as well. By creating additional content around their top properties they can chase a second screen audience that extends way beyond the transmission time of their programs and take advertisers along with them.
4. Expertise. Linear TV companies are experts in many things and have large infrastructures and in-house skillsets capable of mounting even the most demanding broadcasts. And even if those skills and resources are now outsourced, the expertise in project management is often key to making them happen. This is especially true when it comes to covering major events and the global news agenda;
5. Which brings us to Trust. This is ephemeral and difficult to measure, but linear TV broadcasters are part of the cultural fabric of many countries and often feature large news gathering operations. They may not always be the first choice for entertainment programming any more, but for major events they still occupy a premier place in many viewers' minds.
6. The Hybrid Approach. If you can't beat 'em, join 'em. The establishment of VOD and even SVOD arms to the linear TV business is now a well established tactic, and is getting easier with the advent of Cloud TV services. This has even seen erstwhile rivals collaborate. The BBC and ITV jointly launched Britbox in the US and have recently rolled it out in their home territory, while the long-delayed Salto, a joint venture between French public broadcaster France Télévisions and commercial networks TF1 and M6, will have a soft launch in June following regulatory delays.
Linear TV is not dead. To paraphrase (parrot-phrase?) the famous Monty Python Parrot Sketch it is not even resting or pining for the fjords. It is still here and it is still relevant.
Thirteen years ago, the PwC report on the European Media Leaders Summit talked of the future importance of integrating broadband and broadcast content and being able to watch either on both TV and PC.
"If this hybrid environment does evolve, then the future may not revolve around the death of television, but around new life for digital advertising," it concluded.
Thirteen years on, the conclusion is roughly the same.