Cloud TV brings multiple benefits to operators and media companies looking to establish new services or update existing ones.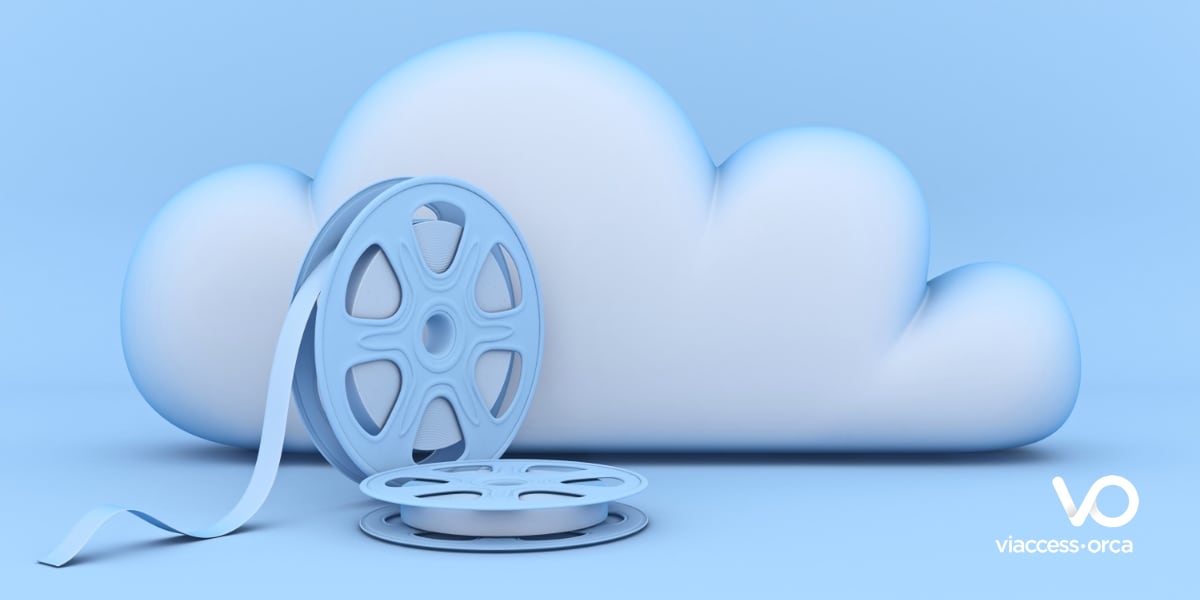 The cloud is everywhere. Over the past handful of years, cloud-based services have made rapid progress from niche services for niche businesses to the mainstream. The initial Software as-a-Service (SaaS) solutions have expanded quickly to fulfil a vast amount of different business requirements to the extent that we are now in the era of XaaS solutions, Everything-as-a-Service.
Along the way, specific TV as-a-Service (TVaaS) solutions have also been developed and, from 2018 onwards, we have seen the rapid expansion of Cloud TV. The latest research suggests that the global Cloud TV market size is expected to reach $4.9 billion by 2028, rising at a rate of 20.3% CAGR.
But how does Cloud TV work? And what advantages does it confer on any media business looking to deploy either new video services to customers or update existing ones?
What is Cloud TV?
The elevator pitch for Cloud TV is that it essentially puts all the software and virtualised systems that are required to run a modern television service, whether traditional linear TV or OTT, into the cloud where they run on servers. Video has evolved rapidly in the past decade and all aspects of the broadcast industry are increasingly being realised via standard computer equipment. This move away from SDI cables and industry-specific technologies to production and distribution methods based on Internet Protocol (IP) has meant that companies no longer have to physically house the technology themselves.
Cloud TV systems have evolved to the point where they are now completely end to end. An OTT service, for instance, can securely ingest, schedule, manage, and playout its content from a standard web interface without any of the content ever being held on physical servers in its building. It can also provide additional services such as targeted advertising. And much of that content will be produced in the cloud as well, with processes such as editing and even live production of sports also increasingly cloud-based throughout the industry.
Cloud TV for operators
In terms of the practicalities, there are many options in this. Cloud-based services can either be via the public cloud and well-known providers such as AWS, Microsoft Azure, and Google Cloud, or via a private cloud. A broadcast workflow can now be put into the cloud in its entirety, providing a complete end-to-end solution, or only certain stages of it, such as playout, can. And everything can either be in the cloud or some equipment can be maintained on-premises to provide a hybrid solution.
This is a popular route for companies with substantial investments in still reliable legacy systems, as well as those in developing economies where connections to data centres can be of variable quality.
The key takeaway here is that one of the key benefits of working in the cloud is flexibility. As such the solutions that enable it are ideally equally as flexible.
The benefits of TV as a Service
So, let's look in detail at some of the advantages that moving towards Cloud TV implementations can bring and the benefits of TV as a Service.
Business agility
Because Cloud TV is software based and runs on standard IT systems, it is easier to iterate and develop new versions of an existing service or roll out entirely new ones. When coupled with a microservices architecture, as implemented here at VO, the ability to innovate faster than ever along the entire broadcast chain provides a powerful competitive advantage to media companies and operators.
It is a far more modular approach than has been seen before in the industry. Where once a small incremental change, for example the offering of a new category of viewer recommendation, would have necessitated the roll out of an entire new point release, just that element can be changed in a Cloud TV system. The result is an increasingly agile solution that can be constantly updated rather than have to wait for the traditional design/develop/test/release cycle each and every time a new feature is added or an element of it is updated.
Opex cost base
Cloud services are Pay-As-You-Go. Users pay for what they use when they use it. This turns the traditional broadcast infrastructure model on its head. Previously when an operator wanted to launch a new service the physical infrastructure would have to be changed and/or new equipment purchased. This can be expensive both in terms of time and costs.
When it comes to Cloud TV, such expansion can be managed by the click of a button. Not only does this further boost agility, but it also allows service providers to move from infrastructure heavy and restrictive CAPEX business models to ones governed by OPEX. Securing investment capital is no longer a barrier to business ambitions.
Scalability and elasticity
As a result, any resulting service based on Cloud TV is also highly scalable. Operators can launch new services and expand into new territories with ease, easily spinning up new servers to meet the demand. This is especially useful for launching temporary services such as pop-up channels surrounding big sporting events; a service can scale up to meet demand and scale back again once it is over without having to meet the high cost of over-provisioning infrastructure for peak consumption
Business efficiencies
One of the benefits of migrating a significant proportion of an operator's workflow to the cloud lies in the synergisms that can be achieved by further integrating the workflow components together. There is more opportunity for the automation and orchestration of previously siloed processes, which helps improve efficiency, and also enables the scalability talked about above. It also unlocks the smooth deployment of services such as super aggregation, with operators able to join workflows together to, for example, encompass unified metadata management and ingest, seamless SSO access, data-driven analytics and format standardization.
Additionally, upgrades, migrations, and ongoing maintenance are all quicker and become the responsibility of the cloud provider, freeing up in-house resources for other tasks.
Leveraging AI, Machine Learning, and data analysis
Lastly, moving your TV service into the cloud provides easy access to the key services that are providing huge differentiators in the broadcast workflow, namely AI, Machine Learning, and data analysis. These are technologies that are evolving at a frantic pace within the cloud and, given the increasingly modular approach of constructing cloud workflows, it is comparatively easy to be able to plug into their latest iterations and keep up with the pace of change.
What can Cloud TV do for your media business?
It is almost quicker to answer what it can't do. Cloud TV can accelerate your TV offerings and enable you to deploy new services more quickly and more cost effectively than ever. It minimises Time to Market and ensures that your services can be constantly updated to keep up with the dynamic, dizzying pace of evolution in the industry. It scales at speed too, allowing you to flex your services to accommodate the peaks and unavoidable troughs that are a part of any long-term business
And it can do this either wholly in the cloud or in a hybrid cloud environment that still has plentiful on-prem components to it. Indeed, as we pointed out when we talked about our partnership with Google Cloud, the reality is that fully cloud native deployments are still comparatively few and far between. Are they the future? Without doubt. But for now, we see the majority of RFPs in the industry all have varying degrees of on-prem components to them.
Cloud TV can have an enormous beneficial impact on any sized media business, but as an industry we have the invaluable ability to take it one step at a time.
To find out more about how VO is enabling the hybrid cloud, click here.