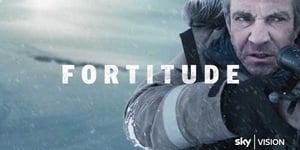 The desire for audiences for binge-watching television series has changed the televisual landscape, and is something operators need to make sure is a central strategy of any OTT playbook.
In January 2017, UK pay-TV broadcaster Sky screened the first episode of Season 2 of its high-ticket and often fairly gruesome original drama, Fortitude in a 9pm Thursday evening peak time slot. Nothing particularly unusual about that, but at the same time the broadcaster also made all ten episodes of the show available to its viewers, via its on demand download service.
Those on the linear track were watching it all the way through to the end of March, while those who were happy to binge-watch the show could have finished it easily by the end of the following weekend.
Binge-watching has become such an established part of the cultural landscape that it is difficult to remember that it is a relatively new phenomena, achieving Collins English Dictionary Word of the Year status as recently as 2015. Collins itself defines binge-watching as "to watch a large number of television programs (especially all the shows from one series) in succession." An oft-cited Netflix survey from 2013 concluded that most Americans defined it as watching anywhere between two to six episodes of a show in one sitting.
It has, of course, been a part of the cultural landscape since cable channels started running marathons of old series which they snapped up cheaply some time in the 80s, and only accelerated with the penetration of video and DVD. What has transfigured it into a genuine cultural phenomena in recent years is that it can apply to first run shows too.
On February 1 2013, Netflix flicked a switch and all thirteen episodes of the OTT giant's remake of a BBC mini-series House of Cards went live at once. That broadcasters such as Sky are now doing the same as part of a multi-pronged distribution strategy, is testament to the following three ways it has changed television. Click here to find out how we can help you emulate the same strategy.
The Three Ways Binge-Watching Has Changed Television
1. It has changed how people watch
Deloitte data suggests that 70% of US consumers binge-watch TV shows, with bingers now watching an average of five episodes per marathon session. 31% of those surveyed said they binge TV shows on a weekly basis, rising to 35% amongst baby boomers. Drama is the most popular genre, accounting for 53% of all binge sittings.
Netflix's own binge scale, meanwhile (below), analyzed more than 100 serialized TV series across more than 190 countries between October 2015 and May 2016. They found that the global media for completing the first series of a show was five days, at a rate of two hours and ten minutes per session.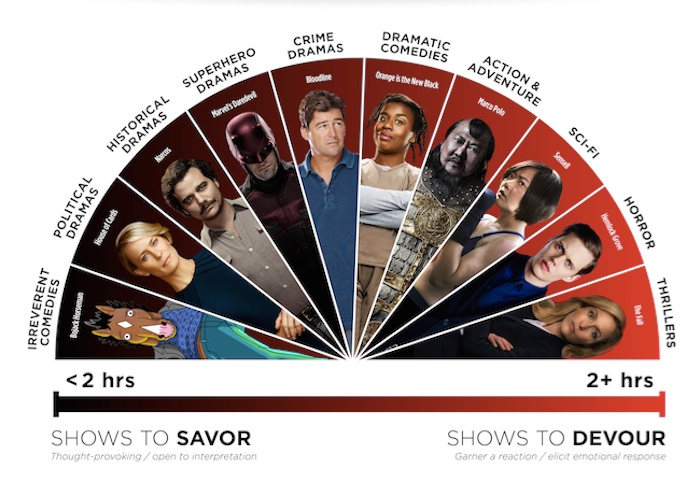 There's even a website, Bingeclock, which will tell you how long it will take to binge-watch 8000 individual series with or without the opening titles and closing credits. For the record, every season of House of Cards produced so far, without credits, will take you 2 days, 3 hours and 8 minutes.
2. It has changed how TV is produced
One of the consequences of fulfilling the demand for binge-watching is that is has changed the way that television shows are made, particularly in the influential US market. Whereas once a typical episodic season in the US was comprised of 22 episodes, Netflix and Amazon are making the market more accustomed to much shorter runs, with 10 episodes becoming a popular norm.
What's more, if all of them now have to be in the can before broadcast, that dramatically changes the networks' methods. Traditionally, they tested the popularity of show characters and plot lines against audience panels and even canceled series halfway through production following poor ratings.
3. It is changing the way we measure success
The rise of the OTT providers and the binge-watch model has encouraged traditional broadcasters to follow suit; a move which is being aided by more granular methods of audience measurement. The BBC, for example, has experimented with iPlayer debuts of several major series in recent years and, according to rumour, is planning on greatly expanding the initiative to cover all its major new properties.
As Netflix CEO, Reed Hastings, mischievously added in the company's last earnings report: "We presume HBO is not far behind the BBC."
Not everyone is convinced on the tactic though. NBC put all thirteen episodes of Season 1 of Aquarius online for four weeks in 2015, but only 6% of viewers watched online. NBC chairman, Bob Greenblatt, also pointed out that the approach is not popular with affiliate stations that rely on TV viewing.
There are also those that state that bingeing means that some water-cooler events, such as the infamous Red Wedding episode of Game of Thrones, lose some of the buzz that builds around them after broadcast.
But for broadcasters it seems to be another legitimate tactic in making sure they can provide viewers with what they want, when they want to watch it and even engage viewers they might otherwise miss. NBC's research surrounding Aquarius turned up the fact that 50% of people who knew they could binge the show said they were more likely to watch it as a result, and Disney felt able to order a second series of its sci-fi drama 'Beyond' a mere eight days after first dropping it onto its servers in January this year.
Roughly 14 million people watched 'Beyond' on TV and online during its first week, with around 745,000 — 10% — finishing the season on various platforms in the same time frame. Binge-watching is not a phenomena that is going to go away soon.