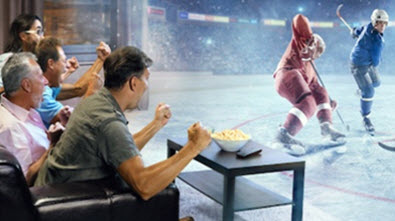 For several years now there have been rumblings that the crown jewels of broadcasting, long held to be live sports rights, are no longer quite what they were.
The audiences are still there, but the demographic is ageing and it has yet to be proved that the all-important Millennial viewers are going to embrace the viewing habits of their parents.
This article is going to look at some of the key recent events that point to a change in the way broadcasters view sports, as well as looking at some of the options available to operators and rights holders in the near future.
Opening the Gates for Sports OTT Services
Three significant events in the first few months of 2018 will have caught the eye of anyone with an interest in the future of sports broadcasting and the way it will evolve over the next handful of years.
First were the viewing figures for Super Bowl LII, long held to be the signature event in the US sports calendar. The NFL has had a variety of well-publicised problems in the past year, disquiet over concussion scandals and the whole take a knee protest troubling its core audiences. As a result, according to Nielsen, its games are down roughly 9% on last year. All the same, a 7% dip from the 2017 edition down to 103.4 million viewers will have been a bit of a shock, especially as it was such a classic game. Even live social media buzz could not prevent it from being the least watched Super Bowl since 2009's 'Recession Bowl' game between the Pittsburgh Steelers and Arizona Cardinals.
Meanwhile, figures suggest that NBC's broadcasts of the 2018 Winter Olympic Games from PyeonChang were also the least watched on record, also down 7% on their predecessors.
The second event that really caught the headlines was the auction of the UK rights to the English Premier League. The EPL has traditionally been the litmus paper by which sports rights inflation has been noted. And, as the following graph shows, that inflation has been immense, rising 2500% in the 27 years from the formation of the League in 1992.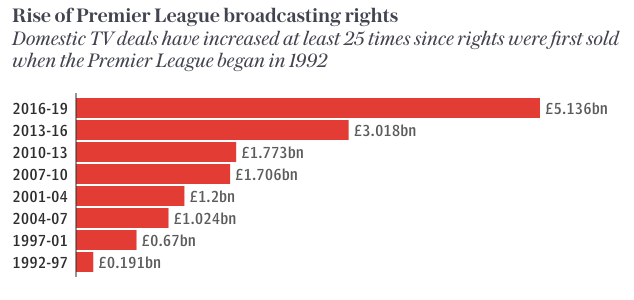 Source: telegraph.co.uk
That inflation though has come to a shuddering halt. With five of the seven packages sold as of the start of March for the 2019 to 2022 season, the EPL has so far secured a revenue of £4,464 billion ($6.18bn). Two packages comprising a total of 40 matches remain on the shelf, with the Financial Times reporting that they "had not met their reserve price and were unlikely to recoup big sums."
International rights are something else of course, but it seems highly unlikely that this auction will top the £5,136bn peak of the last one.
This was especially disappointing for the EPL as speculation had been rife that Amazon and Facebook would join the bidding frenzy and help push the prices up even higher than before. That interest failed to materialise, though there is long-standing belief that one or both companies might be interested in showing highlights in the future as opposed to live games, and both have had their names attached to the (as yet) unsold packages.
Lastly, there was the news that Formula 1's new owners, Liberty Media, was planning on launching its own OTT service to show races in nearly two dozen markets at the start of the coming season. Priced at $8-12 per month, F1 TV Pro plans to offer commercial-free live streams of each race with multi-language commentary, alongside exclusive access to all 20 driver on-board cameras throughout every race session. It aims to have unique feeds not available on any other platform, while leveraging the power of OTT services to provide the capability of multi-level personalization.
Sports OTT: A Changing Picture
Of course, few sports are in a position to effectively set up their own broadcast service from scratch like Formula 1 is, Formula One Management having steadily taken over the production of the World Feed since 2004 and invested many, many millions of dollars in its own equipment. And the reason it is launching in 'only' two dozen countries is because of existing and rather complex existing rights deals with broadcasters. But it does highlight the changing nature of the game: on the one hand sports rights might not be the gold-plated proposition that they were for broadcasters; on the other those sports might feel they no longer need broadcast partners to reach wide audiences.
OTT sports though are already having an impact according to research from Dataxis. Alongside stating that the European linear OTT Pay-TV market had reached 7.4m subscribers at the end of September 2017, an impressive 13% growth over the previous quarter, the researcher estimated that sports were driving a significant proportion of that.
"OTT sports platforms, such as BeIN Sport Connect, Eleven Sports or Dazn managed to attract a significant number of sports fans crowd which represents around 25% of the total Linear OTT subscribers as of Q3 2017," it said. "Western European countries are leading the sport OTT market with Germany (35%), France (25%) and the U.K. (15%). As sports events are a key driver to TV subscription, it is still to be seen whether this growth will continue at the expense of the traditional Pay-TV offer."
And then, of course, there is FAANG to consider. While Netflix has so far declined to get involved in the market, despite the overt lack of interest in the EPL rights, Amazon has inked deals to show NFL Thursday night matches and ATP tennis tour highlights, while Facebook has hoovered up a range of sport properties covering LIGA MX soccer, Major League Soccer, the World Surf League, Major League Baseball, UEFA Champion's League, US college football, and more. It also bid $600m for five years' worth of rights to IPL cricket, but given that it was beaten to the punch by a $3bn winning offer from Star India that seems more speculative than anything.
But sports organisations are starting to make of social media as social media in turn looks to make increasing use of video. Real Madrid, for instance, after becoming the first sports brand in the world to reach 100 million Likes on Facebook, launched Hala Madrid on Facebook Watch, a high production value 8-part series of broadcast quality films shot on GoPro cameras. The series reached 96m people on the platform, driving 30m+ total views and counting. And, as The Drum points out, "When you take into consideration that Facebook Watch launched only in the US where Real Madrid has less than 7% of its total FB fan base, the results are even more impressive."
Elsewhere, sports publication Bleacher Report has an Instagram account called House of Highlights that delivers ad-free highlight clips to over 8.3 million followers, while Snapchat's coverage from Rio 2016 attracted 49m viewers in the first week alone and will probably do the same or more from Pyeongchang once the figures are in given deals struck with NBC, The Olympic Channel, Eurosport and more.
The Wimbledon Tennis Championships, meanwhile, highlights how sports properties can have it all if they have the correct rights in place. Something of a digital pioneer, Wimbledon not only has an enviable spread of broadcast rights but has a social media presence that extended out to 157m people on Facebook alone in 2017 and an online presence that recorded 201m video views on its own online presence The Wimbledon Channel, up from 115m in 20116.
Is Sports OTT The Only Game in Town?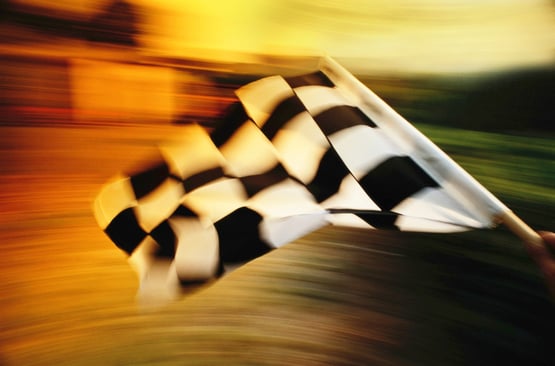 The short answer is no: not yet at least. While Ampere Analysis' research from November 2016 suggesting that sport was under-indexing amongst Millennials still casts a long shadow over the industry, the numbers involved are still high. After all, while the domestic rights to the EPL have failed to rise, £4,464 billion is still an extraordinary amount of money; £970,000 ($1.34m) per match over a three year period.
And to put Super Bowl LII in context, it was still Number 10 in the list of most-watched American television programmes of all time, coming in behind the eight preceding Super Bowls from 2010 to 2017 and the last ever episode of 'MASH'. It also was the most live-streamed Super Bowl to date, pulling in an Average Minute Audience (AMA) of 2.02 million viewers via a variety of platforms.
Reach vs revenue is something that always crops up in any discussion of the future of sport, especially when it comes to the potential size of sports OTT audiences. And it is perhaps here where linear broadcast still holds sway, for the moment at least. The NBC-only prime-time average viewership of 17.8 million for the Winter Olympics surpassed Fox, CBS, and ABC combined by an average of 82%
"In today's media environment, to average approximately 20 million viewers over 18 nights – which is essentially the number of hours for a full season of three primetime shows – is a tremendous accomplishment," said Mark Lazarus, chairman of NBC Broadcasting and Sports in Variety. "When compared to the competition, we were more dominant than any Winter Games ever."
Sports rights' position at the apex of the broadcast tree might be under threat, and there is perhaps an evolution underway that sees an increasing emphasis being placed on highlights on the one hand, and the degree of personalisation and interactivity that only a sports OTT solution can offer on the other. But few events, if any, can still reliably deliver the tentpole audiences that it can command. How it chooses to reach those audiences though over the forthcoming years, and the increasing role OTT will play in that, will be fascinating to watch.