As the OTT sector has moved towards live programming, so sport has become increasingly important to it.

Is a new boom era of Sports OTT on the horizon?
To borrow a phrase, live is the new skinny. Whereas one of the last great upheavals in the online video market was the arrival of the skinny bundle without sports several years ago, one of the current ones underway is the reinsertion of sports into the mix, but this time by OTT providers. In doing this they are learning what Pay-TV has known for decades: sports sells subscriptions. And with a cloud-based infrastructure now capable of handling live content day in and day out, there is an increasing amount of interest being shown in carrying live events and checkbooks being opened.
This is involving both new and established players jostling for dominance as the market establishes itself. Here are some headline examples.
On the new entrant front, DAZN launched in the US in September with an emphasis on combat sports and the tag of 'the world's largest sports streamer' following a $1bn deal struck with Matchroom Boxing. Later this year it plans to move more into America's sports heartland with a nightly Major League Baseball show that will be built upon live cut-ins to action from around the league, showcasing critical plays and big moments.
We wrote last year about the growing trend for sports properties to go OTT to reach their audience in the face of changing TV viewing habits. After a delayed start plagued by technical issues, Liberty Media is expanding its Formula One OTT service to eight new territories for the 2019 season, with more to come this year. The PGA Tour, meanwhile, is collaborating with Discovery on a $2bn, 12-year deal to launch a dedicated streaming service for its 150 annual tournaments.
As for the established players, while Netflix continues to deny interest, Amazon is rapidly becoming a major force. This winter, it was showing the NFL's Thursday Night Football on both Prime and its Twitch subsidiary (Twitch is a leader in video game live streaming, including broadcasts of eSports competitions). Amazon, going increasingly global, recently signed a deal to carry 20 soccer games live from the EPL in the UK. Facebook, meanwhile, spent a reported $1 million+ per game for Major League Baseball streaming last year and has a steadily growing portfolio of often non-exclusive international rights, such as the deal it struck to show Spanish La Liga soccer matches in India.
For those wondering how traditional broadcasters are faring in all this ferment, the savvy among them is simply joining in by launching their own complementary services. ESPN+, Disney's own dedicated sports streaming service, now has over 2 million subscribers in under a year after launch, thanks mainly to UFC content.
OTT Sports in the Cloud: the Key to Involvement
We could easily spend the rest of this article stepping through all the contracts that are being signed as Sports goes increasingly OTT. The combined pressures of competition in the OTT space, the desire for sports properties to have a direct route to market, and the steadily more aggressive involvement of the major tech companies are all leading to a very active market.
Juniper Research, in fact, firmly points the finger at sports contributing significantly to a $23 billion year-on-year increase in global consumer spending on digital content. Here's what it says:
"SVOD (Subscription Video on Demand) services will be a key driver of growth as major players, including Amazon, Facebook, and Twitter, acquired sporting rights in the last few years. The worldwide reach and significant subscriber numbers of these players position them as effective partners for the sporting tournament and leagues aiming to increase viewership."
The opportunity has never been greater, and it's not just with the giants of the FAANG grouping. Cloud-based technology, in particular, means that operators and sports organisations are able to launch new OTT services directly targeting the consumer at a much greater speed and a much lower cost than even just a couple of years ago. The cloud's multiple advantages include:
Spin servers up or power them down to allow for audience peaks and troughs
Only pay for services you use rather than maintaining and servicing costly infrastructure and equipment.
Develop, trial, and launch new services quickly and efficiently
Leverage constantly evolving technologies
Expand the service into new markets and add new features as the audience demands them
As AWS puts it in an eBook directly targeting cloud-based sports video production, "the cloud provides both an infrastructure backbone and media-specific services that let the operator focus on creating, packaging, and distributing top-quality live sports content to their audience."
Coupled with the increasing commoditisation of equipment at the production end of the process and a move toward IP workflows, it has never been easier to transport video from a sports event to a viewer's device.
The Opportunity of OTT Sports
So, while there are undoubtedly numerous opportunities, how much of a worry should this be for operators without sports rights in their portfolio? We suggest there are plenty of causes for optimism and that the current rights holders are not going to be able to pull up the ladder behind them and simply sail off for a number of reasons.
While the cloud is able to keep the costs down, on the one hand, there is also a growing suggestion that the era of sports rights inflation is perhaps coming to an end. There are a number of interlocking reasons for this, including:
Competition from other genres and entertainment mediums

The dangers of over-supply (ESPN+ is planning on streaming 1,425 live events in February on its service alone)

Price sensitivity on behalf of the viewer

The entrance of 'Tier 2' sports into the market that might have lower viewing figures but can still command a loyal fanbase

Sports properties starting to pivot back to prioritising reach over revenue and looking for grassroots growth after several decades of operating behind Pay-TV paywalls.
There is also the interesting analysis that the tech companies are paying substantially over the odds for sports viewers. Analyst-turned-investor Gene Munster looked at the figures for several major US sports and came up with an estimated cost per viewer per game for the NFL's deal with Fox Sports for its Thursday Night Football at $2.44. Amazon's deal with the NFL for the 2018-2019 season costs it $14.77 per viewer per game.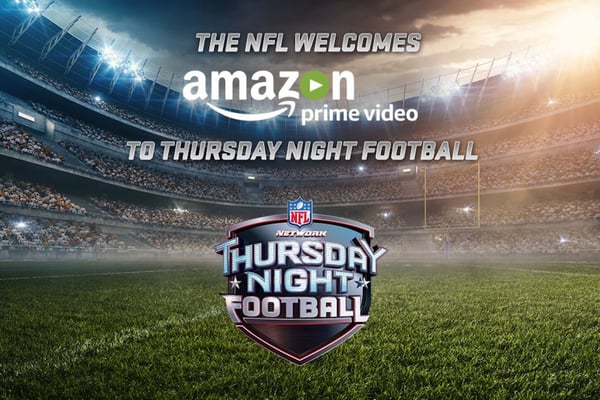 Of course, there are different plays at work here. Fox is selling an advertising audience for the approximately 15 million viewers per game; Amazon is trying to grow Twitch to a new audience and show value for Prime subscriptions. Nevertheless, the disparity is remarkable and, in all likelihood, not really sustainable.
It will be interesting to see how EPL rights work out for the company. So far, these can be seen as a bit of a cautionary tale when it comes to leagues looking to attract FAANG money; the EPL carved 20 matches out into a separate package specifically to attract a streaming service and then spent four months failing to sell them. Indeed, it's possibly only Amazon that would have brought them: the rights divided into two sets of 10, both occurring on public holidays in the UK, with one tranche in particular tied into Boxing Day, a traditional post-Christmas day of retail therapy and sharp discounting that perhaps highlights where the company's real profit centre still lies.
Will Amazon return to the negotiating table for more? If it does, there are likely to be a lot more rights on the table from other leagues and countries too. Many of the major rights deals in place for the sort of sports properties that have a global reach are soon to be renegotiated for the first time in the modern era of OTT and Big Tech. We would hazard a guess, though, that the tech company's interest in sports rights is only going to be relatively peripheral and part of a wider content strategy rather than being a key plank; the move towards live sports via OTT is going to be driven by operators broadcasters, and the sports organisations themselves.
Sports OTT is not a guaranteed license to print money; operators still need to match the right sports with the right audience, which can become even more of a challenge as the niches get smaller. But that has been part of the business of broadcast since the very earliest days, and the transition to the cloud lowers the barriers to entry at the same time as the audience is demanding more content than ever. It is very much game on.