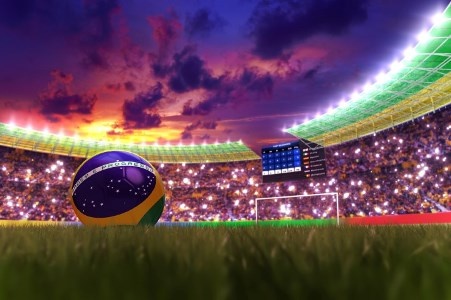 Many football fans and commentators alike have described this year's World Cup as one of the most exciting tournaments in the history of the competition. A view that's certainly supported by the record numbers of television viewers who followed the action and the illegal streaming.
With its Eye on Piracy campaign, Viaccess-Orca played its part in highlighting that with the phenomenal rise in television audiences for international sporting events such as the 2014 football tournament in Brazil, growing bands of video pirates have emerged, posing a serious threat to content service providers and owners.
Though fully audited figures have yet to be released, it's been reported that broadcasters are confident that the number of global viewers for Germany's victory over Argentina in the 2014 final could even exceed the 909 million who watched Spain beat the Netherlands to lift the trophy in 2010.

Germany vs Argentina in the 2014 final Match
According to IPTV News, televised games in this year's competition set new records in several markets. For instance, in Germany, an all-time high audience of nearly 42 million watched the final. While in Belgium, the 5.5 million who tuned in to see their national team defeat the USA made it the most viewed football match in the history of Belgian TV.
But the great news about audiences needs to be tempered by the findings of the Eye on Piracy campaign which revealed that over the course of the tournament 20 million fans watched games on illegal websites; 60 per cent of fans unlawfully streamed at least one match online; and the final was seen by nearly 600,000 illegal viewers.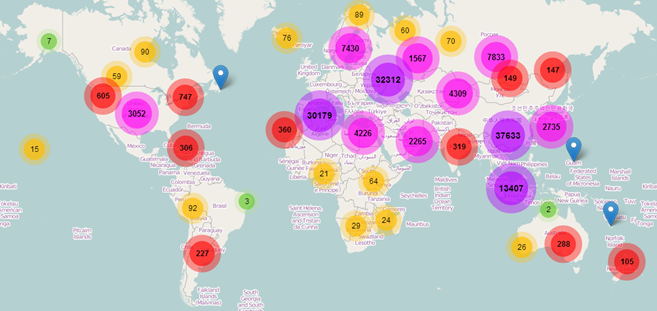 Piracy Hit Map - Global unique P2P Viewers Geolocation for Brazil – Colombia
Our Eye on Piracy solution monitored all the matches to detect unauthorised streams – identifying their source and websites – and shared the information in six newsletters and in-depth reports issued weekly during the tournament to people who subscribed free of charge for the service.
In its monitoring of live streaming content platforms , Eye on Piracy revealed that 'Iguide' had the greatest number of violations with 407 illegal streams while 'Leton', 'Sawlive' and 'Ukcast (tv)' each had 143 infringements – the next largest number.
The campaign revealed that the scale of piracy was such that between 100,000 and 500,000 people tuned in to each game illegally.
Eye on Piracy proved its effectiveness by issuing a total of 3222 take down notices to sites featuring unauthorised content, the highest number, 160, was for the Brazil vs Croatia game on June 12, the second-highest figure, 133, was registered in Argentina's match against Germany on July 13.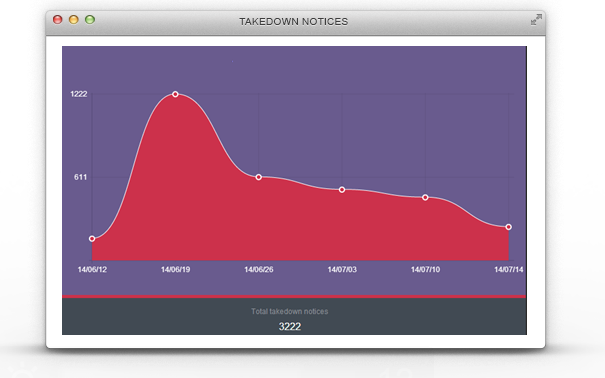 Significantly, following the issuing of notices, we achieved a 35 per cent takedown rate for around 100 content platforms, with the latter complying before the games being illegally rebroadcast had ended. According to Renaud Presty, Viaccess-Orca's senior director of security services, it took just "few minutes maximum to get illegal content removed from the cooperative platforms".
Our performance was just as effective when combating social media violations. During the first ten days of the tournament, 150 notices were sent to Twitter and Facebook pages, with 51 per cent of illegal links to games on the latter removed as a result.
Overall, we discovered that afternoon matches attracted a higher number of illegal viewers than evening ones. The explanation for the trend is that due to time differences most European viewers were still at work with limited access to TV sets, but matches could be viewed by accessing legal (when available) or illegal streams.
Summing up the campaign, David Leporini, Viaccess-Oraca's EVP of marketing, products and security, told Rapid TV News, "The main objectives of launching this campaign were to demonstrate that piracy is a reality, offer our insights about the issue, and show operators and rights owners how they can fight back using an intelligent security solution such as Eye on Piracy. "
While investing in anti-piracy technology can go a long way to thwarting unauthorised transmissions, VO recommends two additional courses of action:
Firstly, content rights holders could maximise viewing possibilities for subscribers anytime, anywhere, by making available legal streaming services. And secondly, they might increase the quality of the viewing experience by carefully managing the sizing of the streaming service or CDN, given certain viewing periods are busier than others.
Attending IBC 2014 in September? Visit our stand where we will be able to provide you with a demonstration of Eye on Piracy and discuss the results of the campaign. You can also check the show preview here.