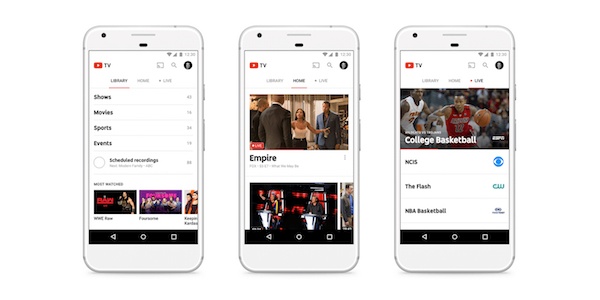 Finally, after an extended period of dropping heavy hints in the business sections of the press, YouTube has announced that it's going to start streaming live TV channels with its own $35 skinny bundle. Here are five reasons why this is important.
1. It's YouTube
The prospect of Apple launching its own streaming service via iTunes was the one that everyone has fixated on, but while that flounders the market is already getting crowded, with Dish Network's Sling TV, Sony's PlayStation Vue, FuboTV and AT&T's DirecTV Now, all recent entrants. Meanwhile, Hulu is planning to launch its own live TV bundle for under $40 per month in April.
YouTube though is the textbook 700lb gorilla in the room. When it comes to online streaming, the Google-owned company has a brand recognition second to one, particularly among the key Millennial demographic. Even YouTube on mobile alone, reaches more 18-34 and 18-49 year-olds than any cable network in the US, according to its own figures. Indeed, the day before it revealed it was launching YouTube TV, it also announced that it was serving one billion hours of video content to its global audience every single day. That's an increase of 10x since 2012.
2. Cloud DVR
One of the key planks of the new YouTube offering is unlimited Cloud DVR for each of the six personal accounts that each subscription covers. It does have a time restriction of nine months, after which data will be deleted, but it promises to allow the recording of as many simultaneous shows as users desire, and be fully portable across their devices.
In practise there will probably be some restrictions on some individual shows, as the rights landscape is complex. And, of course, the whole term 'Cloud DVR' is a bit of a sleight of hand as it simply means it is archiving the streamed material for playout on its servers, but it's an important service and one that the rest of the industry will probably have to emulate (Vue currently only store material for 28 days, Sling TV's service is in beta).
3. Personalisation
Each of the six accounts (only three can be in use at any one time) can also be tweaked to provide personal recommendations. Subscribers are being promised that a lot of Google's expertise in the area will be ported over to impressively granular search and browsing options, including 'genre shells', locally trending topics, thematic keywords such as 'time-travel' and so on. And, of course, YouTube can also exploit the return path from the separate individual users to improve the service and improve the recommendations.

Learn how to obtain superior content recommendations

here

.
4. YouTube Red
Whether YouTube's $10 a month subscription service which is included (though not ad-free) in the bundle price is going to be a significant advantage for the service is as yet unknown and will depend on how YouTube decides to play it. To date, its original commissioned content has mainly been ports or souped up versions of content that already plays well on the service. But, that's not to say that it couldn't become the home for more significant content in the manner of Amazon Studios, etc. if it put its mind to it. It certainly has the funding.
5. Interaction
Google has a slightly chequered track record with social media, but social is integrated with YouTube TV from the start, with the community tab that was implemented on top creators' channels last year becoming a part of the new service. It is also promising a new level of customer service — a historic pain point when it comes to US streaming services — with the ability to text or voice chat directly with customer support from the app.
The Next Level in Live Streaming Services?
While to many eyes it may seem a fairly no frills service, here is a chance that YouTube TV represents a bit of a step change when it comes to OTT streaming. Its sheer brand power and its integration with Google (though a demo of that with Google Home flopped on stage during the unveiling) certainly makes it a powerful potential player. And, at around half the cost of a normal cable bundle, there is a sound financial argument for it as well.
The launch has no firm date beyond 'coming soon' and is currently limited to the major US metropolitan areas where it's been able to sign deals to include feeds from local broadcasters. And there are also some notable gaps in the 40 or so channels it carries — there is no Turner Broadcasting, Discovery, nor Time Warner content available as yet — but it is a start and a potentially significant one for live streaming services at that.