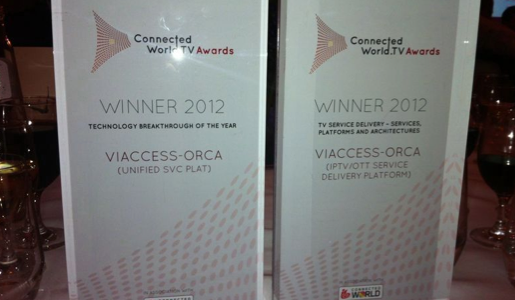 We take great pride in the work we do here at Viaccess-Orca. By combining years of technology expertise with our dedicated team of employees, we have created innovative Over-the-Top (OTT) and IPTV technology solutions that give our customers the tools they need to control piracy and delivery a truly compelling TV experience.
This is why we're happy to announce that Viaccess-Orca just won two, not one, but TWO ConnectedWorld.TV Awards at IBC 2012 on Monday night, September 10.
Viaccess-Orca won the Technology Breakthrough of the Year award for our unified service platform. The judges gave this award to the company they felt would have the biggest impact on the business of content everywhere. In addition, we received the TV Service Delivery: Services, Platform and Architectures award for our IPTV/OTT service delivery platform, TV Everywhere.
The ConnectedWorld.TV judges even noted: "It's very difficult to reduce all of these entries down to a single standout, but Viaccess-Orca beats the odds by providing a unique combination of a strong TV middleware offering, proven CAS and a class-leading recommendation platform - and the proof is that it's deployed in France Telecom, one of the world's largest IPTV service providers."
The awards are very special to us because wining these awards in the best service delivery category is proof that our technology helps operators roll out unique and compelling TV services to their customers. The OTT/IPTV services that this award was based on were the same services that were deployed across Orange France and Orange Poland earlier this year.
As we move forward, we will continue to emphasize a single platform that provides an outstanding service to IPTV and Over-the-Top (OTT) deployments to serve all network types and to any device. These new awards, along with the others we have won, serve as a constant reminder for us to continue our pledge to provide the PayTV industry the tools it needs to future-proof its business.
Thank you all,
The Viaccess-Orca Team