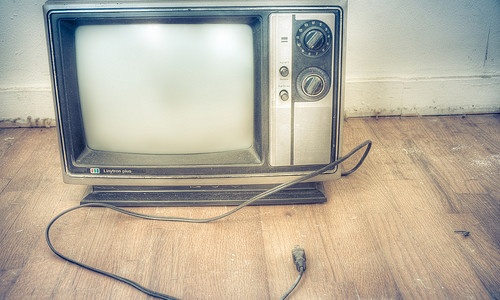 Three weeks ago top TV leaders from around the globe have gathered at the 3rd Innovative TV (INTV) conference in Jerusalem to discuss innovation in the TV industry; technology vs content, the present and future of television and their favourite shows. This inspiring fast-paced two-days conference hosted top TV executives such as Richard Plepler, HBO Chairman and CEO; Stephen Friedman, President of MTV; Bruce Tuchman, President of AMC and Sundance Channel Global and Susan Lyne, CEO of the AOL Brand Group and more.
"If you went to sleep 5 years ago and woke up today - you wouldn't recognize the TV market " (Joel Stillerman, EVP of Original Programming, Production and Digital Content, AMC)
The discussions, followed by lively panels, touched on various topics. From exclusive original content, through the revolution and evolution in the way audience consume entertainment today, how to effectively measure viewers engagement and the role of social media in this glorious industry. Familiar with ongoing reports on cord cutting, most speakers voiced optimism.
"I'm less concerned on numbers and more focused on what makes our brand special", said HBO's Richard Plepler. "It's far more nuanced. It's multilateral and not binary. We are a content provider, so more means of distribution - we love that. It's not either or, as we are adding another dimension for our consumers. And we tell our partners join us as well".
Plepler also voiced his thoughts on the danger of hubris. "Culture eats strategy for breakfast," he said, "Every time we listen to each other carefully, we succeed. Every time we have stopped listening to each other, we have screwed up."
For Lee Hunt, founder of Lee Hunt LLC, a New York-based consultancy focusing on brand strategy and on-air architecture, these changes mean more than just broadcasting excellent content. Speaking about the multitude of ways to consume content, Hunt said: "Your network is no longer a filter to what show you'd like today". Hunt presented the ways in which HBO, AMC, Fox or Hallmark rebranded their shows in order to put the parent channel back in the centre. Hallmark, for instance, took ownership on a sub-genre in which they excelled – mystery dramas. For AMC it was about adding the channel's name to the title of their hit show: "The Walking Dead on AMC".
And why was this necessary? "The elephant in the room is Netflix", said Hunt. "My Netflix will be different than your Netflix. The way they do it is through big data, they look at 30 million plays, ratings, they also ask viewers to tag their information and create metadata".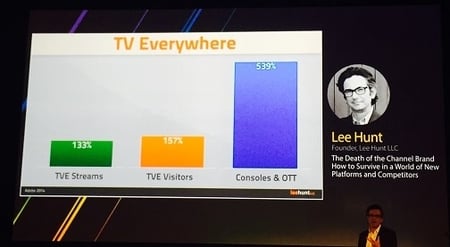 Lee Hunt presents the evolution of TV Everywhere
And as for the future of TV Everywhere? Appears to be heading towards consoles and OTT.
Joel Stillerman, EVP of Original Programming, Production and Digital Content, AMC, added his insights about the importance of immersion and connectivity.
"You have to have access to all the parts of this system: how to market, promote, you have to know how to use your schedule, how to use social media, how to use other platforms. You need to think about relevancy – does your show matter?"
Addressing the impact of social media, Stillerman spoke about the connection between linear TV and social. "We believe in the power of scheduling, on linear platforms. Because of linear TV social media has time to do its job, the viewers have time to do their job – to watch and talk about it. TV is at its best when it's a live communal experience".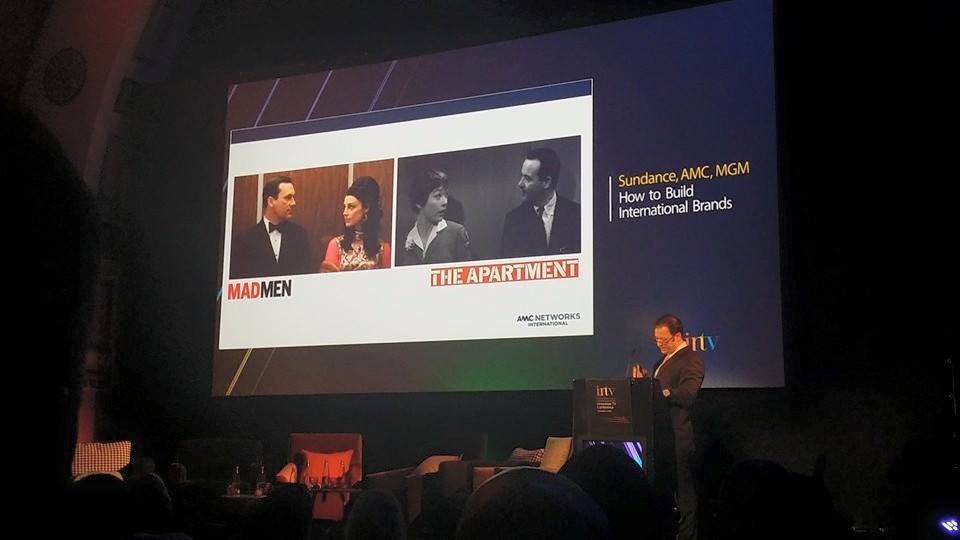 Bruce Tuchman presents AMC's shows
"There's a method to the madness" (Joel Stillerman, EVP of Original Programming, Production and Digital Content, AMC)
Looking at their past and current TV hits, and giving a glimpse at future productions, the conference's guests focused on content, and on what makes some shows stand out and draw millions of viewers. Content is no doubt still considered King but today it's also about a business model where the artist and free thinking come first, even when it challenges the CEO.
Only a few weeks before the premier of the 5th season of Game of Throne, HBO's Richard Plepler was asked about the show's success and what made his company gamble on such a unique format.
"We're listening for the insurgent voice of an artist, one with a real point of view which is differentiated from others. The secret of Game of Thrones? In the first 5 minutes of the show you will forget where you are. It's a show about power", Plepler said.
"There's a method to the madness", said Joel Stillerman, EVP of Original Programming, Production and Digital Content, AMC, which produces, among others, The Walking Dead, Mad Men and Breaking Bad. Stillerman presented some of AMC'S future shows: Humans, a new drama where the latest must-have gadget for any busy family is a highly-developed robotic servant, and Into the Badlands – a martial arts drama loosely based on a classic Chinese tale.
"Our guidelines for selecting a show are that the show must be unexpected and unconventional; eclectic by design. Look for the passionate audience", Stillerman added.
Fitting into the U.S. content ecosystem like the tiara on Lady Mary's head is Downton Abbey, ITV's epic drama which so far has been broadcasted in 220 territories around the world. Discussing what made the show so popular, the drama's executive producer, Gareth Neame, said the goal was to write combine 21st century storytelling with a drama set in the early 20th century. "The model was 1990's U.S. drama. We were working on the American model, in English cloths", said Downton Abbey's award-winning writer, Julian Fellowes.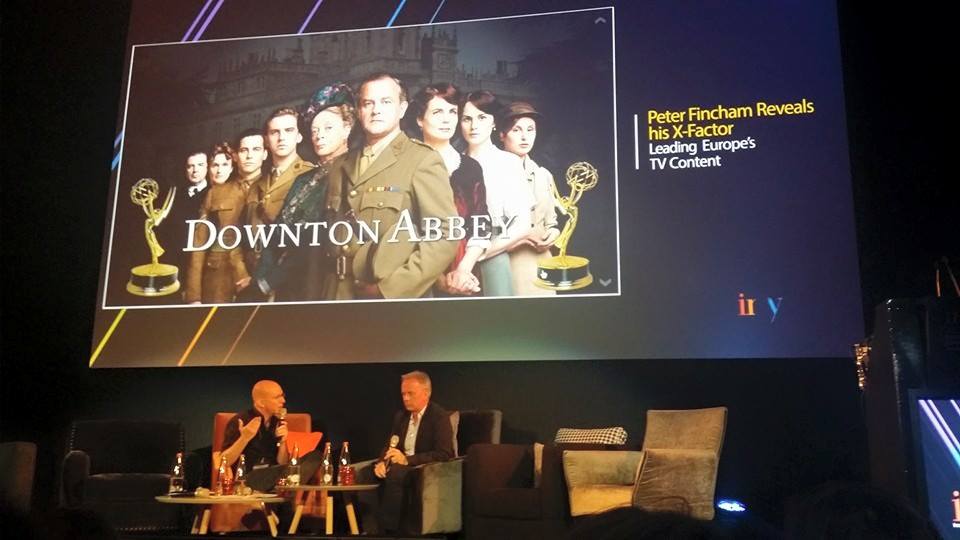 ITV's Peter Finchman discusses the success of Downton Abbey
"We understood you couldn't age up with the audience" (MTV President Stephen Friedman)
As they reflected on past successes, the speakers tried to harness their knowledge and experience to predict the next five years in the TV market.
At MTV, said the company's president Stephen Friedman, development never stops. "As soon as you understood the generation you have to let go and adopt the next one".
Friedman discussed MTV's target audience – the millennials - the demographic group of people aged 18-35. The kind of storytelling which they are after, said Friedman, is different. "It's not enough to have just big hits. The moment the show is done we continue the conversation until the next series comes up. This is how we built our social footprints". Friedman added that today's audience demand a more transparent way of producing content.
"We need to pull back the veil and share with them everything. The audience feels they are in on the ride".
And what about the future? "The audience will help us figure out the future: an immersive and interactive one. It's still hard to tell a good story, we hope we will cut it with the audience".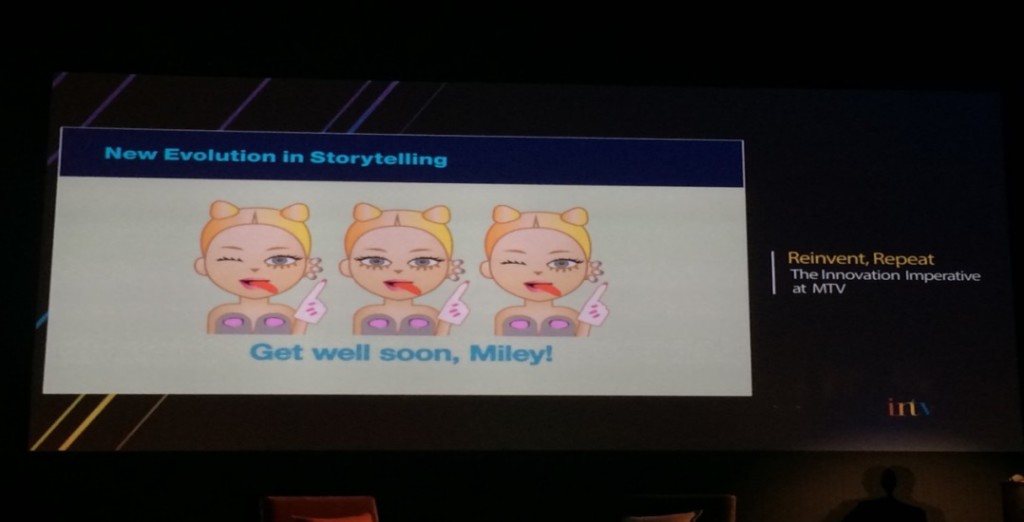 MTV's president Stephen Friedman presents the "Get well soon Miley" video
Photo credit main image: Susan E Adams / Foter / CC BY-NC-SA