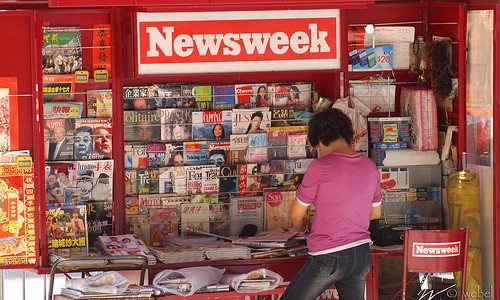 The main talking point this week is Vodafone's purchase of Spanish cable company Ono. Another eye-catching acquisition is Warren Buffet's surprise decision to buy his first TV station. This as demand for TV sets around the world shows signs of the flagging.
Away from the headlines, this was also a big week for Viaccess-Orca with our attendance at TV Connect 2014 – the world's leading connected entertainment event – in London. As ever, it was a great opportunity for us to network and showcase our products and solutions, and we look forward to sharing our thoughts on this year's event in an upcoming blog post.
Learn more below and share your thoughts by leaving a comment. You can also find us on Twitter, Facebook and LinkedIn.
Ono Deal Broadens Vodafone's Spanish Offering (The Telegraph)
With its acquisition of the Spanish cable company Ono for US$10 billion, Vodafone will become Spain's second-biggest telecoms operator. The move is seen as challenging Telefonica's market dominance, with Vodafone's chief executive Vittorio Colao saying the deal has created "a leading integrated communications provider in Spain". He said his company was now "a more unified provider, not just a mobile one".
Vodafone has reportedly struggled to compete in Spain with Telefonica, Jazztel and other companies offering a combination of high-speed home internet, pay-TV and mobile phone services. Industry watchers said that other than purchasing Ono, Vodafone had few options for benefiting from Spain's emerging economic recovery. Do you think Vodafone's move could lead to other telecoms players diversifying their offering?
Global TV Market Sees Slowdown (IHS)
For the second year in a row, there's been a contraction in the global television market, according to a new report by IHS Technology. Worldwide shipments of TVs fell by 6 per cent in 2013 - to 225.1 million units – and 7 per cent the year before. This contrasted markedly with a big expansion of the market in 2010. IHS said the trend suggests that the global TV market continues to be in transition after a period of "tremendous growth". IHS concludes that financially-stretched North Americans and Western Europeans are not showing much interest in buying new TVs, and demand in China has been dampened by the expiry of government subsidies for new sets, which had been a powerful purchasing incentive for consumers. Meanwhile in Asia-Pacific, manufactures have stopped production of CRT and older-generation LCD TVs as well as plasmas because of vanishing profit margins. We think the shrinkage in the global TV market is linked to the growth in demand for second screens. Do you agree?
Buffet's Surprise TV Station Purchase (CBS)
In a move that has surprised some industry observers, US business magnate Warren Buffet, who owns scores of American newspapers, has bought one of South Florida's top-rated television stations. The acquisition of WPLG from Graham Holdings Co – in a stock-swap deal valued at US$1.1 billion – comes at a time of industry consolidation with a number of major print publishers purchasing TV stations. While this is his first foray into the TV sector, Buffet has previously considered dipping his toe in the market. He reportedly chided himself for not buying an NBC affiliate when he had the chance. Industry commentator Gordon Borrell said Buffet's move was puzzling because "he tends to buy underdog companies at low prices, such as newspapers, betting on a 'comeback'." But Borrell pointed out that TV stations tend to remain profitable because, unlike newspapers, they don't require lots of employees. Could Buffet's latest acquisition presage further moves into the TV sector?