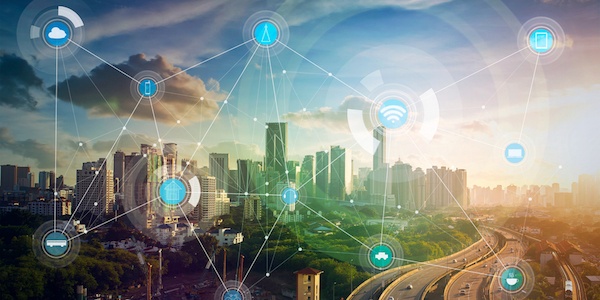 5G and the IoT are going to conspire together to lead to a huge growth in mobile data, but there are plenty of difficulties ahead in the transition from 4G. Meanwhile, Ofcom in the UK confirms that, while everyone is watching less TV, the under 25s are watching even less, and while revenues are set to double, Netflix shares face a turbulent time after growth forecasts failed to deliver.
Global Mobile Data Revenues to Reach $630bn [Parks Associates]
A new Parks Associates report, 5G & Wi-Fi: Provider Strategies for the Next-Generation Network, estimates that global mobile data revenue will almost double in the next five years, increasing from $386bn in 2015 to $630bn in 2020. Much of this is, of course, going to be powered by the growth in the Internet of Things (IoT) (indeed, it is considered that 5G data service ARPU has limited room for expansion from where it is at the moment without the IoT), but Parks says that it's not a simple case of building 5G networks and waiting for the money to roll in.
"Each IoT vertical offers multiple use cases and has unique requirements on network performance and return on investment (ROI), which opens up market opportunities for alternative network providers such as SIGFOX and Ingenu," commented Harry Wang, Senior Director of Research, Parks Associates. "It will be a key step for mobile operators to transform their networks from hardware-centric to software-centric and cloud-native in order to have the necessary flexibility to meet customer needs in the IoT market. They will need to plan and coordinate 5G standards development with their own network transformation efforts, while pursuing customers in the competitive IoT market. It will not be an easy transition."
Parks estimates that by the end of 2020, there will be 17.2 million 5G consumer market subscriptions worldwide, concentrated in the list of what we can refer to as the usual suspects: US, Japan, South Korea, China, Australia, and major industrial nations in Western Europe.
This has to be contrasted with 4G where, by comparison in the UK alone according to Ofcom figures, there were 23.6m 4G mobile subs at the end of 2014. Measured against that, 17.2m worldwide seems almost insignificant. However, what needs to be borne in mind here is the potentially greater amount of data per sub that a 5G network will have to carry plus how quickly consumer demand can scale things up. For instance, if we look at the UK figures again, at the end of the previous year, 2013, there were only 2.7m 4G subs, meaning an increase in demand in a single year of 874%.
Preparing for that sort of scaling up is going to be one of 5G's greatest challenges.
Under 25s Watching 25% Less [Ofcom]
Staying with UK regulator Ofcom, its latest report seems to confirm the long-held industry belief that the younger generation is no longer watching as much television as it once did.
The Public Service Broadcasting Annual Report 2016 might, as the name suggests, only covers the UK's public service channels, but given that they all combine to reach 84% of the UK population in a typical week, its findings tend to be significant. And the headline here is that while viewers as a whole now watch 26 minutes of TV less a day than in 2010 (down to 3:36 hours), there is a notable demographic split in the data: viewing in the 55-64 age group declined 5%, while those under 25 were watching 25% less.
And further analysis reveals that a third of the daily viewing in that 16-24 group is spent in the company of OTT services, either catch-up or SVOD.
There was also some interesting data highlighting the pressure that broadcasters are under in the report. Back in 2005, just on the verge of digital switchover and with a whole raft of content required, the UK PSB channels spent a total of £3.26bn on original content. In 2015 that figure had shrunk down to £2.50bn, a 23% decrease in real terms. Unsurprisingly there was also a mirrored decline in the amount of UK-originated programming aired, down from 14,013 hours to 12,661, all of which also cost £35,185 per hour less to produce.
By contrast, Netflix plans to spend $6bn on content this year, with only 600 hours of that being original programming.
Both PSBs and SVOD providers such as Netflix and Amazon Prime might be accessed by the same TV screens, but the underlying business models are becoming quite stunningly different.
Netflix and Amazon to double revenues [BBC, Broadband TV News]
A highlight of just how different those business models are are was made obvious when Netflix share prices tumbled around 13% on news that it had 'only' added 1.68m users in the three months up to June. And though they rebounded fairly swiftly, a time of writing they are still about a quarter down from their peak of $130 in December 20154.
Given that Broadband TV News reports that revenues from SVOD services such as Netflix and Amazon are set to more than double from $14.6bn this year to $34.6 billion in 2021 according to a new Juniper Research report, that seems a bit harsh. But Netflix and their ilk are operating in that rarefied financial environment that can be both a blessing and a curse depending on which way the numbers fall: one that depends on continued and extravagant growth to lure in investment.
The BBC reports analysts commenting that roughly 20m subscribers will have to pay somewhere around $1 to $2 more a month as a result of the stall in growth, and thus the company might only add 300k new US subscribers in the three months to September, a bit of a drawback given that the projections were for 880k.
The BBC then quoted Wedbush Securities analyst Michael Pachter: "The shares are down because their domestic subscriber growth slowed to a crawl ... and domestic profits fuel their international losses," he said.
How Netflix will stay ahead of the growth curve, and what its success or failure means for the rest of the industry, will be one of the most closely followed stories of the next five years.
Want to know more? Make an appointment to see us at IBC to discuss how wider industry issues will affect your business, now and into the future.