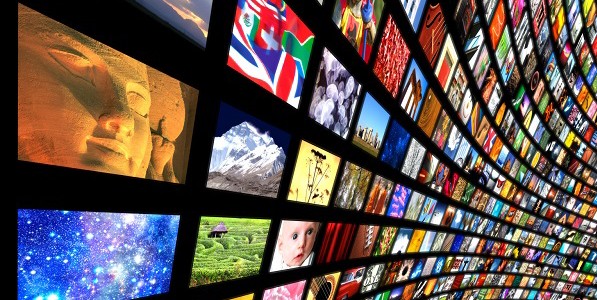 The latest figures from Cisco show that the growth of mobile video traffic and TV Everywhere services is continuing at its astonishing pace. Meanwhile, the UK's Sky has shown what pay-TV broadcasters can achieve with cutting edge technology and there are some serious concerns about widespread security flaws in the Internet of Things.
75% Of All Mobile Data Traffic to be Video by 2020 [Cisco; Rapid TV News]
Cisco has released its latest report on internet traffic and, in Cisco VNI Global Mobile Data Traffic Forecast, 2015 - 2020, details a growth in mobile data that is outperforming all expectations. Here are the headline predictions for 2020:
5.5 billion global mobile users, up from 4.8 billion in 2015
11.6 billion mobile-ready devices and connections, nearly 4 billion more than in 2015
Average mobile connection speed to increase 3.2-fold, from 2.0Mbps in 2015 to 6.5Mbps by 2020
Global mobile IP traffic will reach an annual run rate of 367 exabytes, up from 44 exabytes in 2015
These are big numbers and only getting bigger. As Rapid TV News points out, by 2019 the incremental amount of traffic being added to the mobile internet will be 809 exabytes: twice the estimated size of the *entire* mobile internet in 2015.
Video streaming is set to be at the heart of much of this growth, representing 75% of all traffic in 2020 — a substantial increase on the 55% ratio of 2015. Cisco also estimates that the demand for stable connections and bandwidth to support all that video is going to power a shift to 4G services, which will account for 70% of all mobile traffic by the same timeframe.
There is an interesting debate that can be had here over the nature of this relationship, and whether 4G leads to more mobile video consumption or more mobile video consumption leads to greater 4G take-up. Either way though the figures are only going one way and it looks like 5G won't just be a nice added speed boost for users, it will be an infrastructure necessity.
To see how you can take advantage of the growth of the mobile internet and launch TV Everywhere services quickly and economically in the cloud, visit. www.tvaas.com
Sky Q: The Broadcasters Fight Back [Pocket Lint; Sky]
Our blog post App to the Future – Apple TV and the Battle for HDMI 1 has been one of the most popular ones we have published over the winter months and one of the key pieces of technology it references, UK broadcaster Sky's new Sky Q set-top box, has now gone on sale.
It's fair to say that it's probably the most advanced STB yet made, the top range model marrying a 2TB hard disc with an astonishing 12 TV tuners to really leverage the power of TV Everywhere.
As Pocket Lint reports, 10 of those 12 tuners are firmly accounted for use in a busy domestic environment. Four are for recording, one for constant watching, one used to preview other channels in P-i-P mode in the radically overhauled EPG, two others can drive two Sky Q Mini boxes — 'slave' units dotted round the house and either connected by WiFi or power line — two are for tablet viewing, and there are a final two spare for further expansion in the future.
Given that Sky has already announced the box is 4K-ready and it will be launching services towards the end of the year, this raises the tantalising glimpse of 4K delivery by satellite. Either way, viewers can watch content seamlessly on multiple devices, transfer it between them, and even download material for watching in signal dead spots.
One thing we didn't get right in our original piece was cost. It was widely assumed across the industry that Sky Q and all its services would make for a price well north of £100 a month, whereas in fact the company has managed to bring it in at roughly just £10 a month more over and above its existing services, making the top-end package a monthly cost of around £90 (about $130).
Given the looming background spectre of cord-cutting that haunts the industry, that still seems a lot of money, and whether the business model powering such a powerful and expensive STB is portable to other broadcast markets fighting a rearguard action against Netflix, Amazon, Hulu et al is another question entirely. Indeed, even Sky is holding off introducing it to its Austrian, German and Italian territories, instead rolling out a new but less advanced STB later this year that will offer some of the Sky Q functionality.
But the UK remains a rather atypical market, and Sky has one of the healthiest and still growing installed bases of any pay-TV provider in the world. You get the feeling that if anyone can pull it off, it will probably be them.
Fixing The Many & Serious IoT Security Problems [Ars Technica]
Those that like to hover their mouse over a link to see where it is going to take them will have already seen the rather alarmist headline that Ars Technica originally gave to their piece referenced above: How to search the Internet of Things for photos of sleeping babies. The problem is that, clickbait aside, that's not too far off the mark.
Shodan, a search engine specifically designed for the IOT, has a new section that lets users easily browse vulnerable webcams and, according to researcher Dan Tentler, the feed includes "images of marijuana plantations, back rooms of banks, children, kitchens, living rooms, garages, front gardens, back gardens, ski slopes, swimming pools, colleges and schools, laboratories, and cash register cameras in retail stores."
The weakness comes from cameras that use the Real Time Streaming Protocol port 554 but have no password authentication established. And it's getting worse because manufacturers are now in a race to the bottom, slashing prices and pumping out webcams as cheap consumables to consumers that either are not aware of the security risks or simply don't care.
And if that's a privacy problem now, imagine how difficult a situation it's going to be when the IoT reaches its expansion phase and more and more critical systems get linked up. You really don't want your 5G-connected autonomous vehicle to get hacked by a bored teenager looking to kill a few hours on a Saturday night or worse.
There are organisations trying to shut the stable door before the horse is out and over the horizon. I am the Cavalry is "a global grassroots organization that is focused on issues where computer security intersects public safety and human life" and is trying to come up with a five-star rating system to flag the issue up to consumers. The US Air Force is involved in another initiative, while in 2015 the US Federal Trade Commission issued guidelines to IoT companies that, amongst other things, recommended that they "build security into devices at the outset, rather than as an afterthought in the design process."
But the consensus is that we're in for a bumpy ride. And as the number of connected devices is forecast by Gartner to rise from 6.4bn this year to 20.8bn by 2020, some sort of action needs to be taken. Back in July 2014 HP issued a report stating that it had found 250 security flaws in ten of the most popular IoT devices. The fact that 18 months later not much progress seems to have been made is a cause for concern.
Security should be a hot topic at MWC 2016. Come talk to us at the show in Barcelona and see how we're handling the future.