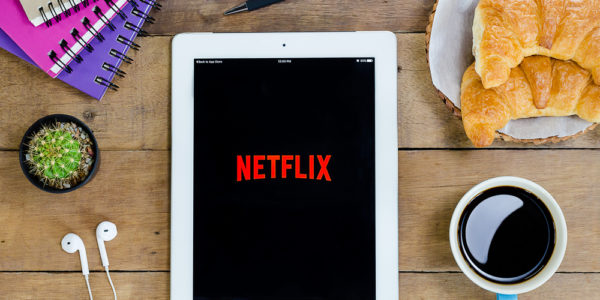 New research suggests that Netflix might have to turn to advertising soon to fund its expansion — or does it? Either way, consumers want more content curation, and it will be who is in control of that content that will shape the way the industry transforms over the forthcoming years. And Mary Meeker's yearly Internet Trends Report is as fascinating reading as ever.
Netflix, Advertising and the Importance of Curation [Rapid TV News, ReThink Research]
A new report from German research firm Gfk has led to some interesting rumination on the future directions of Netflix.
Gfk looked at the current US price of the three main streamers — Netflix, Amazon and Hulu — and found that subscribers were already paying close to the maximum they would be willing to pay for the services ($10.82 for Netflix, $9.1 for Amazon and $9.96 for Hulu). It then somewhat contentiously came to the conclusion that, as these values have hardly budged upwards in two years, Netflix will have to consider advertising soon on begin running on dangerously thin margins.
ReThink Research's blog post about this is titled Another mad survey says Netflix, Amazon must use advertising, which give you some clue to the company's stance on the whole subject. ReThink maintains that we are still in the early days of original content libraries being available, what there are are still shallow, and that the more content the streaming companies bring to market the more value will be associated with them.
"Content doesn't have a fully in-elastic demand curve like booze or broadband, but 25 years of incessant cable TV price rises testifies that consumers will pay a lot more than they think it is worth," ReThink's Peter White writes.
"Netflix continues to differentiate itself from broadcast catch up and TV Everywhere," he continues, "both of which can carry advertising, and we would argue that it cannot afford to take on the brand disdain that these services have created, especially when Netflix is now part of the pay TV landscape and it is now installed on most non-US pay TV operators' services. It would look like its advertising was competing with the cable network's advertising, and that might be enough to get it ejected from the line-up."
Whatever the ins and outs of the argument, elsewhere the report highlighted the continuing rise of OTT in the minds of the US consumer at least, with users of streaming services now ranking linear TV as only their second or third choice for watching TV and films — a complete flip from 2014 when the positions were reversed.
Interestingly though, it also detected a certain amount of disenchantment with the services on offer. On the one hand, almost half of regular streamers feel there are too many streaming services and apps to keep track of: a situation that is probably only going to be exacerbated as the services increasingly compete with each other head to head over elusive content. And, as Rapid TV News reports: "81% of streamers want at least some curation to make navigating their streaming services easier, up from 68% in 2014. This may indicate consumer interest in bundlers or aggregators that will make their streaming life easier."
Click here to find out more about our COMPASS content discovery platform.
Online Content Could See Up To $530Bn Redistributed [TVBEurope, Liberty Global]
A new report from the Boston Consulting Group for Liberty Global, The Value of Content, certainly doesn't mince its words when it comes to the future of the television industry, stating that change currently underway "might be as disruptive as the changes experienced by the music, newspaper, and magazine industries."
And that's just the start.
Its thesis is that change in the industry, both free to air and pay-TV, has been evolutionary to date; with every new development and innovation the existing players in the market have been able to tweak their strategy and business models to keep up. The emergence of a new online-content value chain is threatening that history of incremental change, though, and at stake is $530bn which will be redistributed over the forthcoming years "in large part on the basis of which players are able to retain content as a key control point."
There is a wealth of data in the report. It estimates, for instance, that by 2020 the average global viewer is expected to watch 24 hours of online content a week and half of all entertainment viewing in the US (and not far off that in Europe) will be time-shifted and non-linear. But it's the examination of content that is really fascinating.
Here we learn that there is a huge mismatch between content spend and broadcast hours: figures from the UK illustrating that broadcasters spend 60% of total costs on sports content that account for 16% of viewing, while for entertainment the ratio is reversed, 37% cost providing 74% of viewing.
Entertainment though, while popular with viewers, also commands the greatest risk, as the following graphic illustrates.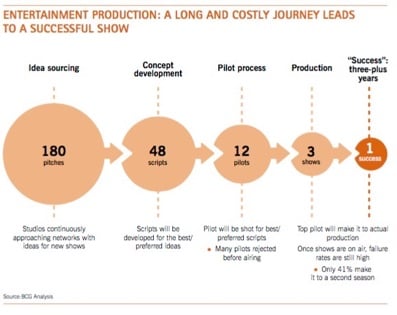 New, and significantly cheaper, content models threaten this current ecosystem, as do the business models the OTT players are developing. "Netflix, for example, spent more than $100 million to produce the first two seasons of House of Cards. But it only needed to increase its subscriber base in the U.S. by some 1.5% to break even on that investment," says the report.
TVB Europe sums up the potential scenarios for the future of the television market thus:
– The industry will continue within the framework of its current structure, with an increased value placed on formats that work well in the non-linear world, such as serialised drama.
– The development of content discovery and navigation tools that work across multiple platforms will disrupt the existing structure of the industry. Traditional distributors that develop compelling navigation tools are likely to survive, while online content aggregators may struggle as a result of the traditional players' ability to build a stronger relationship with viewers.
– Content rights holders will increasingly adopt direct-to-consumer strategies. Traditional infrastructure-based distributors will suffer from increased cord cutting, while online aggregators will also lose subscribers.
"While there are a range of alternative scenarios for the future of the television industry, we believe that the future is more likely to be revolutionary than evolutionary," the report concluded.
Turns out the revolution will be televised after all…
The Key Takeaways from Mary Meeker's Internet Trends Report 2016 [Washington Post]
There are few more reliable signs that summer is arriving than leading venture capital analyst Mary Meeker's giant and achingly comprehensive report on Internet Trends and precisely what is happening out there in the innovation economy for Kleiner Perkins Caufield Byers.
You can access the full 213 slide presentation here, but the Washington Post has thoughtfully stepped through the report and isolated what it says are the 15 most important slides from it. "Taken together, they tell a remarkable story about how better and cheaper information technology disruption is transforming market economies, giving consumers powerful new leverage in the process," it says.
This then is the digest of the digest.
Advertising
Advertising in the internet economy has grown from a standing start to $60bn in two decades. Television managed to grow to just over $20bn in its first 20 years. Meeker, however, estimates that advertisers and ad agencies are still under-spending on mobile to the tune of $22bn. Google dominates online still but is 'only growing at 18% year on year while Facebook ad revenue was up 59% from 2014 to 2015.
Privacy & Security
"Privacy and security issues are ticking time bombs in this otherwise uninterrupted success story," writes the Washington Post. " Internet users are highly conflicted about the implicit exchange of free or subsidized content and services for personalized advertising. Use of ad blockers is rising fast, and 50% of all consumers report being "very concerned" about how contextual information is used by Internet companies, even as they continue to provide more and more personal information to service providers."
Online Video
Facebook and Snapchat alone now account for 18bn video views daily, much of it user-generated content, and Meeker sees 2016 as being the milestone year for live streaming on social media networks as viewers take the live experience and annotate it and socialise it on dominant platforms.
Internet Innovation
Finally, it's worth pointing out that the top 20 internet companies are valid at nearly $3 trillion. Over half are American, seven are Chinese, none are from the European Union. And only one of them, Apple, even existed twenty years ago.