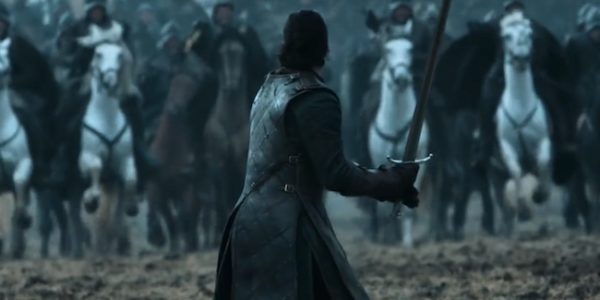 The figures surrounding the future development of television viewing still seem encouraging, with both SVOD services in Europe and the global TV Everywhere audience showing strong growth. Meanwhile, in Westeros, it seems that the pirates are starting to face a serious battle.
SVOD Booms Across Europe Growing 56% In A Year [EBU]
Research from the EBU's Media Intelligence Service shows that the number of SVOD subscribers in Europe grew 56% between 2014 and 2015, and now account for 11% of all European households. The total number of subscription is now expected to double by 2020 and reach an impressive total of 50 million homes.
As detailed in "Market Insights: SVoD in Europe" report, the biggest uptake is in the UK, Netherlands, Ireland and across the Nordic region. Unsurpsingly, Netflix is the undisputed leader in the market with a 52%, However Amazon is, according to the EBU, "mounting a strong challenge."
Interestingly, the EBU reckons that SVOD penetration will never crest at the levels seen in the USA, which it says is the main global driver of such services. Indeed, despite the growth in the market, it's contribution to overall viewing is still quite modest, accounting for just 4% or 11 minutes of daily viewing in the UK, declining to 1% in the Czech Republic. That though is not putting broadcasters off.
"Despite regulatory and financial constraints, several EBU Members are already embracing SVoD, either launching their own services or distributing their content on third-party platforms," says the report.
Meanwhile, it turns out that 97% of EBU member broadcasters have already launched a free catch-up video service.
TV Everywhere Audience Doubles [RapidTV News]
The Adobe Q1 2016 Digital Video Benchmark Report suggests that TV Everywhere viewing is on the rise, growing 107% year on year and increasing 58% from Q4 2015.
That's fairly impressive given the previous quarter's figures, which showed a 102% YoY growth and a rise of 29% over Q3 driven in part by sports-content and the fall TV premieres in the US market. Those were considered good figures at the time, so the trend can definitely be considered upwards.
There's some interesting granular detail in there too. For a start, TV Everywhere viewing on mobile devices is rising while that on dedicated connected devices (Apple TV, Roku etc) is comparatively stagnant. And while the temptation is to assume that means more people are watching TV while out and about, the data seems to contradict that, saying that 71% of all TVE viewers watch content from one location.
As Rapid TV puts it: "Many of these viewers also use multiple devices to tune in from the same location – indicating the need for a single location-based authentication system for an improved user experience."
"People are using their mobile devices in lean-back mode to consume content, which is a huge opportunity for marketers to reach a highly engaged audience with relevant marketing messages," said Becky Tasker, managing analyst at the Adobe Digital Index.
Game of Thrones Fails To Break Piracy Records Shock [Torrent Freak]
After a difficult first episode of the recent Series 6, which saw piracy spike to new heights, it looks like the multiple actions HBO has taken to protect its $10m per episode investment in Game of Thrones have started reaping benefits.
Admittedly it is still breaking piracy records, but these only relate to 2016. Torrent Freak estimates that over 1 million downloaded the episode in the first eight hours, but says that overall numbers were consistent with previous years and that the swarm record, which successive series finales have broken, remained unassailed.
So, while piracy of the show is still set at astonishing levels and way ahead of anything else on the internet, the growth for once seems to have been arrested (though new for this season is that the majority of downloads have been in HD).
Torrent Freak reckons there are a spread of factors influencing this, including a growth in legal alternatives and a slightly less welcome one in illegal live streaming. But chief amongst them is the amount of takedown notices HBO served on ISPs.
Thousands of these notices were sent out after the initial burst of piracy that accompanied the first episode: "As the owner of the IP address, HBO requests that [ISP] immediately contact the subscriber who was assigned the IP address at the date and time below with the details of this notice, and take the proper steps to prevent further downloading or sharing of unauthorized content and additional infringement notices," they said.
This was coupled with some effective 'nudge' psychology, which, although an ISP is not under any obligation to forward the messages, is what is thought to have tipped the balance this year. "We also encourage you to inform the subscriber that HBO programming can easily be watched and streamed on many devices legally by adding HBO to the subscriber's television package," the notification went on to say.
It will be interesting to see what impact these actions have on the year end figures in six months' time...
Main image: HBO