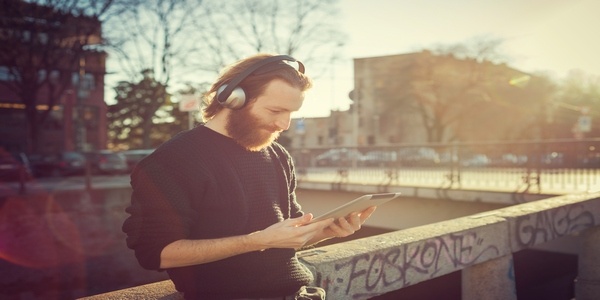 Figures from the Adobe Digital Index show that the amount of TV Everywhere viewing has more than doubled over the past year. Meanwhile, Netflix' global pricing comes under scrutiny as its potential to curb piracy is acknowledged. And operators are urged to use Big Data wherever possible to start thinking in terms of television watching individuals rather than households.
TV Everywhere Viewing up 102% [CMO by Adobe]
New analysis of Q4 2015 data captured by the ever-fascinating Adobe Digital Index shows that TV Everywhere viewing is up by 102% year on year and 29% over the previous quarter, driven by sports-related content and the fall TV premieres in the US market.
Overall, according to the Q4 Digital Video Benchmark, household penetration is still relatively low at 17.4%, but ADI expects the growth in TVE authentications to continue to grow in the future, despite a small dip when looking at December's viewing alone which can probably be explained by the change in viewing habits that takes place during the holiday season.
Indeed, active TVE users as a share of monthly pay-TV viewers were up 22% QoQ, a notable jump over previous quarter growth that ranged from 12 to 14%
Although iOS devices still account for the majority of TV Everywhere authentications, TVE consumption slowly moving toward connected devices, such as Apple TV and Roku. The report charts iOS share actually decreasing 20% year on year, while connected devices witnessed 31% growth.
As the report notes, TVE consumption via Roku, specifically, increased 14% quarter over quarter (QoQ), probably due to the major broadcast networks' adding channels in mid-November.
Broadcast and cable content had the highest TVE growth year-over-year, at 111%. "This is the first time we've seen that, and we think it's because of some of these fall TV premieres and people waiting to watch when it's most convenient for them instead of when it broadcasts on the actual cable channel," said Becky Tasker, managing analyst at ADI.
Netflix and the Challenge of Going Global [Daily Sabah; Rapid TV News]
An interesting piece in Turkey's Daily Sabah, Can Netflix Turkey change the habits of Turkish filmgoers?, highlights some of the challenges facing global brands competing at local level.
Using Turkey as an example, it shows that it certainly can be done. Both Apple Music and Spotify have launched low cost services aimed at the Turkish market and gained good traction in the country. Netflix, however is a much costlier proposition: TL 26.99 for the SD service and TL 33.99 for the HD one as opposed to TL 9.99 for Apple Music and Spotify (approximately $9 and $11.50 as compared to $3.40).
Widening this out for a moment, it is a problem the company has globally. As Rapid TV News reports, an investigation of Netflix' international pricing by Digital TV Research found that, across the globe, Netflix charges $8/month for one screen, $10/month for two screens and $12/month for four screens and HD content in its 130 new territories.
Yet while that pricing is fairly flat, local prices in its new territories are anything but. For instance, in Australia that pricing represents 9% of the country's pay-TV ARPU, while in India the figure is a massive 250%.
Netflix CEO Reed Hastings has stated that the company is trying – at least initially – to target the elite in developing markets, and this seems to be being reflected in Turkey.
"Netflix seems to be addressing middle- and upper-middle-class Turkish youth who speak foreign languages," commented the Daily Sabah's film critic, Olkan Özyurt on the company's expansion. "It is doubtful they will get a proper share of the market without taking into consideration Turkish cinema and the general habits of Turkish viewers."
The recently closed MUBI service did have a Turkish interface, supported Turkish films and featured Turkish subtitles, but such attention to local detail didn't save it in the long-run, so maybe Netflix doesn't need that degree of localisation. Where it can help the country though is in the battle against piracy, Özyurt echoing Reed Hastings' often-stated hope that Netflix will lead people in Turkey and elsewhere to watch films legally.
"It is difficult to convince people who are used to watching films for free to pay for the film experience," Özyurt said. "According to a study conducted by the Culture and Tourism Ministry, Turkish viewers don't check whether the film they are watching is pirated or not… only 11 percent of Turks adamantly refuse to watch pirated films."
Operators Need to Forget Households and Concentrate on Individuals [Ovum]
There was a lot to talk about from this year's Mobile World Congress, from new smartphones (including LG's interesting take on a new, modular phone) to the rise and rise of VR (at least at the input end of the market, we won't really know too much about the true scale of consumer reaction until the end of the year).
One of the more interesting analyses though came from Ed Barton, practice leader in TV at analyst Ovum, reacting to a new service from Huawei that marries a 4K HDR service with an underlying data platform.
"Ovum believes that operators must progressively transition the TV experience from addressing households, as it has since the 1950s, to addressing individuals," he wrote in a blog post. "TV service providers must gather data about their customers and their viewing behaviour through set-top boxes and other screen-based viewing devices and video apps."
The importance of recommendation is something we have written about ourselves several times (see Who is the Real King of Television – Content or Context? for our most recent arguments on the subject) and we too are firm believers in the necessity of leveraging data analytics to help improve them.
As Barton argues, this can put operators in a powerful position, being the segment of the value chain with the highest visibility of the audience. However he also cautioned that any changes made must be lightly felt by audiences to be accepted.
Once that is achieved, "Ovum expects the short-term wins potentially arising from this strategy to include better content recommendations for VOD, better channel recommendations, and more relevant ads through targeting."
Find out more how our COMPASS - Content Discovery Platform can improve the viewer experience and increase engagement.