Churn is an issue for all operators in the industry, but most will find they already have the assets they need to deal with it effectively when given the right tools.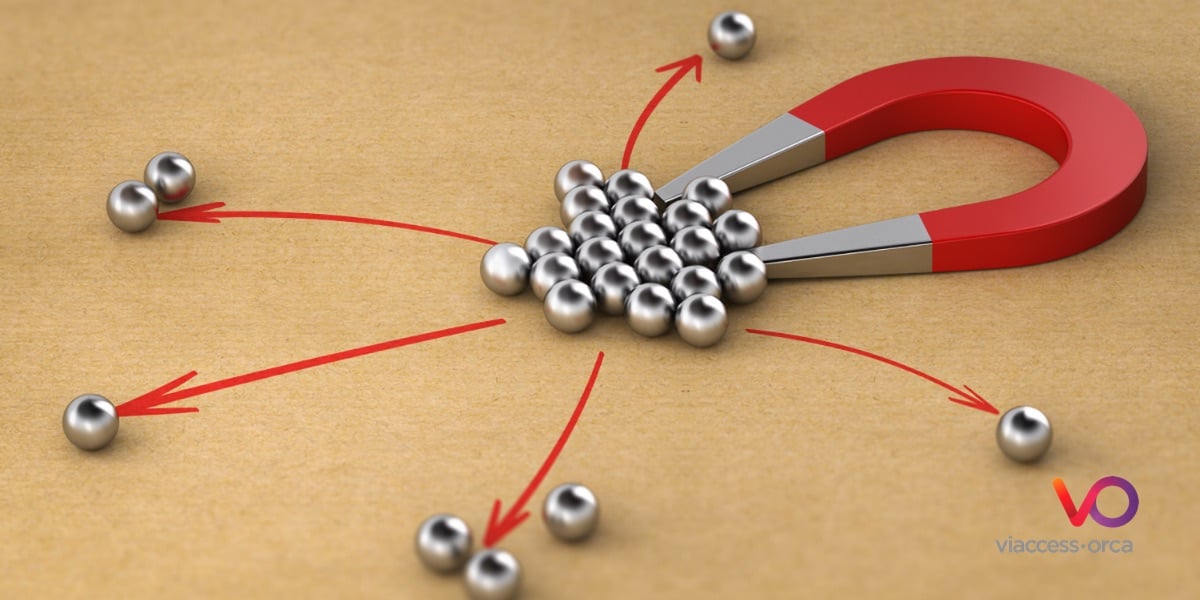 Churn is an unfortunate fact of life for all operators no matter their size. As the amount of SVOD providers has increased, so the amount of services that viewers have to maintain to watch the content they want to access has also risen. Service stacking is at a record high in the US as a result, with over 50% of households subscribing to four or more OTT services at the start of 2022.
As content further fragments between different platforms, so households are increasingly switching between services within these stacks. They might maintain four overall services, but the actual composition of the providers can change on a month-by-month basis
According to Omdia research operators face three key challenges when it comes to mitigating churn. The top three cancellation drivers amongst consumers include a lack of content that they want to watch (20%), a service they no longer use (23% — though arguably this is a part of the previous point), and cost factors (39%). This last factor we can expect to see growing in importance too as the current financial headwinds become more apparent though the course of the upcoming winter and following winter.
While difficult to surmount, each of these challenges has a matching strategy that can counteract their effect. What's more, the majority of operators already have the assets in hand that they can use as weapons in their armoury to prevent churn; what they perhaps lack are the appropriate tools to deploy them adequately.
The three key assets are as follows: Existing Customer Base, Content Metadata, and Content Partnerships.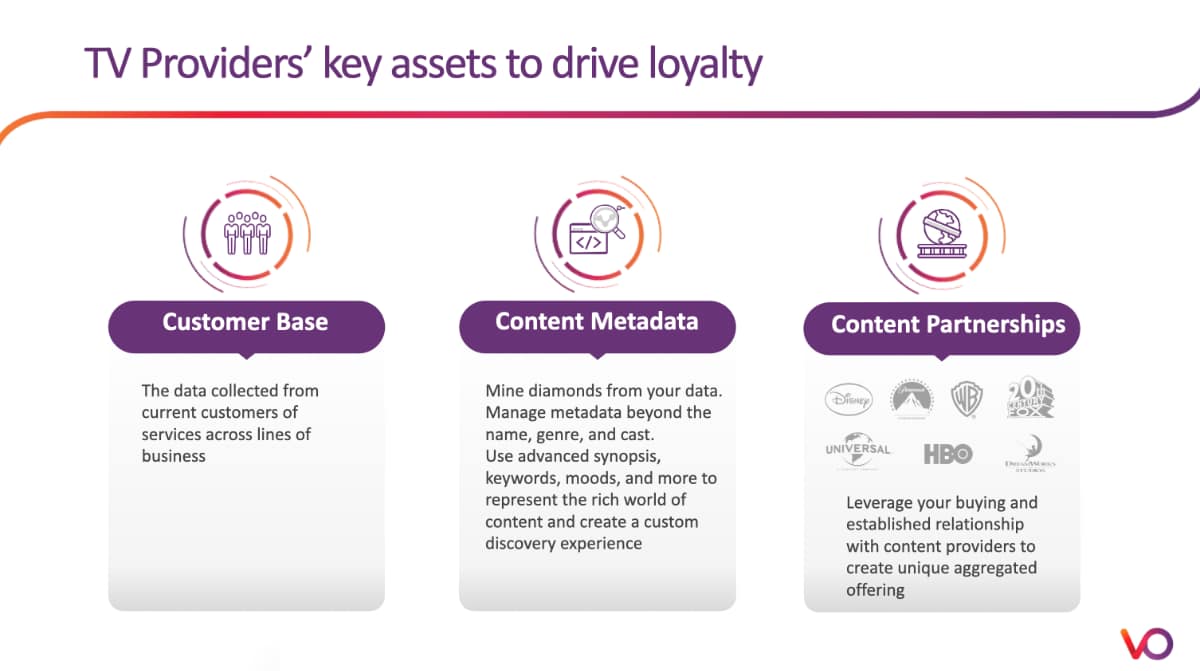 Mitigating against churn
We can step through the three main churn challenges in turn and see how these assets can be leveraged by solutions such as our Cloud & TV Platforms to retain viewers, even in the face of climbing service stacking.
1. Lack of content
There are several different ways that operators can maximise the value of their catalogue, but the important consideration here is personalisation and accompanying content management. That enables them to be both responsive to everyday events and trends and also be proactive and create new editorial themes.
Responsiveness takes quick thinking, a flexible system, and an understanding of what is in your catalogue. Content can be surfaced based on a wide variety of factors, such as news events, celebrity news, and more, and even the occasions where both collide such as the Academy Awards or Emmys. Operators can also be be proactive and create new editorial themes around calendar events such as Halloween or Christmas, or wider cultural trends. It's simply a case of smart surfacing rather than smart scheduling; matching cookery programmes to a new series of The Great British Bakeoff, scheduling Die Hard as soon as the date ticks over to December 1 and so on.
Personalisation, of course, gives all this an extra edge. You can finesse the type of cookery show or decide that your viewer probably does not see Die Hard as a Christmas movie depending on what the data tells you. Personalisation also gives rise to another powerful weapon in the modern operator's armoury in the shape of virtual channels.
These provide a lean back experience rather than imposing the necessity of choosing content when it comes to on demand viewing. Content is delivered as a linear channel and uses an existing content library matched to viewer preferences. It is always worth remembering that linear TV is still a popular choice for many viewers. While the headline back in July was that streaming platforms accounted for the single largest viewership in the US with 34.8% of all viewing, the combined total for broadcast and cable linear TV was still 56%.
Emulating that form of television but in a personalised way is a powerful tool to satisfy viewer demand.
There are other possibilities too. You could, for example, ask viewers how they feel and offer them content based on their mood. This introduces an appealing new visual way for viewers to discover new content, all that is required is to group content assets by emotional sentiment which can be either done manually (subjectively) or by an automated workflow using established metadata.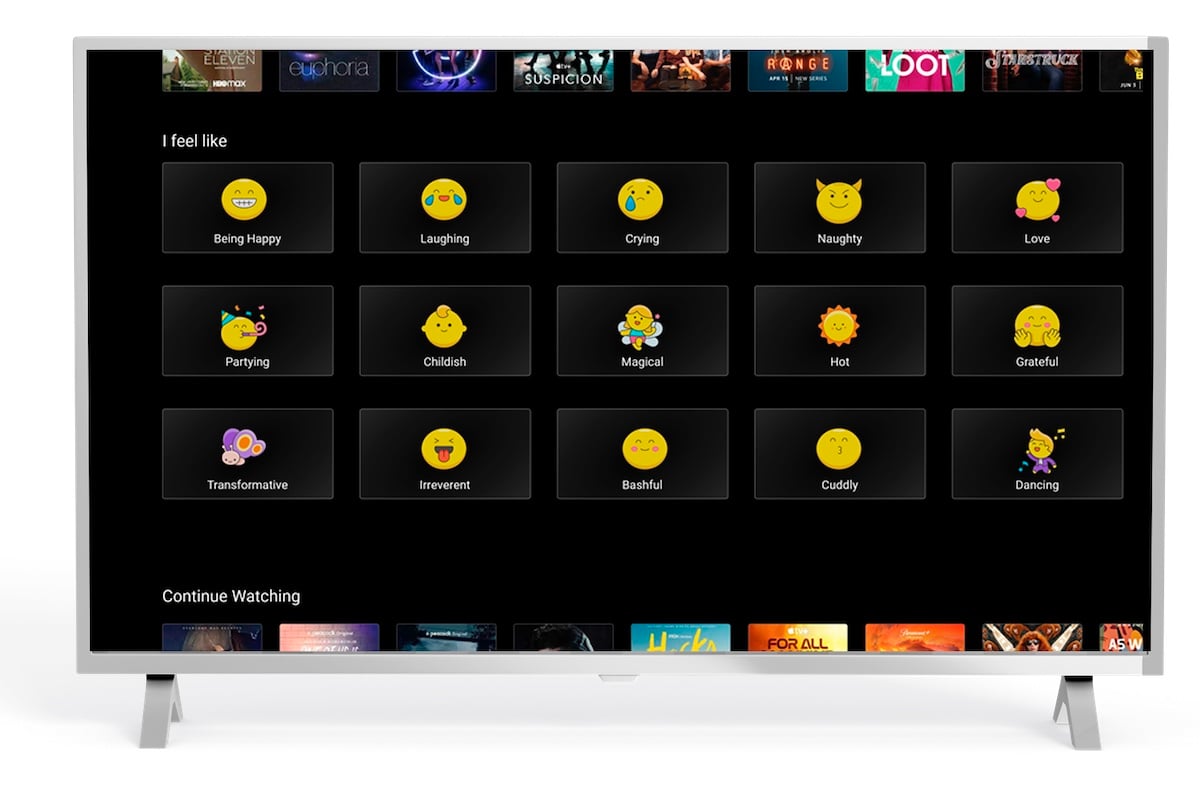 Another possibility which can create a stronger association for the viewers is to ask viewers to select a theme or motto. "Show me the money" for instance produces selections based on financial or "get richer: stories, think Jerry Maguire, Billions, The Wolf of Wall Street, and so on. "I feel the need - the need for speed" meanwhile produces a selection of adrenalin rush content including Top Gun Maverick, The Fast And The Furious series, Rush, and so on. Again these groupings can be produced manually and even be slanted to promote certain content within those categories, or the work can be done via automated workflows powered by metadata.
All these ideas leverage your metadata and give a dramatic and appealing boost to the regular customer experience of building a personalised catalog according to theme, genre and so on.
2. No longer use the service
Viewer engagement can also be increased with different segment-based offers and messages. We can, for instance, upsell to viewers with specific content promotion messages by interests which we have derived from analysis of their first party viewing data. These can cover the whole range of viewing genres such as nature wildlife, sport, action movies, and so on, and also hold out the opportunity to promote the same content but with a differently tailored message.
Take a sporting event, for example. "Will Team A beat Team B for the first time in 10 years?" And "Will Team B remain the only undefeated team in the league so far?" Both promote the same event but are tailored to interest likely supporters of the two different teams (a fact divined either by geographic segmentation or other data analysis).
Segment-based service offers by business model can also be offered. TVOD customers, for example, can be offered the chance to switch to an extended viewing window for certain content or watch the movie 10 times with a time limit to save money depending on their consumption patterns. And, of course, operators running tiered services can make offers that incentivise the viewer to move from AVOD services into the lower tier SVOD and then further on to premium services.
Theme based offerings by title can also be offered, where operators can bundle together content. For example, an Ultimate Sonic Package could feature the Sonic The Hedgehog 1 and 2 movies, the Sonic Boom and Sonic X animated series, games, apps, and more.(this is an example on how to use the relationship with the content owners)
3. Too expensive
Finally, there are also a variety of different strategies operators can implement when faced with viewers looking to save money. For those that are in a super aggregator position already, they can make the onboarding process to a new service as simple as clicking an onscreen switch.
This gives customers maximum flexibility and control, and allows them to try new content by easily switching between SVOD apps, say once a month, while maintaining their overall subscriptioncosts. This reinforces value and ensures that what churn between services there is remains within a portfolio of super aggregated apps and offerings provided by a single operator.
Make the most of your data
Churn is a problem for the industry and not something that is going to go away any time soon. Luckily operators already have the tools in their possession to help fight it on several fronts: they have first-party data from their viewers and they have a wealth of metadata that catalogues and segments the content they maintain in their libraries. Given the right platform these assets can be combined together to produce a range of powerful incentives that help mitigate against the main causes of churn and ensure that as many viewers as possible continue to stay engaged and continue to stay subscribed.