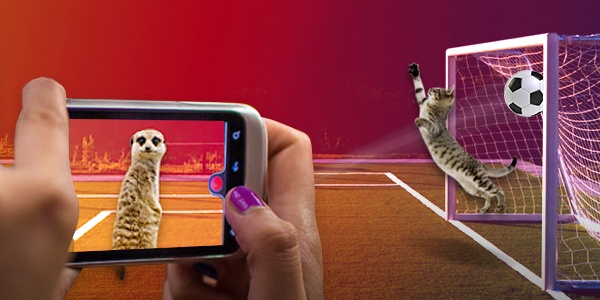 They are the new kids on the social media block: Periscope and Meerkat, the competing apps that seek the undivided attention of the thrill-loving, share-it-all mobile users. Meerkat was the hottest thing at the South by South West (SXSW) tech festival in Texas earlier this year; Periscope was launched by Twitter only a few weeks ago. They both provide a very easy way of sharing live video from your mobile device with just a couple of taps. They are not the first app that allows live streaming, services like Bambuser and Livestream were there first, but according to GeekWire, thanks to improvements in devices' camera quality and Internet connectivity they offer a more seamless way to broadcast from anywhere at any time. Throw in a super friendly UX and you have a winning new social platform.
The two apps may seem similar, but two differences are worth mentioning. Meerkat, for instance, won't let users store content for later viewing while Periscope allows a 24 hour replay; Meerkat automatically tweets a link to users' video once they have started a livestream, and Periscope users have to actively opt in to sharing.
The Good News
And so, the apps are a great innovation not only for those documenting the first steps of their babies, or their singing pets. Journalists, for one, could sometimes let go of their heavy broadcast equipment and simply share their information with the world. Recently, as the United Kingdom's election campaign entered the debate phase, Sky News used Periscope to share with their viewers' additional interviews and immediate analyses. Another group of potential "serious" users are the so called "citizen journalists" – those who report news stories without the constraints and considerations (and at times without the ethics) of the mainstream media. For instance, late last year, twitter's app Vine was flooded with hundreds of clips documenting the riots in Fergusson, Missouri.
The (Very) Bad News
This advanced technology is potentially very bad news for the entertainment and sports markets – which for years have been fighting a war of attrition against piracy and hacking. For example, Variety magazine reports that both the National association of Theatre Owners (NATO) and the Motion Picture Association of America (MPAA) have taken actions against live streaming technologies and officially prohibited recording by wearable devices in theatres. Live streaming of sports events can be considered an even bigger problem. As CBS puts it, The National Football Association in the US has "approximately $39.8 billion reasons to worry about the potential ramifications of the live-streaming of their games", referring to the amount paid by CBS, NBC, FOX and ESPN for broadcast rights between 2014 and 2020. Our recent infographic provides more reasons to worry about live streaming piracy.
The Small Print
Social media platforms are all well aware of the importance of taking down posts that include illegal content - abusive, racist, pornographic and other illicit forms of content. Attempting to prevent copyrights infringements, Meerkat and Periscope both include the ban of posting such streams on their terms of service page:
"We will respond to notices of alleged copyright infringement that comply with applicable law and are properly provided to us", read Periscope's terms of service. But sports fans don't need to read through the app's terms of service page – they can learn about the restrictions by reading the back of their tickets. "From a strict legal perspective, the most logical thing for the sports leagues to do is to continue with the status quo," Marc Edelman, a Professor of Law who specializes in sports law and intellectual property law told CBS, adding that the status quo includes threatening prosecution against those that violate the terms of the intellectual property rights of the league.
And how effective is the ban? "There are very limited means to prevent this," Rebecca Tushnet, a copyright law professor at Georgetown University, told Yahoo, explaining that when it comes to dealing with copyright infringement, the measures are taken after the content has already made it through to the web.
An Old Game of Cat and Mouse
This legal battle isn't new – nor is it confined to one side of the Atlantic or the Equator. During the 2014 World Cup games in Brazil, VO's Eye on Piracy live streaming piracy campaign tracked and struck down hundreds of pirated games. The campaign revealed that 20 million fans watched games on illegal websites; 60 per cent of fans unlawfully streamed at least one match online; and the final match was seen by nearly 600,000 illegal viewers. Furthermore, as it was reported in one of the six studies we issued following the tournament, social media was used by pirates to redirect users to either link farms or websites which illegally broadcasted the matches. Now imagine how easy it is for those looking for pirated content to find a "one stop shop" solution: a live streaming social app - in only one click!
And following the World Cup, the British Premier League warned users of live streaming matches on apps such as Vine. The BBC added that the league, which just sold rights to broadcast the next three seasons to Sky and BT for just over £5.14bn, is developing technologies to monitor this kind of activity.
Live Streaming and Piracy – What's Next?
When considering the negative aspects of these new streaming apps one must realise that they are an inevitable stage of the evolution that social platforms are going through. These new apps are there to feed the appetite of (mostly) younger audience for immediate, sharable documentation of life. This evolution results in a simple equation: as the level of viewers' engagement is rising, and as more ways of exciting viewers are invented, it is easier for audience to steal content.
Judging by the illegal activity during the World Cup, new live streaming apps can be a clear and immediate danger for the sports and entertainment business. As a result, the game of cat and mouse between pirates, hackers and those developing security technologies will only intensify. As VO's EVP, Marketing, Products and Security, David Leporini says, the only way forward is to be quick and innovative:
"As for working on innovations and surprising the audience, I strongly believe this is the only way to go – in a world where people soon will just be able to connect their GoPro to Meerkat and Periscope and start building their own community around their broadcast feeds."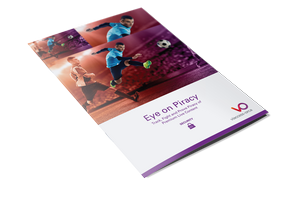 Interested to learn more about VO's live streaming anti-piracy solution? download the guide to Eye on Piracy.