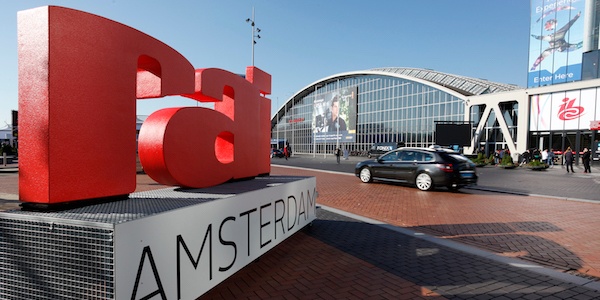 IBC is getting bigger every year, with somewhere in the region of 55,000 visitors from all over the world descending on the Amsterdam RAI to see 1600+ exhibitors and listen to the 300 speakers in the conference. After you have been to see us on Stand 1.A51, here are some of the highlights of the rest of the show.
After a long period of stasis where the preoccupations of every successive tradeshow were the same — the growth of IP, the movement towards 4K, the cloud, latterly the rise of High Dynamic Range content — there is the genuine sense that IBC2016 is slightly different and there are changes in the air.
Partly this is all down to the Olympics. The four-yearly event represents such a stone in the stream for many broadcaster's plans, that once the spec is locked down by Olympic Broadcast Services then change and the introduction of new technology is pegged to it. Now that Rio2016 is out of the way, there is all to play for once more.
And partly it's also down to the sudden rise of VR. It seems amazing that four years ago, just after London 2012, we were still talking about Stereoscopic 3D and James Cameron made his infamous comment about 4K. "We have a bandwidth bottleneck and if we start going to higher spatial resolution it will be at the sacrifice of 3D rollout," he said. "So I see it as a little bit of an arms race right now."
4K is now considered a given for Tokyo 2020 — and indeed, there's a serious push towards 8K underway, more of that in a minute — but part of the reason for VR's extensive exposure at IBC2016 is that this is a complementary technology, not a competing one. OBS was able to pump 85 hours of VR content from Rio without having to upset any existing plans and, as we've said before, the experience only gets better with 4K.
We have many advances and exciting things to show in the VR arena at the show, and there is no shortage of other VR content on the showfloor this year either (and even more in the Future Zone just outside Hall 8). The conference too has plenty to say on the subject too. You can check out the full conference programme here, but one of the highlights is undoubtedly A Masterclass in VR at 16.00 on 9 September, which promises to provide an overview and mark delegates' cards for other VR and AR stuff to see around the RAI.
We mentioned the Future Zone, and it is always well worth a visit, as much to see the latest developments in perennial exhibitor NHK's Super Hi-Vision 8K project as anything else. When NHK first announced that it was setting its sights on establishing an 8K broadcast service in Japan in time for the Tokyo 2020 games, it sounded like science fiction. However progress since has been nothing short of revelatory, and the latest developments (alongside what it promises to be plenty of 120fps 8K Olympic footage from Rio) are going to be fascinating to witness.
120fps raises its head again in one of the keynotes from the conference with director Ang Lee, whose latest film 'Billy Lynn's Long Halftime Walk' was shot in 120fps 4K 3D and is considered by many who have seen it to be something of a game-changer for the industry. The technical deep dive into it afterwards will be an interesting session and, along with all the conference sessions in the IBC Big Screen Experience strand, is free to attend.
Along with one of the other major themes of the show, IP production (and IBC has established a dedicated area, the IP Interoperability Zone to examine this field in more detail), the sort of extreme leap in quality does raise concerns about securing content, however. Again this is something we've been doing for a long time now. Indeed, we've recently released the news that our Adaptive Sentinel Dual Card and Cardless Conditional Access System is being used to ensure the highest level of security required for Orange France's Ultra HD content.
So whether it's regarding advances in VR, content security, the higher resolution future or many of the other preoccupations that look set to dominate this year's IBC2016, do come along to our stand and talk to our experts about how we can help realise that future for you. The industry in 2020 could be quite a different one to the one we see in Amsterdam this year, and Stand 1.A51 is the place to find out what to do about that. Make an appointment to see us now.