The first major trade show for two years is about to start soon in Las Vegas as NAB 2022 takes place. This is what you can expect from VO.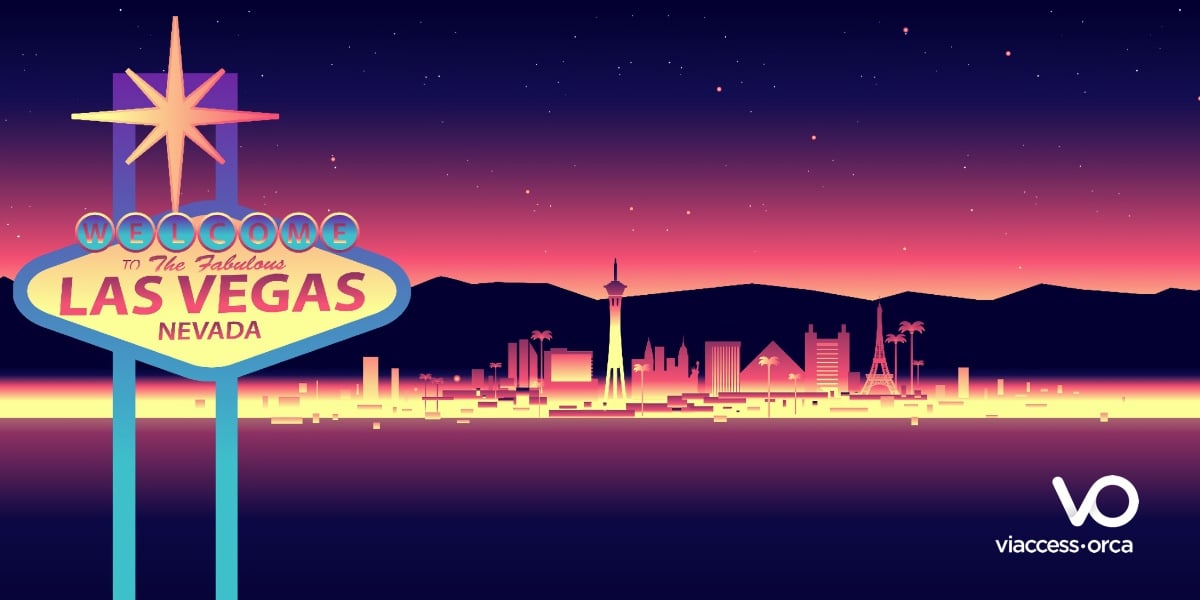 Astonishingly enough it is three years since NAB last took place. 2020's show was cancelled in the first lockdown of the pandemic, and 2021's edition fell victim to the spike caused by the Omicron variant, despite moving to an autumn date in the calendar. So at VO we, as well as the rest of the industry, are delighted that NAB 2022 is going ahead and Las Vegas will welcome the broadcast industry to the Las Vegas Convention Centre and The Strip once more.
This year the LVCC has a new West Hall added to its sprawling exhibition spaces, which promises to be at the centre of innovation across the industry. Covering Tech Pavilions, Experiential Zones, and the Connect and Intelligent Content strands of the show, it is also where you will find VO this year
So, what will we have to show visitors on Booth W10203? The answer is quite a lot.
From Anti-Piracy to Targeted Advertising: demos & more
Covid-19 has, of course, had implications for the entire video industry, not just the trade show calendar. Several key trends have been intensified by the pandemic and the response to it. These include a massive increase in video consumption worldwide, an amplified need to generate additional revenue streams as a response to a downturn in traditional global ad revenue, and an unfortunate increase in sophisticated video piracy.
Having spent two years conducting online demonstrations via video conferencing, it will be a pleasure to show you what our technologies can do face-to-face (though, of course, that online option is always available for those that cannot make this or any other show).
Undoubtedly one of the demonstrations that is going to get the most interest is Targeted Advertising. We are seeing huge interest in this technology, especially from operators in the LATAM region, and are excited to show just what our AI-based Targeted TV Advertising solution can do to help revolutionize the monetization of first-party usage data. Our cutting-edge Targeted TV Advertising solution enables service providers to accurately segment audiences, and then activate the segments leveraging Smart AdServer's advertising platform, to maximize revenues.
VO Targeted TV Advertising will also be a part of a targeted advertising demo with Ateme at the show, which you can see on Booth W3512.
We will also be showing an excellent demo of some of the new features in the VO Secure Player, our multiplatform media player for premium content. These include Multiview, which enables end users to observe the same event from different camera angles and is becoming an increasing must-have in live sports coverage; and Watch Party, which allows viewers in different locations to sync their experience (live or on-demand) while simultaneously interacting with a viewer group through video chat.
Piracy, and the accelerating speed at which pirates evolved new strategies to intercept and restroom video content, is a huge issue in the industry, and so we will also be highlighting our Anti-Piracy Center, a fully customizable set of security services that includes AI-based dynamic watermarking, monitoring, and investigative services for both live and on-demand content. Coupled with our expert knowledge, VO's Anti-Piracy Center prevents pirates from hacking the content distribution chain from the service delivery platform to the end-user device.
We're also going to be participating in a NESTED (New vidEo STandards for Enhanced Delivery) technology demo with Ateme at Booth W3512. This will highlight the benefits of using an end-to-end, pre-integrated, best-of-breed multicast ABR solution for exceptional, personalized viewing experiences and sustainable video streaming over 5G.
Thought leadership
We haven't just got things to show you, we have things to tell you about too. You can also catch VO execs at some of the key panel sessions that help contribute so much to the vibrancy of big shows such as NAB.
Guillaume Lossois, TV Solution Architect at VO, will examine "How to Capitalize on Next-Gen Targeted Advertising Opportunities With AI and Analytics" at the Broadcast Engineering and IT Conference on April 24 at 1:55 p.m.
Targeted advertising is again on the agenda as Dror Mangel, Director of Product Management at VO, will present a keynote session on "The Pillars for a Successful IPTV and OTT-TV Advertising Business" on April 25 at 10 a.m. in the CM|IP Theater.
And finally, Carlos Ramos, Business Development Director, Americas, at VO, will join a CM|IP panel debate on "Going Global — How to Launch International TV Services" on April 26 at 4:20 p.m.
NAB 2022: A step into the unknown
Normally when we approach a big trade show such as NAB we start to pick out the themes that we think the industry will be driven by, both at the show and into the following year. That is a lot more difficult to do this year because we have effectively had our thumb on the trade show pause button for the past two years. But in that time technology has not stood still. In fact, when it comes to the technologies that have been at the forefront of dealing with the effects of the pandemic — remote production, cloud workflows, the enormous increase in scale required to service the rising demand for content — progress has if anything been accelerated.
NAB Amplify wrote up our thoughts on The Four Most Important Media Technology Issues (Right Now) where we identified the critical technologies that will shape 2022 as being the rise of Green Streaming, the task of managing the hybrid cloud, how MLOps will revolutionise data and machine learning, and the new threats of piracy in the context of AI-generated media.
It will be interesting to see how those and other play out on — and we have waited two years to write this — the show floor in Las Vegas.