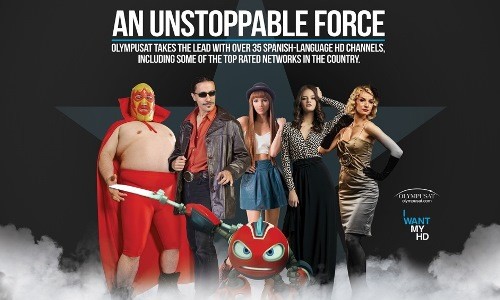 Viaccess-Orca's Voyage TV Everywhere solution has been selected by Olympusat Telecom to support its upcoming OTT multiscreen service. Olympusat Telecom is a division of Olympusat Holdings, one of the largest independent media companies that owns, operates, and represents more than 60 Spanish-language TV networks with over 10,000 hours of content.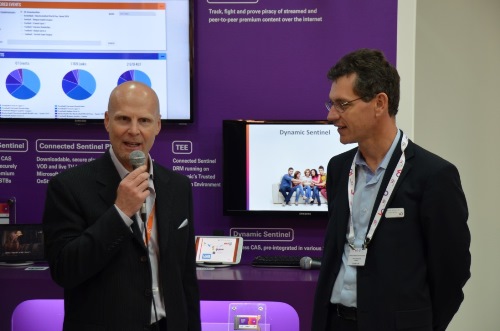 Tom Mohler, Olympusat's CEO and François Moreau de Saint Martin, VO's CEO at IBC 2014
In Tom Mohler's (CEO at Olympusat) own words: "Olympusat started as a distribution company 18 years ago, distributing networks. Olympusat is a technical company, distributor and owner of content; it is one of the biggest providers of Spanish language content networks in the world and the largest Pay-TV provider in the US, distributing over a 100 networks. Currently, we engage more than 8 million viewers a day with our premium Spanish-language offering.Olympusat's main areas of focus are shopping and religious networks, which are the paid networks as well as the Spanish networks. The company has expanded recently in Latin America, Middle East and going into Asia with a group of English language networks."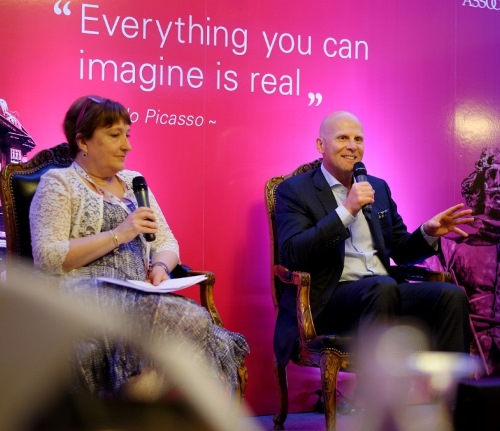 Watch Tom on our panel discussion at the "TV Leaders Summit"
For the new OTT offering, Olympusat will bundle Voyage with its content preparation services and with content from Olympusat Holdings, providing operators with a single, end-to-end, cloud-based multiscreen solution designed to reduce operators' risk and the upfront investment required to launch such a service.
As part of VO's Voyage, Olympusat will use:
These Voyage components will ensure secure content distribution and delivery of a variety of Spanish-language content, including live television, catch-up TV, and VOD to subscribers on any screen, as well as an engaging content discovery experience.
Olympusat Telecom's OTT multiscreen service offering will initially be available throughout North and South America. It will be the first live and VOD Spanish network available on Microsoft Xbox.
According to Austin Powers, president at Olympusat Telecom, the new TV Everywhere / OTT service will enable MSOs and telco operators in the Americas to strengthen their current offering and drive the growth of broadband connectivity to end-user on a low OPEX model.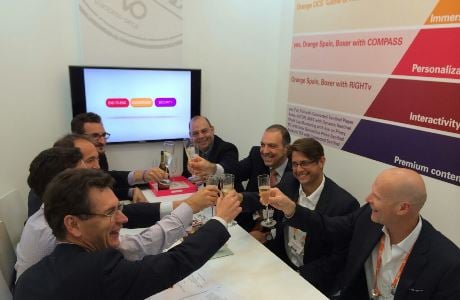 Raising glasses celebrating the deal at IBC 2014
We believe that Olympusat's expertise in service delivery and content preparation combined with VO's innovative technology and vast experience in pay-TV and OTT results in a win-win situation for operators and Spanish-language television viewers.
For more information on Voyage – TV Everywhere solution, download our guide to TV Everywhere: