Future generations might well have to Google the phrase 'water-cooler TV' when they come across it in old documents about television at the start of the 21st century. The idea that millions and millions of people will watch the same thing at the same time, then discuss it the day after at work feels positively old fashioned. But the skinny bundles of live TV channels being offered as part of the expanding landscape of OTT Streaming packages in the US are trying to replicate that feeling.
Essentially this is linear TV with an OTT delivery mechanism and one that makes a lot of sense for all parties involved. Broadcasters can license their content in an attempt to still be relevant to cord-cutters and cord-nevers, while the OTT providers get access to more content and can also piggyback on network advertising and promotion budgets. Viewers meanwhile get access to both live and archival content. If the software engineers have done their job right, all content is accessed via an elegant user interface with seamless search across all platforms.
The latest entry into this increasingly crowded market is Hulu, the 'other OTT service' which has fallen away as Amazon and Netflix have pulled ahead. It is, of course, still interested in original content and investing it, as befits a company jointly owned by Disney, Fox, Comcast and Time Warner.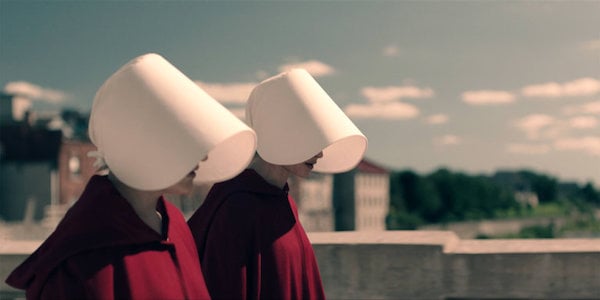 Its critically acclaimed, not to say timely, big-budget adaptation of Margaret Attwood's dystopian classic A Handmaid's Tale (above) started airing in April 2017, while back in 2015 it paid a massive $160 million for the US streaming rights to the Seinfeld back catalogue.
Its new service, however, launched at the start of May and looks to take OTT Streaming to the next level.
Live OTT Streaming: An Increasingly Crowded Market
It is, of course, not the first live OTT Streaming service offered in the US. AT&T's DirecTV Now, Google's recently launched YouTube TV, Sling TV, and PlayStation Vue are all competing in the space, with most of them in the $30 to $40 a month arena.
It has the potential to be the best. The tech blog The Verge had a look at a prototype version back at CES in January and subtitled its piece "Could Hulu be the company to get internet TV right?" An on-boarding process similar to Apple Music roughly maps out your tastes, before you are deposited in the main interface of the Lineup screen, which will lay a mixture of live TV programming and back catalogue material in front of you. This is driven by personal recommendation, and the company estimates it needs about 30 days to really bed in and start making predictive recommendations, (the content you want to watch will 'bubble' up to the top of the page).
Learn more about premium content discovery and recommendations here.
When interfaces are done right they are works of genius. The UK's Freeview Play, for example, allows you to scroll through the previous week's entertainment on its EPG and automatically summons content from its contributing broadcaster's catch-up services. Hulu's sounds in the same quality ballpark, along with the added powerful feature of notifications: you can select your favourite sports team, for example, and receive messages when a game is about to start; even notifications when play in a sport you follow is getting especially interesting.
Sports' place in the OTT firmament is not, of course, what it once was, and there is plenty of evidence from recent months that paints a picture of a declining and ageing audience for what was once the most bullet-proof of content. Indeed, there are rumours that 'super-skinny' bundles may even be in the works in the US featuring live OTT Streaming with no sports content at price points as low as $20.
The notifications could prove interesting, if Hulu can get them right and provide enough granular control that they don't become annoying. And, of course, given the powerful data analytics that you can bet the company is building into the system from the ground up, Hulu will soon know if it has a decent USP on its hands.
As Forbes points out in its excellent piece on the new Hulu launch, "The privately held Hulu has about 12 million subscribers and is reportedly worth roughly $6 billion—making it one-eighth as big as Netflix and one-tenth as valuable."
Currently, it is also in fourth place in terms of OTT penetration behind Netflix (75%), YouTube (53%), and Amazon (33%), being in 17% of OTT homes. By implementing live OTT Streaming and in such a polished package it hopes to change that. A lot of other operators are going to be watching with interest.