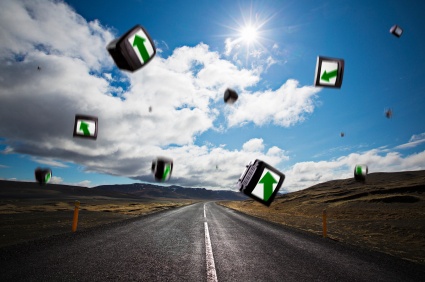 Second screen apps for Blu-ray discs are the latest innovation in the multiscreen viewing experience. Content creators and distributors who deeply understand their viewers' needs are eager to use these apps to present additional attractions to users, including trivia, factoids, concept art, and behind-the-scenes access. However, the road to this enhanced experience has been a bit bumpy.
Jeers and Cheers
According to Blu-ray.com, nearly "200 of the world's leading consumer electronics, personal computer, recording media, video game, and music companies" support their optical disc format. While some leading manufacturers welcomed Blu-ray in its early stages, others, such as Apple, were hesitant to jump on the Blu-ray wagon. After revealing his new line of MacBooks in 2008, Steve Jobs contended that, "Blu-ray is a bag of hurt. It's great to watch movies, but the licensing is so complex." Jobs, wanting to spare Apple customers the added cost of licensing, had a valid concern. This cost factor may have deterred other manufacturers from installing the Blu-ray innovation as well.
Ups and Downs
David Mercer, Strategy Analytics Vice President and Principal Analyst explains that, "Blu-ray was one of the first mass market consumer platforms to support internet-delivered video services." In addition to providing superior video quality, Blu-ray helps deliver smart TV services and apps, including apps for video streaming services such as NetFlix, YouTube, and Hulu. As a result, in 2012, over 27% of North American consumers owned at least one Blu-ray Disc player, in contrast to 5% of consumers worldwide.
Blu-ray's sales soared above $2 billion in 2011, 38% higher than its 2010 sales. Rental costs have decreased by 3% because of VOD and digital delivery. 2013 is looking even brighter for Blu-ray. For example, the film "Dredd" is faring better on Blu-ray than it did in the box office. Thanks to Lionsgate's 3D package, in January, "Dredd" took over the number one spot in packaged media sales with an HD market share of 48%. "Frankenweenie" came in a close second, selling 94% as many Blu-ray copies as did "Dredd," and it seems assecond screen apps played a major role in fueling this growth.
Leaders and Features
The way for second screen apps was paved by several trailblazers intent on augmenting the content experience. Warner Bros, striving to supply more value by offering a unique selection of bonus material, is a great example. Having synched its film "Dark Knight Rises" with Blu-ray discs, its second screen app gives users access to photo galleries, short features, storyboards, script selections, digital schematics, filming location information and more.
Another good case is that of Sony, which created a second screen app with two outstanding features for the film "The Amazing Spider Man." In its timeline mode, the app syncs with the movie, enabling viewers to unlock goodies at just the right moment. With the app's production mode, users can connect with more technical parts of the movie-making process.
Marvel, also an industry leader, delighted comics' fans by releasing a second screen app for "The Avengers," whose many features includes clips of the cast fooling around and stunt doubles practicing choreography, extensive notes on most scenes and photos.
Not only have these apps enhanced the viewer experience, but they have also driven Blu-ray's growing sales. These apps could also be used to augment VOD or broadcasted content.
The Road Ahead
Predictions abound as to what is in store for the second screen industry in 2013. Blu-ray can look forward to increased sales and value as viewers, realizing that Blu-ray's extra features and content are not available on the discs supplied to rental sites, increasingly embrace its companion experience. Now there is just smooth sailing ahead for Blu-ray, as its success continues to unfold.