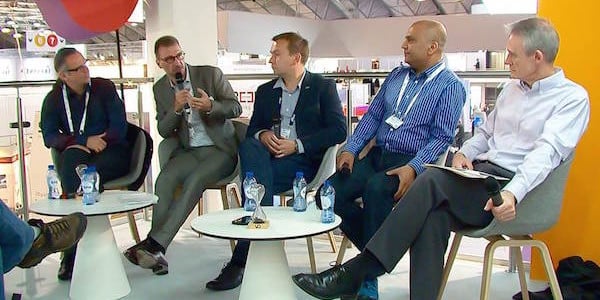 Over the course of IBC2015 we ran two panels on our stand investigating some of the most pressing issues the industry faces. The first, Reach for the Cloud: How to Build a 21st Century Video Business, saw an august panel of experts moderated by nScreenMedia's Colin Dixon, discuss many of the challenges and opportunities surrounding cloud implementation when it comes to broadcast. You can read more of the background to the panel and some of the reasons why we chose to host it at IBC2015 here.
Participating in the discussion were: Rod Fairweather, Senior Director Media & Technology Infrastructure at Viacom, David Leporini, EVP Marketing Products & Security at Viaccess-Orca, Kiran Patel, Executive Product Manager Media Services at BBC and Glyn Smith, Business Development Manager at Amazon Web Services.
The panel was lived streamed courtesy of our friends at LiveU, but you can watch it again below and we also have a selection of tweets from the live Twitter feed that gives a flavour of the debate.
https://www.youtube.com/watch?v=Dlm6pCorn4w
https://twitter.com/ViaccessOrca/status/642984021564223488
https://twitter.com/ViaccessOrca/status/642984495034056704
https://twitter.com/ViaccessOrca/status/642986710201143296
https://twitter.com/ViaccessOrca/status/642987003655663616
https://twitter.com/ViaccessOrca/status/642988075262550016
https://twitter.com/ViaccessOrca/status/642990386173071360
https://twitter.com/ViaccessOrca/status/642990948134322176
https://twitter.com/ViaccessOrca/status/642993683193819137