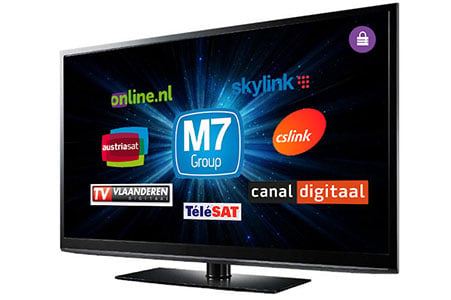 Viaccess-Orca's smart card-based conditional access system (CAS) Prime Sentinel will soon be protecting more content in Europe and migrating more than 3 million subscribers to next generation DTH service offering, following the selection of VO by satellite provider M7 Group.
By choosing Prime Sentinel, M7 Group, a Pan-European Provider of DTH satellite services and the owner of numerous brands including Holland's CanalDigitaal and Online.nl, TV VLAANDEREN in Flanders and TéléSAT in French speaking Belgium, CSLink and Skylink in The Czech Republic and Slovakia, and AustriaSat in Austria and Hungary, will now be able to securely deliver high-end IPTV and OTT content through its millions of subscribers' set-top boxes.
Prime Sentinel is a comprehensive content protection solution and a key element in the new ecosystem that M7 Group has deployed, which includes set-top box (STB) hardware and chipsets from its other industry partners. Viaccess-Orca smart card-based CAS has been pre-integrated into two Kaon Media STBs, giving the M7 Group a ready-to-deploy solution that will help migrate millions of subscribers from legacy systems to next generation service offering.
Explaining the company's rationale for picking Prime Sentinel and working with us, M7 Group's Marco Visser, CEO at M7 Group said: "As part of our overall strategy, we wanted to deploy a consistent ecosystem to reduce operational complexity and costs. Viaccess-Orca has provided us with an innovative, flexible and cost effective solution for content protection. By supporting flexible configuration and offering pay-as-you-grow scalability, the chosen Viaccess-Orca solution lowers our overall operational expenses, while guaranteeing us a future proof content security solution of our content."
Discussing the deal, François Moreau de Saint Martin, VO's CEO, flagged up how only our unique solutions could have helped M7 Group achieve its goals. "Viaccess-Orca and our ecosystem partners have provided M7 Group with a versatile, scalable, and secure television solution that can be deployed with a short time to market," he said. "Unlike other content security solutions, our CAS solution supports multiple chipsets and business models. By providing operators with increased flexibility, our solution reduces capital and operating expenses, while protecting their revenue streams."
The Prime Sentinel CAS offers security for multiple TV service models including live TV, catch-up, PVR, content sharing on home networks, and video-on-demand. M7 subscribers' rights management will be provided through Expert Sentinel, a VO service off-loading operational actions from the operators and allowing them to focus on selling and optimizing their service offering.
And for more information on card-based CAS download our guide or visit our webpage.