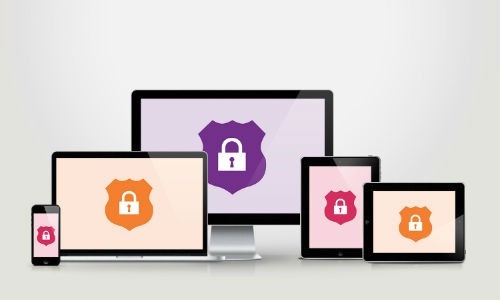 With the steady increase in global demand for multi-screen content services, serious concerns have been raised about their vulnerability to security threats. In a recent Rapid TV article for MWC 2014, David Leporini, Viaccess-Orca's EVP of Marketing, Products and Security, explores security threats on mobile platforms and offers a strategy for securely delivering multiscreen services.
As owners of mobile devices spend on average over an hour a day browsing the Web, content services and social media applications, their popularity exposes them to cybercriminals, with apps environments and trend toward bring your own device [BYOD] among the most vulnerable ones. David writes that consumers use apps for anything from the entertainment to banking – more than 50 billion of them were reportedly downloaded from the Google Play Store in 2013 alone. And he cites a January 2014 report from Kaspersky Lab which detected approximately 10 million malicious Android apps.
Cybercriminals can steal money from people who conduct internet banking, by installing malware on their phones; and they have created malicious apps that tap into a device's text messenger to hike costs for premium rate services. Social networking apps are also being targeted, with their synchronising feature used by cybercriminals to simultaneously post mobile malware links to different social networks. This is a significant problem, David says, because more than half of the people who access social media sites do so through their phones.
David argues that the world of connected entertainment is facing a major challenge to secure premium content on secondary screens like tablets and smartphones. And protection can be achieved, he believes, by adopting end-to-end (E2E) solutions that cater for factors such as the heterogeneity of front-end devices, hardware and software environments and content delivery protocols.
Mobile devices such as tablets and set-top boxes (STBs) should have similar security requirements, and according to David, particularly with HD content, what's needed is a hardware-based security solution and trusted video path management: "Leveraging technologies like Trusted Execution Environments (TEE), which protect the application processor of an electronic device, content service providers can securely deliver premium HD content on connected devices.''
David points out that Viaccess-Orca has been able to deliver such security on mobile device environments with Connected Sentinel, its TV Everywhere DRM solution through its recent partnership with Trustonic.
"Our Connected Sentinel end-to-end DRM solution provides comprehensive security management that can be achieved over the air through renewal of key security components running on Trustonic TEE, without requiring a full firmware upgrade. It is one of the most secure approaches to delivering multiscreen content in today's connected world," he concludes.